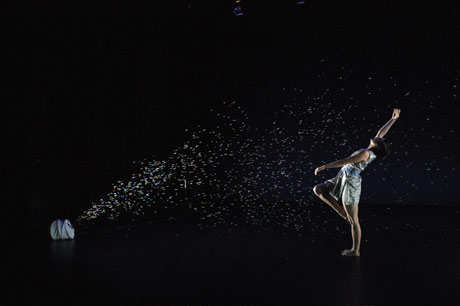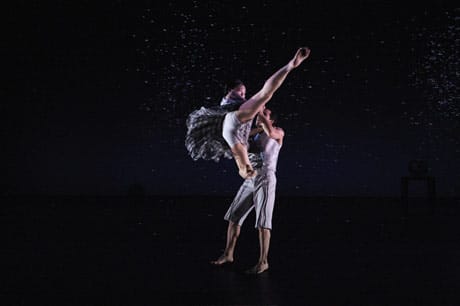 On the stage, enshrouded in a fold of dark blue lights, the elegant bodies of two dancers extend expertly as the onlookers stare breathlessly. The olive-skinned, thin-bodied woman twisting her leg into a turn wears a stunningly simple, violently red dress as she glides across the empty space. Her male partner, a pale-haired, slender man tucked sveltely into a collared shirt and dress pants, towers above her in their modern-dance-style tango of affection, passion, rage. Both dancers, like the stage, are enshrouded in veils. The veils are made of what appears like a thin muslin and tied at the neck, reminiscent of prisoners in potato sacks awaiting execution – who happen to be dressed as romantic partners in a professional pas de deux.
The piece is an excerpt called "Love Stories" from the four-part world premiere of choreographer, Takehiro Ueyama. Ueyama's twelve person company rally their forces at the Dance Theatre Workshop, offering loyal viewers and fans four preliminary performances, which showcase previews from his shows, "Linked," "Love Stories," "Shabon," and "Footsteps in the Snow."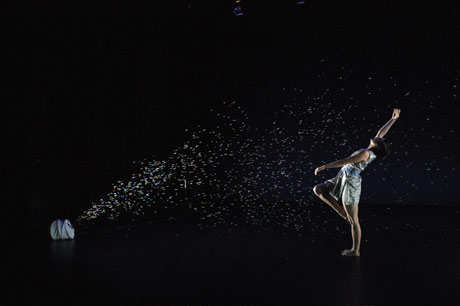 Now, the New Yorkers gather – young dancers who have come to see their colleagues, middle aged culture-junkies, theatre goers, genuine lovers of the arts, of course. Known for his ability to seamlessly mix both Eastern and Western influences into his movement, Ueyama's choreography displays a reverence all his own, with both traditional and unstructured styles adding to the weight of his dance innovations. The mixed audience possesses only one common concern – the desire to be told of life through physical movement. At the end of "Love Stories," a deep silence passes before swelling applause and Ueyama has succeeded.
"Love Stories," in particular, is the subtlest, most intimate incarnation of Ueyama's passion for physical story-telling, in which a young man and woman move almost as puppets beneath the swift hands of their invisible choreographer. This movement adds a second dimension of thought to Ueyama's work – that men and women in love can too sometimes act as puppets controlled by the hands of a divine puppeteer. Simply by using a male, female, and astoundingly uncomplicated costumes, Ueyama exhibits his best hand at breaking the human heart with the beauty of life's trials. The dancers display pure emotion, emotion which reverberates through every limb of their entangled bodies. The audience watches quietly, heads bowed. Some weep.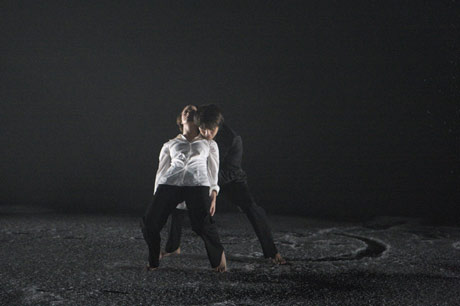 As a choreographer, Ueyama has established a purpose all his own, with fascinating influences and a highly well-trained dance troupe hailing from the likes of Juilliard and the Joffrey Ballet. In strange economic times, a small dance company maintains its artistic resolve with its absolute artistic integrity, something gratefully accepted by the audiences. The sincerity evident in Ueyama's work is more of what the world needs in the way of mass communication. Without the force of verbal slanders and rants, Ueyama manages to illuminate the hardships and triumphs, complexities and intricacies of being human.