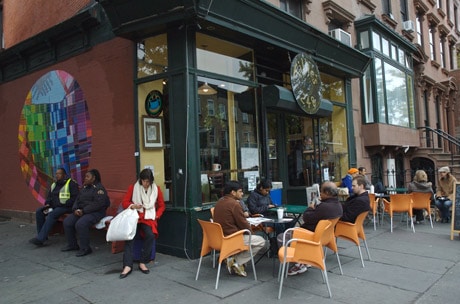 It all began with a Hasidic.
This isn't to say that I mind those of the Jewish faith or culture, no matter how fundamentalist. In fact, I find them rather charming. Walking through Williamsburg often feels like a random visit to an indiscriminant European town in northeast Europe rather than northeast Brooklyn. One gets the feeling that the political perspectives, languages, and decorum are so far removed and perceptively advanced from Americans, one simply capitulates himself to a egregious spectator, shamelessly staring at outfits so like the normative Madison Avenue attire, but then again, so unlike anything one has ever seen. The Slavic hats with no dearth of fur on austere men with a general pomp about their gait as they assess local real estate—this is something one must come to New York City to see. Further, if we were considering the incidence of this within the last five years, a likely area to witness it would be in Bed-Stuy.
Located conveniently between Fort Greene and Williamsburg, Bed-Stuy has such an appeal to those interested in purchasing real estate the area that it has even resulted in some changes in Bushwick and an amendment to what a large percentage of Bed-Stuy is now known as—Clinton Hill—in order to assuage some lingering assumptions about the area. It's only logical. In an area begging to introduce new profitable business around bustling and hipster-ripe Pratt Institute as well as beautiful and charming Fort Green Park, it would be an opportunity foolish to shirk upon. And thus, our wise and business savvy local Hasidism took a look, liked what they saw, and began business.
Like all businesses a new catch phrase had to be used, found, leaked, embraced, and it was. That word is gentrification—words like gesticulation, fornication, all manner of excitable and extravagant activity comes to mind—has been hitherto such a dirty word. An impossible mix of sweet, salty, and sour, gentrification is the shadow cast by newly renovated brownstones, media centers, and restaurants. But how could it be so wrong?
The style, panache, drugs, bars, and cleanliness only improve in tandem with such urban development. Streets are repaved, signs are reposted, the train lines improved, the restaurants suddenly important and the cool quotient goes up, way up. Call them trend setters, call them hipsters, models, visionaries, illustrious, good looking, too good looking or just the new wave of gentrification.
Dr. Lance Freeman in his book There Goes The Hood: Views on Gentrification from the Ground Up conducted various statistical analyses in order to determine the extent of which gentrification were a natural occurrence, and the degree by which it is contrived. Contrived? Isn't that an oxymoron?
Exploring and analyzing trends in Harlem, developments were unveiled akin to those by the Nazi regime in the 1930s. Through systematic exclusionary tactics, certain demographics are forced to concentrate themselves in areas that are thus neglected by the city. Ghettoes they call them, the antithesis of gentrification, except when they suddenly aren't. Untouched, unloved and not one hipster in sight save for some weird artist. Forever abandoned or so you thought you fool…Let's take a history lesson together…
1970- Soho? Are you crazy? 1989- Upper West Side Columbus Avenue– pram city these days, but before that it used to be called Needle Park. 1995- Alphabet City, are you a crack head? 1997- Meat packing district– shit the only blood on the streets is the veal capriccio they now serve you- 1998- Tribeca, off into the strato sphere, never mind the drag queens, JFK JUNIOR just moved in. Okay slight dip after 9/11 but my gosh it really rebounded a year and a half later…
Anyone notice the shorter years that it took to move from slum, ghetto to object of desire? Of course you did, you're the one paying through the nose…
Contrived by necessitation, organic by proxy… and resuscitated by greed. Now let's get back to the Hasidic, let's follow his line of thinking, forget his looks, it's religion sure, but it's also an act, just follow the money…you always follow the money.