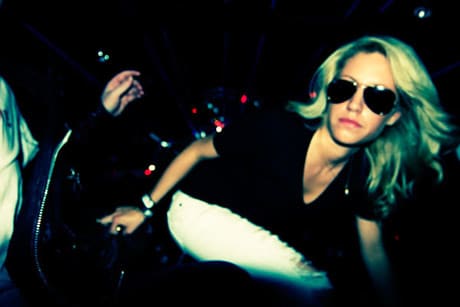 It's not what you expect but actually what you're kind of hoping for; the visage of some peroxide blonde dominatrix look alike preening over the handlebars of a deluxe racing bike with the biggest scowl in the world on her face. You move closer, past the faux but glamorous crowd and wait for the smoke to subside. The truth is the smoke will never subside, because we have all entered the world of Talia Eisenberg's 'Motorcycle Mayhem,' and what's important here is that you laugh at the sartorial elegance and the scowl on the girl's face.
By the time we arrive at Heist Gallery's reception of 'Motorcyle Mayhem,' there's a bevy of littered bodies on the sidewalk, half intoxicated, most starry eyed and the grand spectacle of primed racing bikes blitzing in slow motion in front of a 60 foot great white shark called "Izzy Gold's Fuck Machine." Of course no one is fucking in the limo, but we don't think the idea has escaped half the people wandering in and out of the mobile cabana.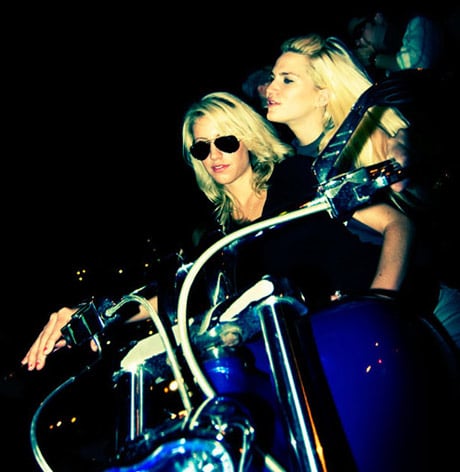 Part sartorial showmanship and part adulation for all that is fast, sexy, behemoth and symbolically glamorous in the world the installed and dynamic works of Tim Hailey and Milton Carter act as vigorous phallic icons stiff and rearing to go.
With four grand size ultra sonic racing bikes and a street closed to the public (nay to the world) the onlookers each take turns riding the stationary 'hard ons,' as much as the 'hard ons' take turns riding us.
From one direction we have uber photographer Peter Ruprecht glaring at us with his shoot from the hip photography style, from the other end we have our dear Keith Lew and from somewhere inside the great white shark we have Patrick McMullan and co snapping like a coyote at all the beautiful people frothing. It's like coming to a motorcycle finale, and we are all primed to see who will come first, who will shoot the best and who will have the biggest scowl. 
Go to Scallywag's Photo Gallery.