'Eat me.' This must have been inscribed, at some point, on the large white canvas adorning the back black wall of the bar.  The Jonathan Shorr Gallery generously donated three of its artists, Gregory Ilich, Bruce Mishell and Todd Monaghan to monitor this collaborative effort. All watched the work with something beyond fascination; it was more of a fierce hunger for connectivity, or togetherness. Dressed in t-shirts and sandals, Messieurs Mishell and Monaghan were immersed in the moment, encouraging guests to use their hands on the canvas, directing colored limbs and stained brushes as conductors of symphonic art.  I watched the work progress with fascination, and a heat not at all to do with the body count in the room surged through me.  I picked up a brush and asked Bruce to make a color for me, any color.  I then proposed orange. "Very spiritual choice," he said, and away we went.  As I scratched the middle portion of the canvas with a long, fat brush, Bruce spoke to me about his work.  "My work is spiritually based, spontaneously created in the presence of the moment on your breath.  It allows me to leave this reality, to enter this channel and to emerge with a work of art." This free-flow style is fascinating to ponder when considering his pieces.  "Joy," one of the larger paintings hung on the back wall, was a self-described "happy" journey, and lines intimating physical movement were beautifully interposed on top of a colorful layer of paint.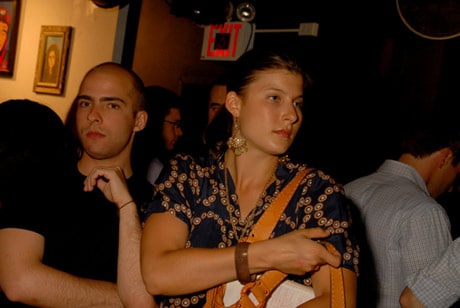 Todd, on the other hand, works within the realm of "spiritual surrealism," as Tony Solomon of the Andy Warhol foundation once put it.  "I seek the energy within paint," he told me, bending over an aluminum plate swirled with cerulean blue.  His eyes darted from myself to his colleagues, taking direction from their rapid strokes while simultaneously waxing poetic to me; "the reason we do these collaborative shows is to bring different artists, like Bruce, to contribute unique colors, shapes and designs.  At the end, I find what existed within the energy of the night."
Johnathan Shorr stood in the background, eyeing the art proudly while speaking animatedly with another one of his stars, Andrea Stanislov. She is due to unveil a number of installations throughout Manhattan this year, famous for her sculpture as well as multi-media work all over the world.  Sally Golan certainly came with guns blazing this evening, and I found myself further and further from the exit though I knew it was time to go.
Go to Scallywag's Photo Gallery.