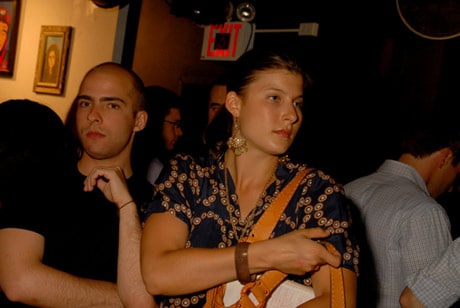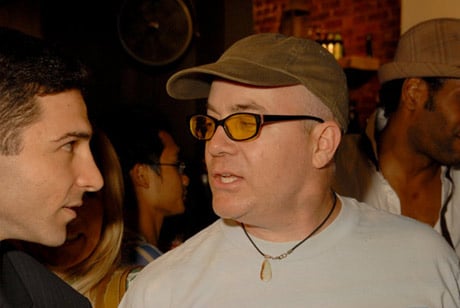 My second trip down the Gallery Bar rabbit hole occurred yesterday evening.  Unlike our heroine Alice, however, I did not know what quarry I chased. Was it a time constrained rabbit?
As a writer, I generally give myself license to make wild assumptions of my audience.  I will assume that you, dear reader, have already read and re-read my coverage of Miss Sally Golan's last Social Exposure event at the Gallery Bar. I will also assume that you will vividly remember my description of the venue at that time, a rather discordant arrangement of art installations in which surfboards played a starring role. This evening, however, I immediately sensed a collaborative effort radiating throughout the crowd.  Interactive art studded the previously black and red space of a month ago, and a sense of beauty impressed itself upon me. I had found my quarry. This evening, I was in search of beauty. The white rabbit in the maze, Golan flitted among her guests, and more than once I heard her name called from an indiscernible point within the heaving crowd.  If anyone was to direct me on my course this evening, it was her.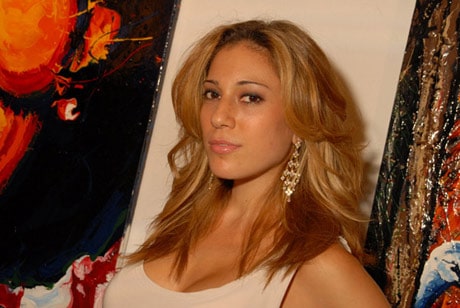 'Drink me.' By 7pm, a Pavlovian bell must have rung throughout the East Village. A horde of people materialized from the street, each heeding the same call.  "Aperol and Lunetta Prosecco" sponsored the cocktail hour, to the apparent travail of the one bartender manning his station. The large crowd pressed upon the aged wooden barrier, entreating his attention with wide, painted eyes and the infamous over-the-bar, see-my-cleavage lean. Alex Merkin, headliner of Sally's previous event and director of the independent film "Across the Hall," accompanied me in this arduous task. He proved to be a wonderful companion in such a desperate moment, with the clock ticking to end cocktail hour. At around 7:59, my friend behind the bar had had enough. "Okay, who is here for a real drink?" I raised my hand. Kettle one rocks two slices of lime and an open tab later, I made my way to the center of the room.
A beautiful young woman stood upon a pedestal, her hair closely cropped to the side of her face, and she clutched a sheet against her naked body. Another woman armed with a clean paintbrush and dressed in a tight-fitting black corset and flowing skirt quickly and efficiently appraised her model's figure.  She dipped into a well of bright green and began to paint the arm.  Then the neck. Drop the sheet. Peaches, purples, pinks, whites and silvers soon spread across the living canvas.  The artist, Chantal, had eyes only for her muse—Jael.  Zoom, her photographer with a self-appointed nickname, showed me photos of some of her previous live pieces—stunning work.
Go to Scallywag's Photo Gallery.