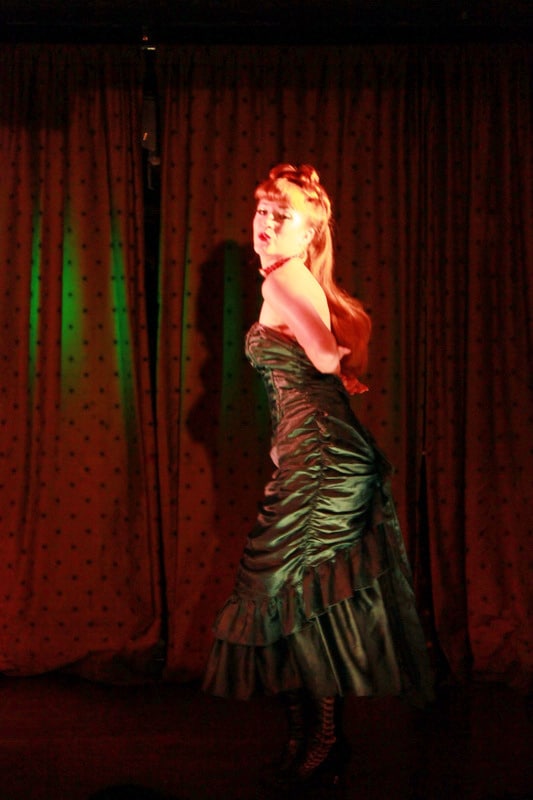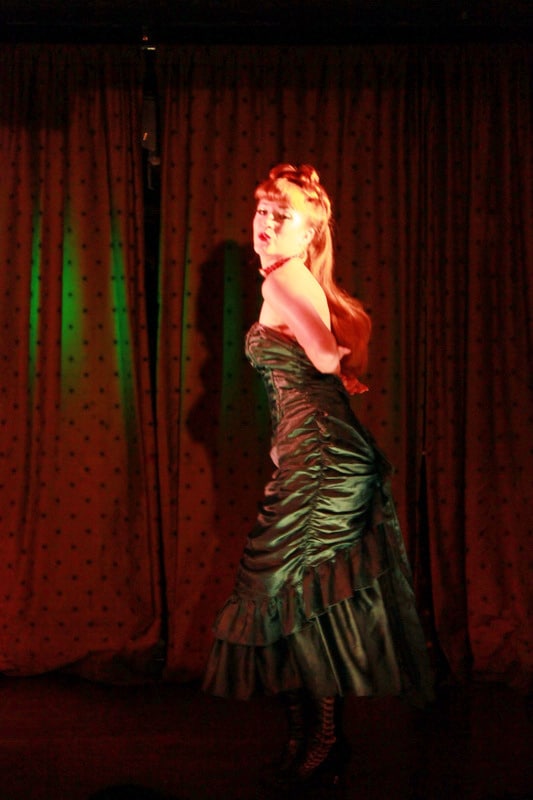 In an era where we are surrounded by the massive hordes of fans who rush to the nearest Barnes and Noble to obtain a copy of the latest volume of Twilight or Harry Potter, it was a breath of fresh air when I came upon Molly Crabapple and John Leavitt's graphic novel: Scarlett takes Manhattan. Taking a leave from staring at a page filled with words and leaving our own complicated minds to make sense of the text, this novel filled with explicit illustrations allowed us to go on a ride with the author's vision rather than our own.
The novel tells the story of Shifra Helfgott who later transforms into Scarlett O'Herring, a famous fire-eater. After losing her mother at the age of 18 by "amorous elephants" she leads on a life of prostitution until a "man" Daniel D'Lovely comes along and helps her reach success as a fire-eater through thievery and con games. This graphic novel is just that – graphic – but tells an endearing story of a girl struggling in Victorian Times and reaching success with her carnal powers. Molly Crabapple focuses directly on these Victorian Times as she believes that the era reflects the brutality and suffering of our own times, with middle-class people living like college students.
As people impatiently lined up outside The Slipper Room, Molly Crabapple, with her straight jet black hair and stunningly big eyes, kindly allowed us an interview. (She is famously known as the founder of Dr. Sketchy's Anti-Art School, art classes that were formed after her boring take at an art school as a life model). As people around her scrambled to prepare things for the eager crowd outside, she calmly sat down and began her talk about her life and her graphic novel. She summed up her novel as "a Horatio Alger story with boobs". When asked about her fascination with all things burlesque and the Victorian era, she replied that she loved the aesthetics of it – "the ruffles and all."
She began her young life by drawing fairy tales rather than boobs, and progressed to her "unwisely hyper detailed style with hundreds of people who are up to no good," which she states is what sets her apart from other graphic novelists today. She also says how "Scarlett is one of the first FTM – romantic heroes – of graphic novels." Her first graphic novel came to be at her publisher's request as well as peer pressure. A tad unconventional and modest reasoning of how a brilliant graphic novel was born – but hey – it worked, didn't it? She explains that many of her friends were doing amazing artwork and had a massive fan base, and she thought to herself, "I wonder if I can do that?" The rest is erotic history.
From the moment I stepped into The Slipper Room, it was as if I was entering into the dimension of Scarlett's world. With almost no light whatsoever, the shock of red wallpaper, red booths and red lighting, made me feel as though I had been transported directly into an old vaudeville club. With spacious booths, small round tables and the miniscule stage, it felt as though a burlesque dancer or a man in a top hat with a cigar permanently attached to his lips would pop out of the shadows at any minute. While observing the random disco ball ever so gently sashaying above the bar with the old-fashioned cash register drawing me more into the romance of a different age, the guests began to rush in.
In the blink of an eye, the once empty club was engulfed in a throng of people. The scene itself was straight out of the novel itself. With all the redness of the club suddenly covered with heads bobbing along to the music, it really seemed as if a mass orgy was taking place with a few women walking around with trays of lavender marshmallows. Scanning the crowd was like skimming the crowd at an airport. It ranged from young hipsters with pink colored hair to old men in Hawaiian shirts with white fedoras. It really gave me a sense the diversity of fans that Crabapple has and how art has no boundaries.
When all attention was brought to the petite stage, the first act, a burlesque dancer named Amber Ray, who has a cameo appearance in the novel, shimmied her way out of her peacock costume and gave the men in the crowd something to hoot about. It was almost as if she was taken directly out of the book and plopped on stage to celebrate the launch. With the vaudeville act Gal Friday who soon followed as well as the Two Man Gentlemen Band, it was the most appropriate acts that oozed the essence of the novel. The final act of the night was fittingly a fire-eater by the name of Jo Boobs. With her multi-colored fan with chiffon fluttering about on stage, her clothes coming off one by one, I couldn't help but be mesmerized as she sensually rubbed the fire all over her body and finally devoured it in one satisfying gulp. The night wound down, with fiery cupcakes made by Glittle Cupcakes that had a strategically placed Red Hot that made the cupcake look like a boob.
As someone who came into this world as a Molly Crabapple virgin, I left the club feeling as if I had just left a colossal orgy. With a cupcake in one hand, an autographed novel in the other, I left the Slipper Room with a new profound outlook on the world of burlesque theater, graphic novels, and the renegade authors who create them.