Arthamptons was the premier destination this past weekend. Priceless Modern & Contemporary Art worth $200 million dollars was seamlessly displayed in infinite rows of fancy white tents. Over 5,000 savvy art enthusiasts, gallery owners, observers, and inevitable 'event crashers' respectfully paid tribute to a classic Bridgehampton tradition, established in 1900s; all in the midst of a struggling economy.
Throughout a picture perfect weekend, Hamptonites chatted casually amongst eclectic displays of museum quality art from around the world. The venue was the ideal setting, providing ample opportunities to embrace raw creativity (harmonica player encased in a random metal concoction) while frequently using the word 'fabulous' when spontaneously greeting new acquaintances(such are the affairs of a particular crowd…).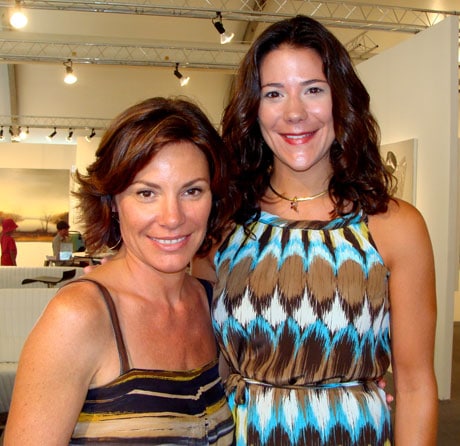 Beloved TV icon and art connoisseur, Kelsey Grammer, was a refreshing addition to this enjoyable daytime event, hand in hand with his beautiful wife Camille and adorable children. Mr. Grammer, along with numerous other serious art buyers were selectively choosing their next 'smart investment', one that could not only provide inspiration yet enhance existing portfolios of impressive fine art.
Flawless beauty, Countess LuAnn de Lesseps (Desperate Housewives of New York and Scallywag's favorite countess) elegantly welcomed a consistent line of adorning fans while signing her first novel 'Class with the Countess'. "Living a life of elegance and flair is deserving of those with class, gracious manners and good etiquette."
As I have earlier reiterated these are the (and rightly so you may add) the particular affairs of a particular set of society.
The special event was hosted by Founder and Executive Director, Rick Friedman, who enlightened guests with rare forms of expressions, from paintings, drawings, printed editions, and photography to indoor and outdoor sculptures.
Those missing a 'blue star stamp' were unfortunately unable to savor vast arrays of sponsored wines in the VIP lounge…such is a 'high class problem' in the Hamptons.