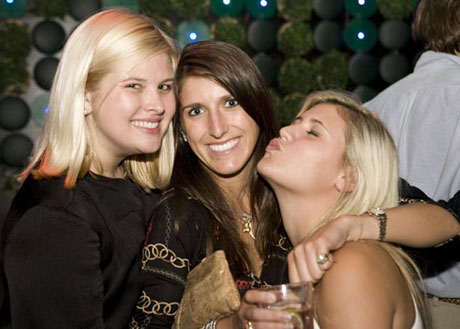 The I-bankers, lawyers, and young political types were out for the Special Olympics Junior Committee Gala at Greenhouse. With $75 to $100 tickets paired with an expansive silent auction, this event surely raised a lot of money for a worthy cause. Unfortunately, the event itself was strangely uninspired and left much to be desired.
Let's start with notes on the venue. Greenhouse seems like a natural choice for a socially-conscious event like this one- with its LEED certification and commitment to reduced waste- so it's a shame that the planning seemed so bungled. Two overworked bartenders were responsible for the watering of the entire crowd, making the wait for a drink nearly intolerable.
The deejay was sub par as well, spinning supremely mediocre tracks (SexyBack, anyone?) to a crowd that refused to dance. A note for future party planners: All events like this one can be divided into either parties where people want to dance or parties where people want to talk. If it's a dancing crowd, hire a deejay. If it's a talking crowd, get some tasty hors d' oeuvres. This event's organizers clearly planned for the former and got the latter, resulting in a foodless event where attendees often struggled to talk over the music.
Speaking of the crowd- uh oh. This was a young, stylish, and moneyed group, making it all the more surprising how poorly they mixed. Those I talked to were all happy to be there supporting the cause, but had wound up at the event because they were a friend of a board member or had some similar connection. Somehow, this made people reluctant to leave their cliques. It seemed that ninety percent of people there only talked to others they already knew, leaving the atmosphere decidedly sexless.
Obligatory Obama joke aside, supporting the Special Olympics is a worthy and admirable cause for many reasons, not least of which is the unpretentious nature of the organization. With this in mind, I must note another odd choice by the organizers. From the silent auction to the table giveaways to the gift bags passed out at the door, this event was heavily supported by two cosmetic facilities, Laser Cosmetica and Completely Bare, both of which offer laser hair removal, micro-'dermabrasion,' and other cosmetic procedures. Maybe it's just me, but something about being supported by companies that represent the height of superficiality does not seem in keeping with the accepting ethos of the Special Olympics.
Certainly, the event was not a total failure, not by a long shot. The drinks were delicious, Greenhouse has stylish and lovely interior, and the entire affair had a desirable air of exclusivity. A few minor adjustments and I'm sure the next event will be one for the ages.