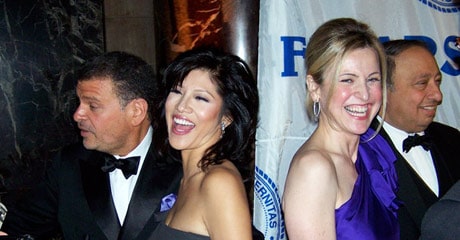 This Tuesday I took in the goings-on at the annual Friars Foundation Awards Ceremony at Ciprianis 42nd Street.  The Friars Foundation is the charitable leg of the famous Friars Club, which was founded in 1904.
The three recipients receiving awards that night were singers Sir Tom Jones (Artistic Scholarship Applause Award) and Ms. Natalie Cole (Creative Achievement Applause Award), and CBS President and CEO Mr. Leslie Moonves (Lifetime Achievement Award).  According to the description, each award is given to "artists and industry titans who have shown outstanding merit and achievement, and whose careers have contributed positively to their industry and to the world of entertainment."
When I arrived at the event at 6:30, I checked in with David Wilson (head of PR for the Friars Foundation) and found Scallywag photographer Sameeh Alderazi already in line at the step-and-repeat.  In the doorways hung huge American Airlines banners, too; the sponsors of tonight's festivities, no doubt.  I found this sponsorship ironic considering the status and wealth of most of these attendees, I don't think you'll find them flying in anyway other than on their personal jet – or maybe their best friends' personal jet.  Inside the cocktail hour, the champagne was flowing and hors d'oeuvres, such as mini Tuna Tar Tars, were being passed around and old friends greeted each other – possibly recounting the last time they saw one another one whomever's yacht.
The action on the red carpet was nowhere to be found for roughly twenty minutes aside from the occasional Friars Club board member passing through, smiling, to be photographed by the hungry pack of photographers.  Whenever one photographer would take a picture, he'd turn to his or her cohorts and ask, "So, who was that?" Sadly, no one else knew either.  This became a recurring theme of the night, unfortunately.  If one person couldn't identify a celebrity, no one could.  (This led to a large number of perplexed photographers, as you can imagine.)
The first honoree and celebrity to arrive at the event was Sir Tom Jones.  The only pictures I could find of this icon on Google today were from years past, apparently, because I would never have recognized him, based on that picture.  It was only when the older female journalists next to me exclaimed with the excitement of a fifteen-year-old girl, "Oh, Tom Jones still so sexy!  He has so much sex appeal!" that I figured out it was, with more or less certainty, Sir Tom Jones.   He possessed the utmost charm and was extremely poised as he posed for numerous photos for all the photographers' present and answered questions for a select few (I was unfortunately not lucky enough to be one of them!).
Shortly after, Mr. Leslie Moonves and his wife, the stunning Julie Chen, arrived on the red carpet to be photographed but were quickly swept away by their escorts from doing any interviews. Then again who really enjoys being fed to a pack of hungry journalists?