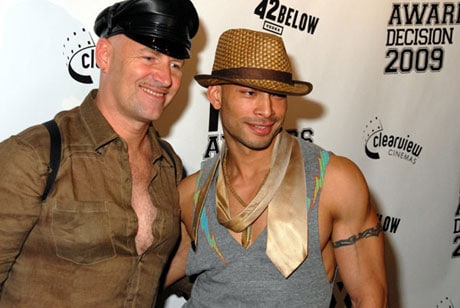 Just as Gay Pride week begins in New York City, HX Magazine has thrown the celebration to commemorate those they are proud of. If one could recall the anachronistic West Side Story application of the word 'gay,' we'd see both definitions shooting rapturous sparks from the Chelsea Clearview Cinema's third floor. Attendees of all types held witty, intelligent, and catty conversations with such an artful fusion of masculinity and femininity that it could only be a culture exclusively au homosexuel. And albeit unique, there was not a drab line, and not a disappointing thread. One way or another, it was cleverly termed a cocktail hour, but the vibe was more a party—more than some parties your faithful writer has attended in the past (sans women, of course).
HX Magazine and Clearview Cinemas were gracious and hospitable to their guests, serving chicken skewers, bite-sized cheesecake, small bags of popcorn, and other edibles. Among attendees were the nominees for awards, including the Drag Queen of the Year, DJ of the Year, and a new category, Club Personality of the Year. Of the last category, I had the pleasure of speaking to three of the most distinctly dressed nominees. The first, known as Petey Pig and appearing as a plush stuffed pig (although he was wearing the head as a hat), I found sitting near the front row just as the awards ceremony began:
PP: I am very happy to be nominated, it's nice to be nominated in and of itself, and I think that everybody deserved this award because everybody's fabulous. Whoever wins, I'm happy for them, and may the best pig win.
SCV: Fantastic. And please do intimate, what do you represent as a pig?
PP: It represents… bringing back New York City nightlife.
Indeed, it may not be kosher, but pork is hard to let go. As the awards ceremony began, the crowded theater terribly short of seats remained humming with anticipation. A large line continued to accumulate before the theater doors until it was finally broken up with the news that there were still attendees browsing the isles with rejection after rejection from "saved" seats. Suddenly began an extravaganza of Queens singing sassily on stage ("My Botox Face" is a hit, if you ask me), witty banter between awards, and short videos created by Club Personality of the Year nominees that had the feel of a youtube sensation. They know how to party, so naturally, they know how to entertain, and the energy never waned. Among those who remained outside by the bar and watched the ceremonies from the projector were Personality Contest nominees AlieNation. Unfortunately, when I met them, I only knew them by The Slinkarinas, as they're listed under the nominations:
Go to Scallywag's Photo Gallery.