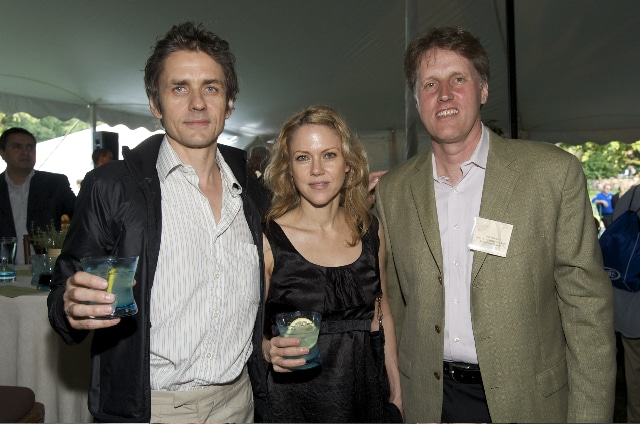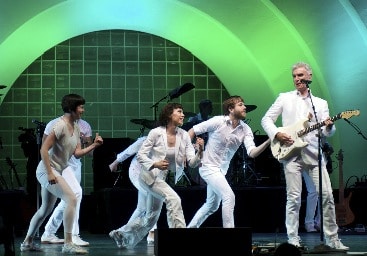 Everyone knows that green is the new black, and it showed at this year's Celebrate Brooklyn Green Gala at Prospect Park. With organizers aiming to throw a zero-waste event, guests could feel good about themselves as they ate locally harvested organic food and drank acai liquor-based cocktails before the David Byrne concert. Perhaps supporting the arts is no longer enough to soothe the Brooklyn conscience?
The guilt-free dinner was attended by a wide variety of Brooklyn locals who all to faced the same not-so-existential question: What to wear when attending a (very) expensive dinner followed by an egalitarian-esque free concert? Dressed in everything from plaid button-downs (how very Brooklyn…) to tailored suits, most groups of chatting men looked a tad schizophrenic. The women had is slightly easier, as most surely own a closet full of dresses that can easily go day to night.
After a few hours of mingling, a few speeches were made by people involved in the
event. Attendees tittered over the official talk at first, but one presenter caught the group's attention with the crowd pleasing announcement that Prospect Park is, "The most beautiful, most romantic, greatest park in the world." I'm inclined to agree, though I know a few Manhattanites that would have something to say about this.
Brooklyn Borough President Marty Markowitz stoked flames as well, saying, "Everyone I know that uses Central Park are all Prospect Park wannabes… If you're into music, there's no reason to ever leave Brooklyn, especially in the summer." A bit hyperbolic, perhaps, but I can't say I disagree.
As the night grew later and the temperature dropped, the excitement for David Byrne grew palpable. People had been camped out since as early as 10 AM in order to secure prime seats at the show, but I talked to people who showed up in line as late as 6 PM that still made it in. However, since the Prospect Park bandshell is, of course, outdoors, hundreds (if not thousands) people who didn't make it inside the officially sanctioned viewing area were clustered along the perimeter to enjoy the show without the wait.
Byrne played many of his Brian Eno collaborations throughout the night, including opening song "Strange Overtones." Byrne apparently rode his bike to the show, although presumably not in the all-while ensemble he was rocking on stage. He was joined vocally on stage by Brooklyner Kaissa, who has been on tour with Byrne for the last seven months. When I grabbed a few moments with her over dinner, the Cameroon native said that this was only her second experience singing in English, the first being with Paul Simon. 
After "Burning Down the House" in his second encore, Byrne and company exited the stage. The crowd dissipated, but a select few were treated to an exclusive after party of drinks and dancing under the tent where the gala dinner was previously held. The DJ spun crowd-pleasing dance mixes of mostly 80s classics, including a few Talking Heads hits (though a mix of Sweet Dreams by the Eurhythmics proved a crowd favorite). 
Between local organic food, a bike valet (!), and decade-spanning cult tunes, planners of this kickoff to summer managed to ensure a goldilocks combination of Park Slope snob appeal and Williamsburg uber-hipness. Believe it or not, I mean that as a compliment. Seriously. Celebrate Brooklyn, indeed.