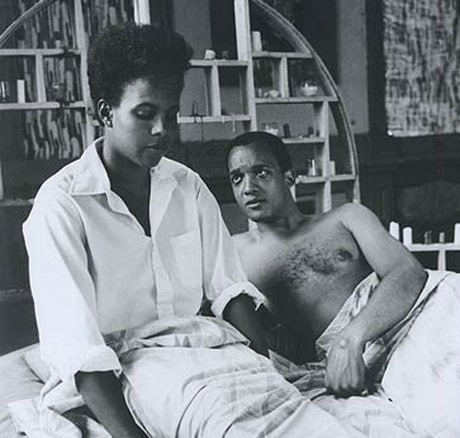 This past Thursday night big things were happening in a tiny curved gallery as the art installment of the Spike Lee Tribute opened. Greeted with red velvet cupcakes from Cake Man Raven, the night was going to be Glory be to Brooklyn (yes Brooklyn!) in every aspect. Displayed were the selected works of twenty artists from around the country that were felt to most represented Spike Lee…his vision, his thoughts and his continued inspiration in many creative outlets. Artists were bouncing around talking about their works and chatting. Friendly and neighborhood happy, the spirit here was not the typical art gallery opening. Which was very much welcomed.
Art was everything from a 3D work spanning the wall in what looked like sharpie covered bubbles to paintings to mixed medium pieces.     Much of the work was also for sale, as I saw much interesting being taken in a sleek print from props. There was chalk, pen, oil and more with all echoed a Spike Lee influence. Now, if only my cupcake would have echoed an influence of a cocktail I would have been an even happier art observer!
Slipping into a panel discussion, I was greeted with a well packed room of people, video cameras and cell phones (silent and only noted by the head down, texting going on. I assume in all panel discussions these days, there are people making moves and conducting business in some form.)  Similar in form was the idea behind this entire tribute that is pro-Brooklyn and definitely pro Spike Lee. Not wanting to do the predictable film screening of one of his films (typical and run of the mill for a writer, producer & director I do agree) a multi faced tribute was created which lasts multiple days and included this Art opening We Gotta have It! , as well as The Man and The Brand (enter in the panel discussion,) No Jheri Curls and No Drugs: A David Lee Photo Exhibit (David Lee images at the Brooklyn Historical Society,) Buggin' Out (poetry is the right thing,) and He Got Game (a basketball tournament.) Lordie, the list of separate events for one tribute might be long….wait, the block party has been moved to a later date. Truth be told, slated to be done in "Dave Chappelle Style," these block parties should be a good ole time on warm chill evening in Brooklyn.
Nothing like people genuinely being moved and supportive of who they are showcasing. Seeing special friends made my evening, yet everyone appeared to be smiles and enjoying the night just as much. "Spike Lee's Everywhere…" the music plays on the Where's Mars website that details all these events along with a blog and postings. Spike Lee really is everywhere when you attend part of Where's Mars? For all you fans out there, head over to Brooklyn and support. If not inclined, take a note from "She's Gotta Have It" anyway and go explore your sexual options.
Go to http://www.wheresmars.com/ for more details.
And Coup d'etat for event location and programme.