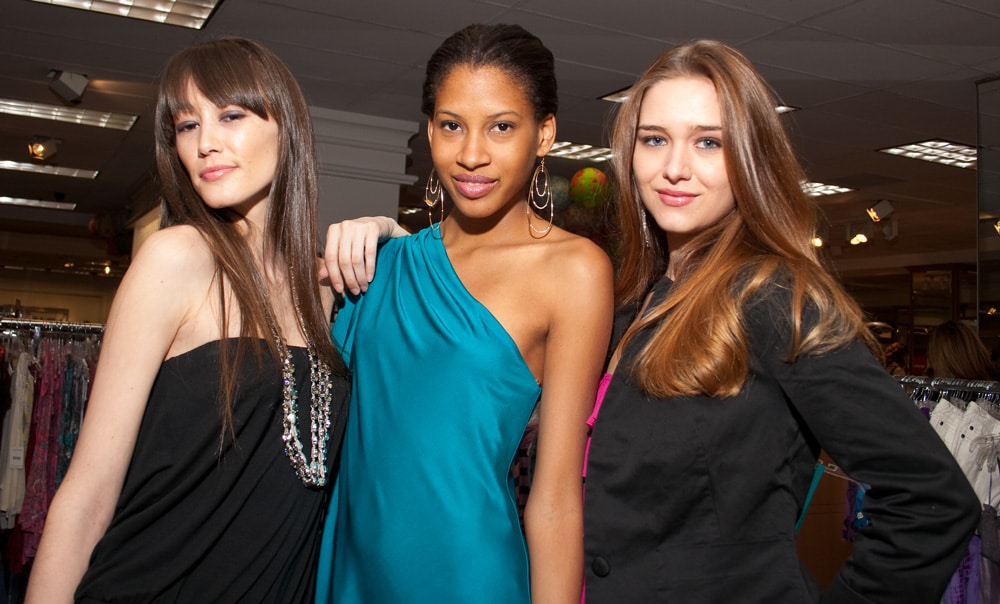 The first and second floors of the Lord and Taylor store were buzzing Thursday night, each floor for a very different reason. I walked in the doors and was instantly surrounded by a sea of middle-aged Midwestern ladies, Eastern European tourists, and very aggressive black-clad perfume salesmen. Someone on a stage was singing a rousing rendition of "Luck Be a Lady Tonight", and women were lined up at every counter, waiting for a chance to swing mini-roulette wheels to win prizes like those makeup bags you get free with purchase during bonus-time at cosmetics counters. A tiny, hunched grandmother shoved me out of the way and lunged for the last glass of champagne as one of the catering staff walked by.
Upstairs, "Two of Hearts" was bumping and stylish women in their low to mid-thirties shopped brands like Pour la Victoire, Plenty by Tracy Reese, Cynthia Steffe, Jeffrey Campbell, Tibi, and Rich & Skinny. Lord and Taylor is pretty much where I'd take my mom to shop after a day of complaints about New York fashion – "Those skirts are too short! Leggings are not pants! Pink is not a hair color!" – but the store's stepping it up with their new contemporary collection geared towards women old enough to have disposable income but young enough to want to spend it on cage heels and summer rompers.
DJ Cat was manning the DJ booth/table, taking a break from electro dance/punk and 80's loops to spin some upbeat shopping beats to enhance the buying mood. When I commented on the incongruity of her presence there, she said she actually enjoys this kind of gig and playing music she doesn't usually get to play in clubs. "You have to be on it in the clubs," she explained, "especially gay clubs. It sounds stereotypical, but gay guys really know their music." She also gets the chance to connect with a different kind of crowd. "Moms come up to talk to me sometimes," she said. "One lady told me her son is a DJ something something Shorty, and she just wanted to watch to see what her son must be doing, since she's always asleep when he's on."
After nabbing a couple strawberry mojitos from a cute bartender with a hot pink kiss-print on his cheek, I made my way to the dating advice table. Matt Titus and Tamsen Fadal were pimping out their new book, Why Hasn't He Called?, and giving out free advice to anyone in need. I'll be honest; I was desperately in need, and Matt gave me some food for thought after I spilled about my situation. "Think like a man," he said. "Use man-speak. Don't be afraid to be a little aggressive, as long as you come off strong and not desperate." I was skeptical about the specific "man-speak" phrase he suggested I use until I realized I had gotten a text from a different potential suitor using that exact line not an hour before.
Unfortunately the hip DJ and on-site dating coaches won't be in the store every day, but their new stock is still worth a look. Just don't get caught up in the polyester pantsuit section.