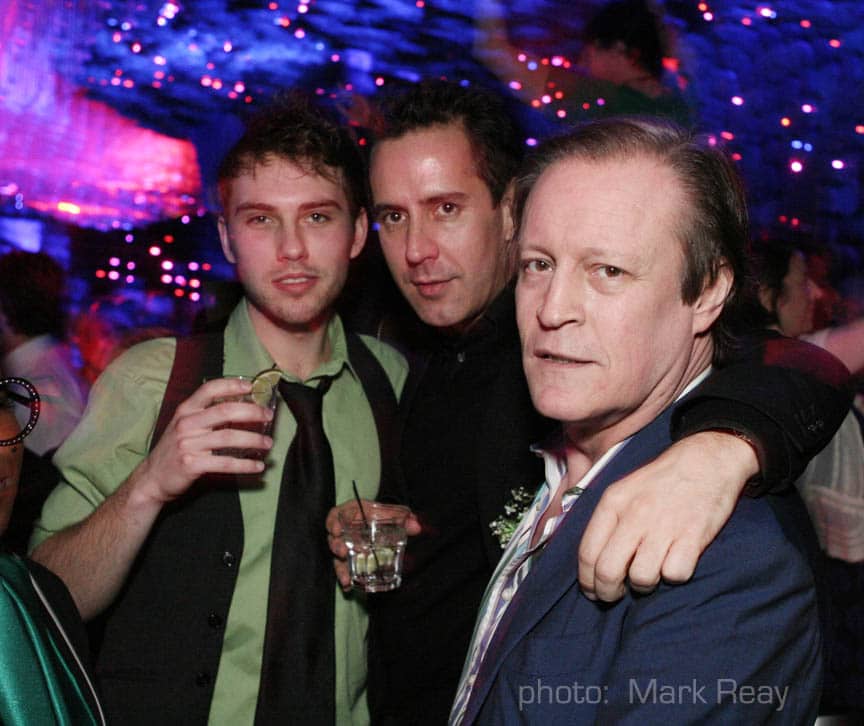 What better place for Patrick McMullan to hold his St. Patty's bash than beneath an eco-friendly dome of green. A-list partygoers, trannies, models, and the icons of New York culminated Tuesday evening to celebrate in a scene reminiscent of a night out with Steve Rubell at Studio 54.
A quick cab ride from Soho House, where we had been partying in the Gatsby library with Patrick McDuffy, Lydia Hearst, Adrien Field, Alexandra Alexis, designer Zaldi and his posse, Malic so Chic, and Guest of a Guest's Scott Buccheitt we arrived to what appeared to be a mob scene pouring into the streets of Varick and Vandam. Larger than life Benecke bouncers held endless spectators in the finest furs, Dolce, and Miu Miu socially hostage. Their futile moans, wails and namedropping were upon deaf ears.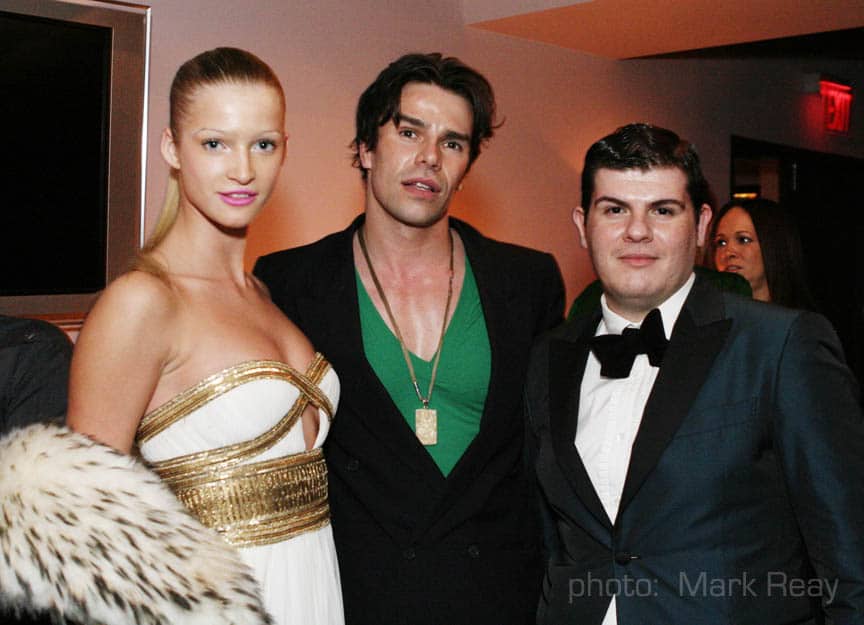 Some that couldn't get past the click of the velvet rope eventually cried "Forget it, the party is out here." Scallywag's photographer Mark Reay whipped out his camera and began directing the well-attired 'modelesques' in the street. In groups of two to three, in front of street signs, on the ground, and in the forefront of bustling taxis speeding by, a demeanor and photographic approach that would have made Steven Meisel proud.
Pen and paper in hand, the inquisition began. Mixed reviews came from partygoers leaving, "too crowded, but amazing you simply must go," "reminds me of the early days of Happy Valley, anyone who's anyone is in there," and "3 hours worth of free booze gone in 45 minutes, what a shame."
A set of abs in a kelly green, skin-tight wrestling singlet stood out from the mass. Carefully inhaling a cigarette, he surely was no athlete. I inquired to his profession, to which he replied, "an artist." An artist, what's your medium. "I'm a visual artist." Before I could dive deeper Mark Reay whisked me inside.
Sparks of green glitter eye shadow, a Stephen Sprouse LV, 4 -inch Miu Miu stilettos, and an oversized gem hanging precariously on the finger of an elbow length black Galliano glove caught my attention. That glove belonged to Vanessa Sterbenz, accessory designer, who was hot on the prowl.
Perusing the scene, she commented on how wonderful it was to see the city icons gathered in one place to celebrate a festive occasion with McMullan. As for the attire of the crowd, "in these times of recession, people are dressing more creatively, it is something that makes it more fun to get up in the morning."
I asked if she was looking for a pot of gold, to which she answered, "Only if there's a man attached to it." With a green glitter wink, she blew me a kiss and disappeared into the crowd.
Valerie Geffner, who had performed earlier in the evening, passed me with a shock to the aura.