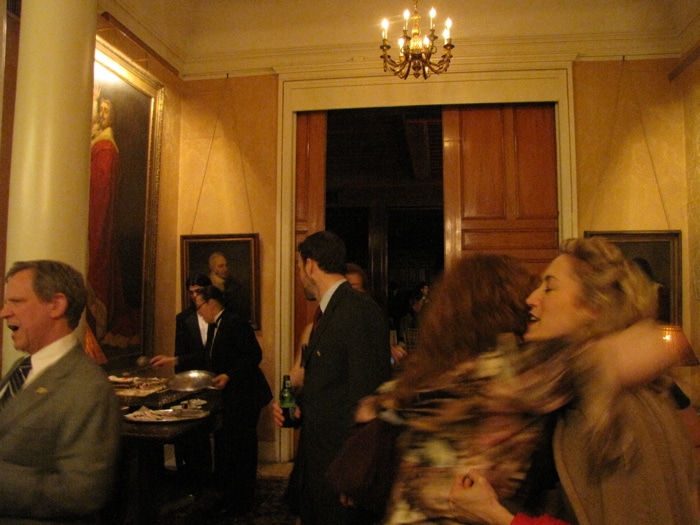 Saturday evening a vibrant nebulous of energy was hosted by the Acting Studio at the Players Club on Gramercy. The Gala was a decadent affair celebrating the Studio's 25th year reunion and raising funds for the revival of the Chelsea Rep LAB.
Waiters glided along oriental rugs and polished floors. Dressed in crisp black bow ties, freshly starched 800 count woven shirts and an air of sophistication fit for the English Royal Court of a Jane Austin novel, they offered us endless epicurean treats upon silver trays. Candelabras and chandeliers cast dialectic of light and dark appropriate for a Caravaggio masterpiece.
Munching on lamb stick popsicles, coconut shrimp, and sesame chicken chunks on skewers plucked from trays of wheatgrass, my gaze wandered along the walls of endless iconic images in gilded ornate frames. The bartender offered perfectly chilled chardonnay from his post in front of a bar of original blue-delft tiles and wood rich enough for a Germanic fairytale. He explained that the pewter mugs hung above the fireplace were once the precious beer vessels of former Players members. I wondered if I could just hold one, would my pen thus forth channel the eloquence and brilliance of a Twain short story?
Early in the evening, we were offered an exclusive tour to the member's only levels of the club. As we passed the grandfather clock and ascended the spiral staircase, my heart raced. Our tour began in a library fit for a round of Clue. My imagination soared, could I please, please be Ms. Peacock with the candlestick?
A synopsis of the Players Club was presented under the plethora of historical documents, novels, and manuscripts on the bookshelves lining the room. Our tour guide explained that during the nineteenth century all actors were considered murderers and thieves. This gentleman's club was founded to cast away these accusations, elevate the profession, and provide a platform for scholarly activity. Hmmm… No chance to find the false bookcase for a secret passageway toward former rituals worthy of Freemasonry, but certainly these scandalous Scallywagish allegations must have had some semblance of truth or perhaps I've just seen National Treasure one too many times.
We were then ushered into the former living quarters of Edwin Booth, founder of the Club and brother of the treasonous assassin John Wilkes Booth.  The room was divided into two: sleeping quarters in the east, study in the west. His bedroom had an interesting collection of sorts including buckskin pouches, a Shakespearian sword, and a family crest when translated reads, "I look forward to what I shall become."
In the study, a skull rested on the bookshelf. Apparently, it was the cranial bone mass of a man Mr. Booth's father had met in prison. That man was a horse thief and was to be executed. Before the rope took his last breath, he bequeathed his skull to be used in Booth's productions of Hamlet. How eerie and divine!
Our tour continued with the dark and stormy night of Booth's death. Our guide shrieked Edwina's last words "Don't let father die in the dark." The words resonated and as we left the room I thought I caught a glimpse of her tear-strewn face, grasping onto the silk drapes, as nature howled against the shutters with pounding winds and Zeus's bolts. Poor Edwina.