What do you get when you mix black tie accoutrement, Donald Trump's United World Bar, a young socialite who has pull (the very affable Sally Shan), and the power of Facebook connections? You might be surprised, but you actually get a pretty good show, a pity not everyone could get in…
see latest update on Sally Shan.
This past weekend,I was treated to a throw back to an era reminiscent to the one of our collective parent's era and the bravado one had been acclimated to classic film noir's of the 40's, 50's and 60's with Franky Sinatra, Dean Martin and Humphrey Bogart. Elan, class, money, lots of it, Grand Marnier and in the middle of it a young debonair socialite slinking back and forth in her love seat as she watchedthe show in her mind coming very much alive in front of her.
Catching up with Sally, and nearly more …I asked her what had inspired the house party avec black tie sensibility.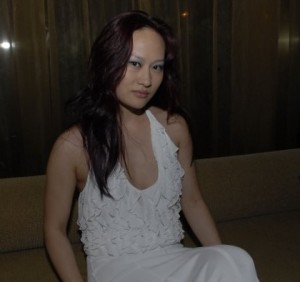 Sally: I've always thought that men who were diplomats, intellectuals, professors and of a certain ilk to be more intriguing.
SCV: Yes, I somehow relate.
Sally: And the United Nations Trump venue been so close and frequented by this sensibility I was inspired to see if me and my friends could put on an event like this.
SCV: By the looks of things you could of have put on 3 events back to back in the same evening.
Sally: You think so? I was thinking the same thing…
SCV: Now that you have asserted your social prowess where from here?
Sally: Well, there's fashion week, and I've already been invited to a number of fashion shows.
SCV: Which row will I be seeing you?
Sally: A girl never talks about numbers.
SCV: Except during the divorce.
Sally: But we've just met…
SCV: Could you be so kind to describe to us your day job.
Sally: Model, actress, socialite.
SCV: Naturally…
Sally: Oh are we face book friends yet?
SCV: Does being a facebook friend precede a friendship or approximate it?
Sally: Ok, only if you want to…
The last time I checked Sally had 1802 friends to my measly 587 friends. Amazing that in our culture that anyone with a modicum of wit, charm, pizzazz and a facebook account can become famous and the hostess of the mostess. Marketing tool, validation tool, genuine reaching out to cyber space to meet new friends, who knows? Sally's experiment worked, and by the looks around me it's going to keep working.
As the Scallywag entourage set out to leave later that evening I was reminded of the Andy Warhol adage;
Fame comes to everyone for at least fifteen minutes, but then again there are some of who are destined to be famous for eternity.
It may well be that Miss Sally Shan has just begun the journey on the eternity part…