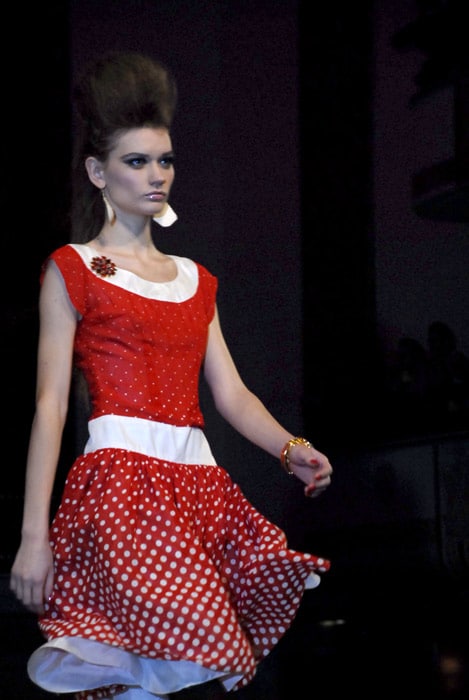 Even before the show started the show started if you know what I mean…From flamboyant punk, life sized teddy bears, Barbie doll vignettes, triumphant divas and savage au les homes we were all in for a treat on and off the stage. By the way how did Richie Rich get Pamela Anderson in that G string and roller skates?
Coming to Richie Rich, part half of the famed 'Heatherete ' label has always been about coming to a fantastic vaudeville experience. Like most vaudeville excursions one comes with their moms and pops except that is when you are coming to a Richie Rich vaudeville show…you come with the mom and pop you wish you had, or the ones Riche Rich wish you had.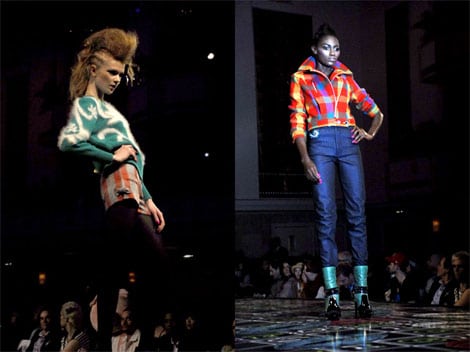 Watching the boys and girls hurl (and we do mean that) themselves down the runway over at the Astoria (as opposed to Hysteria?) Waldorf it was like watching a collective of the finest youths, thugs, misfits, recalcitrant , anti establishment, bikini strutting ensemble revolt and come up with a fantastic collage that only they could dream of.
Reminiscent of 60's verve,  anti establishment, 50's kitsch (the house wife look gone sleek and tre colorful), hot paints (and we mean hot), army fatigue briefs and medallions for him, and the occasional Iggy Pop 'Wild Child" look alike strutting.
Just when you thought it was over our dear friend Amanda Lepore strolled down the plank in a buxom dress that led you thinking this is what Marilyn Monroe really had in mind only to be topped by Pamela Anderson with a fine piece of cloth separating her buns of steel.
Of course we really don't think Richie Rich really minded after all…and neither did we.