Photography by Tim Becker
Paparazzo Fixx on another assignment, we wonder whose more glamarous?-Scallywag.
White, like an ash-covered inhabitant of Pompeii from the 1st century, lava pouring out of her delicate skull and moving down the back, she's leaning over a railing surveying the scene below, ready to explode.
"Are you excited about fashion week?"
"Always."
I move closer and upon looking down I can see girls being adjusted, hair being fixed, spotlights on staircases, a DJ table, a bar.
"Which one is the designer?"
"Lindsay, the blonde one, with her hair twisted up."
"I'm meant to interview her."
"Are you Christopher?(Scallywag)."
"No, I'm the next best thing. How did you know about Christopher?"
"I over heard a conversation. Do you have your questions ready?"
"I hope so.  I have a tendency to drink too much and ask too little.  I better get down there and do the latter first."
"Good Luck…"
Down the stairs and into the pits of Broadway East I pull the young designer from her concentration for a quick interview before the show begins. Despite the mad rush of last minute adjustments, she is quite affable and pleased to  sit with me.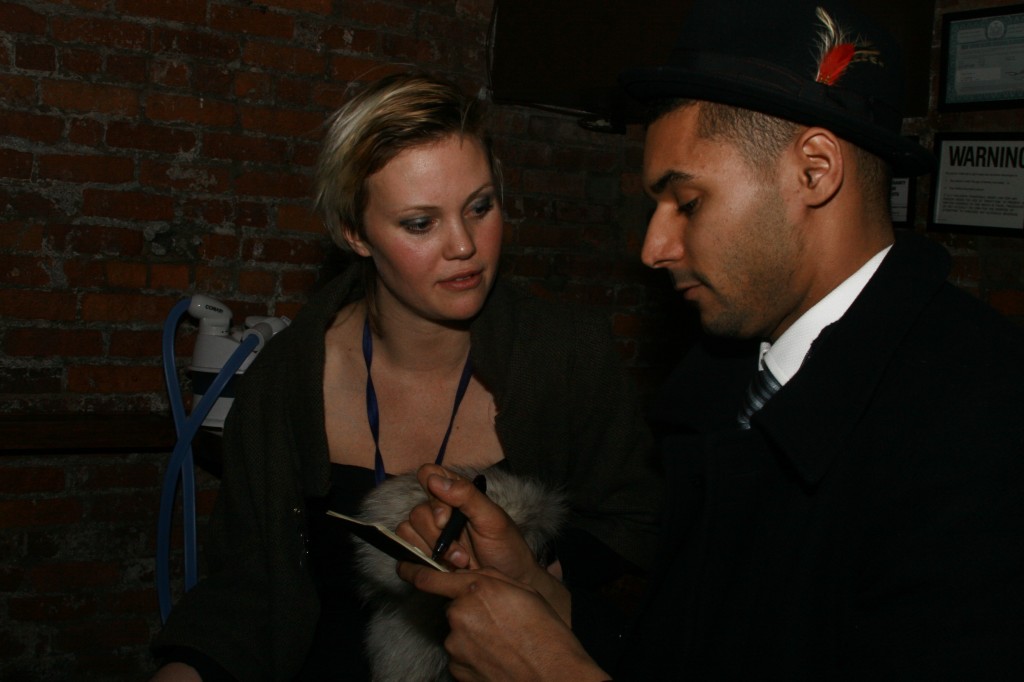 SCV: I like what I see.  Tell me about the collection.
LJ: It's dark, elegant. Silhouettes have a major importance.  I'm creating minimal silhouettes, reestablishing the beauty of silhouettes.  There are cocoon shapes and Turkish influences. Art Nouveau plays a big part.
SCV: I see that.  It's slightly gothic.
LJ: Yes, but an elegant gothic.  "Goth" has gotten somewhat of a bad reputation, so I wouldn't call it "goth".  There are more things going on here than just "goth".
SCV: So what time period where you mostly inspired from? 

LJ: 1930's
SCV: How fitting.  How many collections is this for you? And who would you say this line is intended for?
LJ: This is our second collection.  Our target is more high end.  This isn't just clothing, it's my art and therefore a luxury.
SCV: So where did all this begin?
LJ: The label is "Outlaws of the Border" and was created by my husband Gautier and I.  He's doing the music tonight.  Our first company was EVOL DOG; "Love God" backwards.  But that's finished now.  I was interning for Zac Posen and used to make dresses for Sybil Buck.  That lead me to the Art Institute where I figured out I already had the skills I needed.  I quit and did it on my own. Our big break came when WWD used one of our pieces on their cover.
SCV: Clever girl.  So what's the fascination with outlaws?
LJ: It's just the freedom. You know punk, rock.
SCV: I have to ask, have any books influenced you?
LJ:  'A Farewell to Arms' is my favorite book but I love Tolstoy as well.  What about you?
SCV: I just finished The Master and Margarita and am starting Slaughterhouse-Five.
LJ: I love Slaughterhouse-Five.  I once read the whole thing aloud to Gautier.
SCV: That's incredibly sexy. So tell me, where can our readers find your line?
LJ: We're selling at In God We Trust and Kate in LA.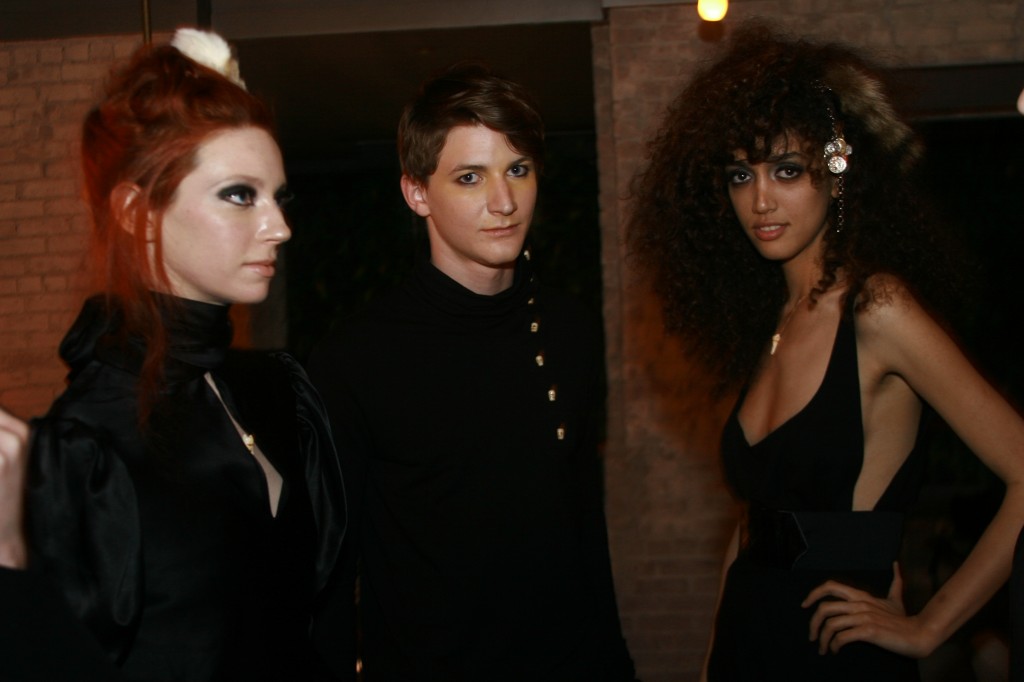 There is a silver hummingbird broach attached to her breast. A symbol of freedom, energy, tireless joy, and accomplishing things that are said to be impossible.  I ask her about it and she tells me that she just likes to collect beautiful things, but the two seem made for each other. She's needed to continue setting up and Gautier takes her place.
SCV: So how did you two meet?
GP: We actually met on myspace.
SCV: Tell me more.
GP: Neither of our pages had pictures of ourselves, just our art, images, and poetry.  We became obsessed with each and finally met in Paris. We started doing collages together and everything happened from there.
SCV: Tell me about the music tonight.
GP: All of the music tonight is by artists who are on the Outlaws of the Border label. We're not just a clothing line.  We're art, film, and music as well. I manage a record label The:Hours that is primarily rock and we have some amazing artists signed.
SCV: I love the dark minimal beats tonight; it really accompanies the collection well.  One last question, what makes you a scallywag?
GP: Sex!
How French. I move back upstairs feeling quite accomplished and satisfied with myself. Emaciated Edens are sitting at tables waiting for the show to begin. A waiter is coming around and giving bread and butter to everyone and I ask him please not to feed the models as I join a table or three.
"Dobryj Vecher."
"Oh, you speak Russian?"
"Minya Zavut Fixxy, Kak vas zavut?'
"I am Yulia, and this is Yulia, and she is Masha."
"Nice, Kak dela?"
"Horosho."
"That's about all I got besides the usual.  Let's keep it English."
"You pronounce very well."
"Thanks, so do you.  So how long have you been in the States?"
Yulia speaks, "two weeks, that is all."
"Wow, I guess you're just here for the shows?"
"Da."
"Any interest in living here full time?"
The other Yulia jumps in, eyes wide open, I'm barely listening, "I would only move here if all of my friends and family moved her also."
"How loyal of you. What do you do back in Moscow?"
"I study."
I go out for a smoke and contemplate on which of the two Yulia's should be my bride.  I'm one of the few people in America with dreams of living in Russia and marriage seems like the quickest solution. There's a giddy looking brunette wearing green fishnets with holes in them leaning against the streetlight.
"Cigarette?"
"Absolutely. I'm Chi Chi."
Why am I not surprised? Her friend arrives shortly thereafter. I take them in with me as the show is about to begin.  Interns for Paper Magazine, they make a great duo.  Down in the pit we're treated to dark shadows and beats, black silk on white nights, and proof that Americans and the French can still fight a revolution together. Recession be damned, with derringers tucked in black garter belts, Outlaws of the Border are claiming a style all their own and the crowd concurs. Chi Chi's partner in crime Catherine asks me what is on top of one of the models heads.
"I think it's fox."
"It looks like a gerbil."
"Then my dear, it's all about gerbils this winter."