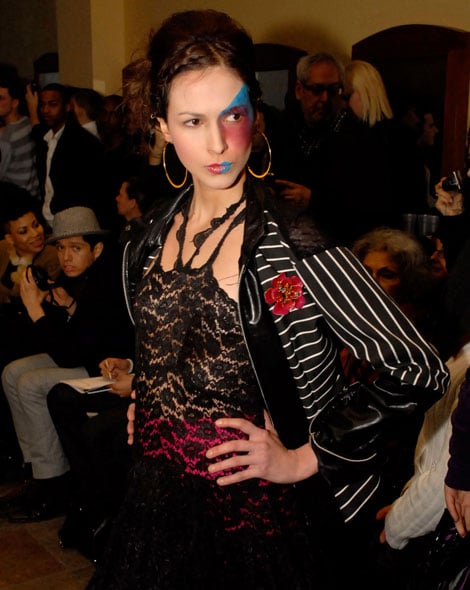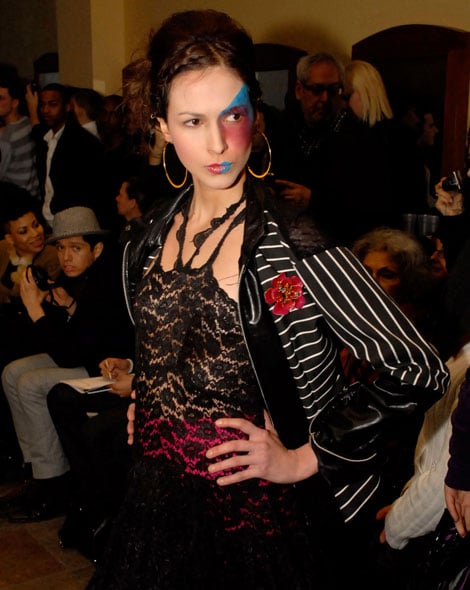 Coming to Nico and Adrian's showroom ensemble last week to see what we reckon to be one of the city's most up and coming designers was an exercise in giddy delight, Marie Antoinette ballroom drama and the wicked boys that pranced and nearly bared all. All that was missing was an explosion, but in a way we got one anyway.
Okay some of the pieces were a bit off the mark for our tastes (Scottish kilts with Mohawks and Doc martens were a bit much for poor me), but the ideas and the bravado were so refreshing. We were very glad to be there at this kitsch little spot off the beaten path, but just down the road from the Bryant Park tents. We've always thought the idea of  a designer is to inspire, to bring some conjecture, drama and whim and delight to an audience that has nearly seen it all.
With their trademark use of young girls, donning a behemoth Alaskan coyote hat, fur lapels and fishnet stocking were certainly quite impressed (the audience all but broke down…). Progressing with their allure for street wear (although I  did hear that Nico was still down there in Brazil when Adrian put on his love joy spectacle) the boys and girls continued with their Mohawks, painted faces, layered taut tops, ruffled sleeves and sheath, leather sleeves attached to red feathers or was it wings (and nothing else- pure whimsy) .
It was fun watching Adrian breaking all the rules, and we're glad he did, cause we reckon the next collection is going to be a continuation of the same but now that the air and explosives have been lit we think the boys are going to cruise over the finish line instead of sprint. Then again, I hear they prone to sprinting in kilts and Doc Martens over there in Scotland…
Photography by Seana Cavanagh.