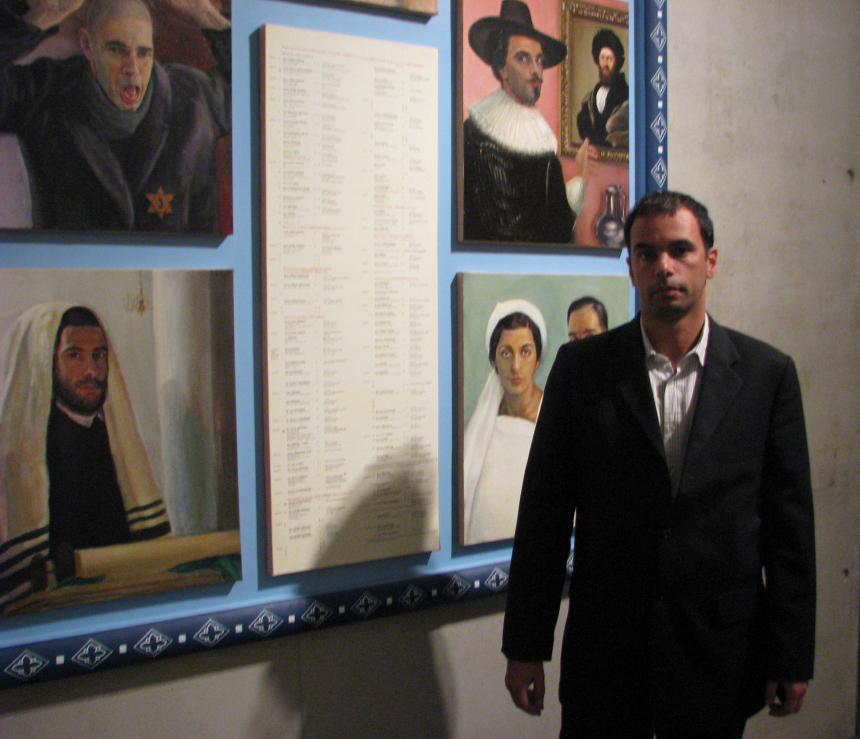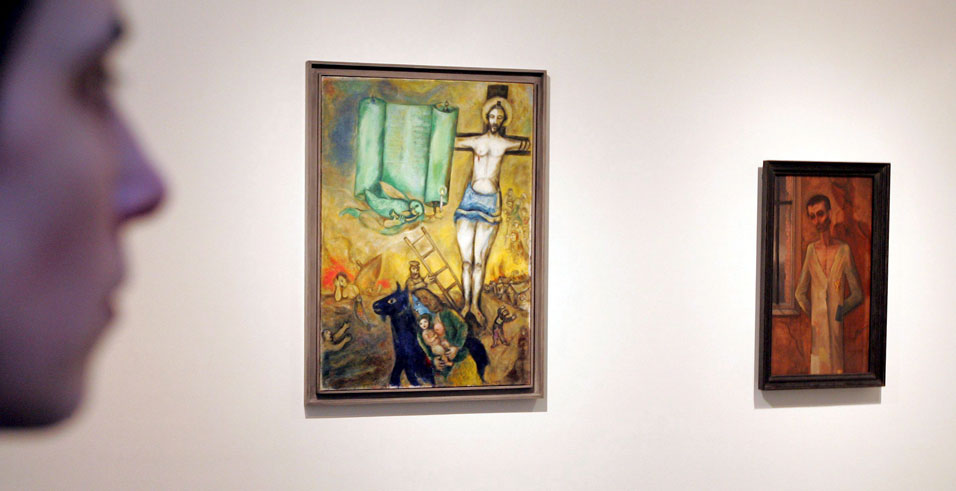 On December 6th, I missed Art Basel Miami and the party sponsored by Asprey Jewelry, which one of my dealers, Kiptonart, was throwing at the luxurious Setai Hotel, in South beach. I could not make it to Miami this year because I was at the opening of "The Hidden Trace", an extraordinary art exhibition at the Felix Nussbaum Haus in Germany, in which I exhibited in prestigeous company.
Link to previous interview with artist Serge Strosberg in our magazine.
The Museum is a giant sculpture in itself, designed by the world famous architect, Daniel Libeskind. The Berlin Jewish Museum architect as well as the architect selected for the Freedom Tower at Ground Zero. The construction, partly covered with wood is made out of concrete buildings.
The Museum is composed of three buildings that point in different directions, forming a zigzag pattern, with windows that are void of right angles.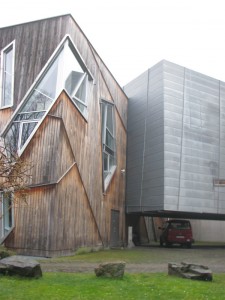 The galleries inside the Museum form a dark labyrinth where one could easily find themselves lost. This audacious architecture really disturbs the visitor's sense of orientation, and there is no easy way out as the exit inside the Museum is blocked by a large train stop sign. So in order to exit the building one must go back and find his way towards the entrance!
The Museum usually shows the works of one of the most moving and talented German artists of the first half of the 20th century : Osnabrueck born artist Felix Nussbaum. For the 10 year' anniversary of the Felix Nussbaum Haus, Inge Jaehner, the Museum's Director, with support from the city of Osnabrueck, have put on an outstanding show with more than 100 works by artists from all over the world, representing "positive globalization" of Jewish art over the last 150 years.
All schools are represented : German artists (Max Liebermann, Hans Richter, etc.)
Ecole de Paris Paris (Soutine, Modigliani, Zadkine, etc..),
The London School (Lucian Freud, Kossoff, David Bomberg, Kitaj, etc…),
New York artists (Barnett Newman, Mark Rothko, Larry Rivers, MorrisLouis, Philip Guston) along side contemporary artists such as William Kentridge, Rebecca Horn, Boltanski, Michael Druks, Uriel Orlow, Serge Strosberg, etc.
The works are exhibited and compared, side by side, with Felix Nussbaum's paintings. They illustrate different themes that are recurrent in Nussbaum's work: exile, transit, dialogue, memory, shtetl, town, territories, diaspora and mostly, identity.
Tragically, Nussbaum perished in Auschwitz at age 39, however his art and Jewish culture survive despite the horrors of the Holocaust. Today, similar themes are inspiring artists belonging to other victimized groups, : Armenians, Gypsies, Palestinians, Chechens, Tibetans, Rwandans, African Americans, etc.


Image by Felix Nussbaum : "A group of three", Felix Nussbaum, 1944
Image by Chagall, "The yellow crucifixion", Marc Chagall, 1942
Image of Rebecca Horn, "Mirror of the night", Rebecca Horn, 1985
On the way to the museum, on the cold morning of December 6 , there seemed to be only one taxi available at the airport. In the distance, I saw a short man with white hair shouting in English that he wants to go to Osnabruck. The taxi driver only spoke German. I tried to help with the few German words that I know.
The man asked me with a strong Israeli accent : "Where are you from?".
For a moment and wondered what an Israeli and a dark haired Jew like were doing in Osnabruck Germany, on a freezing December morning, instead of enjoying the warm weather and the beach in Miami or Israel?
In fact,we were there for the same reason: the show at Felix Nussbaum Haus. The Israeli's name was Michael Druks. We decided to take a walk in Osnabrueck after the taxi has dropped us. The name of our hotel was the Walhalla hotel ("Walhalla" is the heaven where warriors go after they perish in Viking mythology). That's how I feel in this place, like a "warrior"! Even 60 years after, for a Jew to go to Germany still brings back memories.
But this time, it is for a very good reason. Not only is "The Hidden Trace" a great show, since I have been invited to participate in the exhibition, the piece that I am showing is GENEALOGY.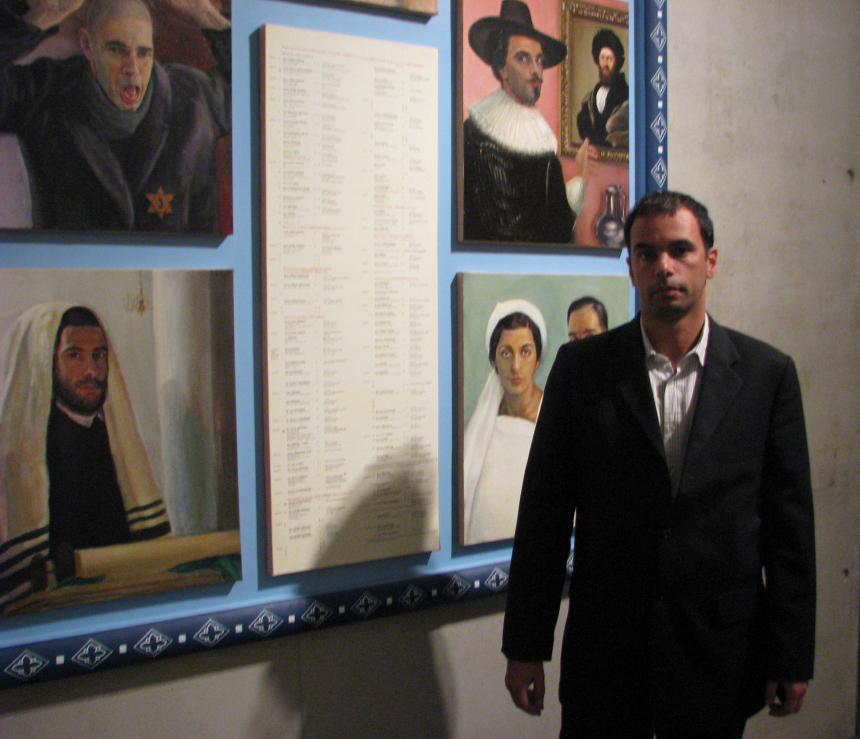 My installation displays seven self portraits dressed up as my ancestors, and it includes my family tree. The 500 years old Dutch Portuguese Jewish family tree is recorded in the Amsterdam archives. It is my grandmother's ancestry: Julia Lopes Cardozo.
Our visit of the city of Osnabrueck begins. We are surrounded by thousands of tall blond people enjoying sausage and German beer(s). The atmosphere is polite. People are a little surprised when I order food with a loud NY accent. The Israeli artist teases me and asks if I eat Kosher. He then orders a huge pork sausage and I do the same. Michael, my new Israeli friend is a fellow artist. He has three pieces in "The Hidden trace" and decides to share his views with me about his art and Jewish art in general. He started off as a conceptual artist in the 1970's. Lately though, he's been coming back to two-dimensional art. For him, two,dimensional art is more of a challenge. He believes in mental art as opposed to an art that appeals to the senses.
As we ordered our food and drink, Michael began to tell me his opinion of things. "Energy can be very concentrated in a tiny laser beam!" said my new friend, as he started into his sausage, with a solid eye on the beer that the waiter just sent down.
He continues; "Jewish artists have a tendency to aim at deeper things. The 2nd commandment in the Bible states that : "You shall not reproduce images of God" (in other words, you are not allowed to represent people. But for the past 200 years, major Jewish artists [except or abstract expressionists such as Rothko, Barnett Newman) have not obeyed this commandment and have been extensively representing the human figure (Felix Nussbaum,Soutine, Chagall, Modigliani, Pascin, Freud, Pissarro, Balthus, Alex katz,etc.
This is demonstrated in the show at the Felix Nussbaum Haus. So why are religious leaders concernd about two dimensional paintings representing the human figure?"
With that, I could tell that Michael was finished. We finished off our sausages and beer, and seemed quite content.
So, perhaps the artist's act of creating something out of nothing is perceived by religious leaders as a direct competition with God.
Images have incredible power.
6 :00 pm, I arrive at Felix Nussbaum Haus where I am being greeted by the Assistant Director, Mechthild Kunert, then by the Director of the Museum, Inge Jaehner. She kindly answers the questions that I had in mind for an article for Scallywag and Vagabond.
Serge Strosberg (for SCV) : "What is the primary intent of the show?"
Inge Jaehner : "To pinpoint the innumerable stimuli that Modernart owes to the Jewish tradition of life, ideas and creativity, and so they help trace a path through the rich facets and ideas extending from the 19th
century until the present day. This positive influence is also part of globalization. During and after the war, this challenged national socialism."
Serge strosberg (for SCV) : "Why is the show called: "The Hidden Trace"? What is the relationship between Daniel Libeskind's architecture and the painter Felix Nussbaum?"
Inge Jaehner : "The Felix Nussbaum Haus corresponds variously to the works of Art on display, for it is in itself dedicated to a "Hidden Trace", the life and work of Felix Nussbaum, and the paths of his destiny." He was born in Osnabrueck, but went to Berlin and Rome for his art, and was later forced to hide in Belgium from the Nazis who deported and murdered him in 1944, because he was a Jew.
Apparently, Libeskind was inspired by an illustrated map from a 1780 book, "Jobsiade" which shows a system of zigzag lines referring to a particular route to Palestine, via Europe. These zigzag lines are present everywhere in the Museum. They symbolize Felix Nussbaum's flight and exile. The separate buildings which form the Museum all point towards different directions, including Osnabrueck's Synagogue, but also of the old Gestapo office."
Serge Strosberg (for SCV) : "How does Felix Nussbaum's style compare to the style of two other major German painters: Otto Dix or Christian Schade?"
Inge Jaehner : "Felix Nussbaum has his own personal style. He deals primarily with human emotions. Many of his paintings express fear of
death, but with a lot of humanity."
"The Hidden Trace" also shows a series of remarkable paintings by Larry Rivers, especially a giant triptych entitled "History of the Jews", a giant tapestry (9 x 12 ft)"
Porter series –Noah tapestry" by South African artist, William Kentridge, videos by Uriel Orlov, portraits by Modigliani, Soutine, a famous Lucian Freud painting: "Reflection with two children" on loan from the Thyssen-Bornemisza collection. There are also works by Hans Richter, Eva hesse, Philip Guston, Richard Serra, Morris Louis, Rothko and many many others.
The Museum also shows sculptures by Ossip Zadkine, Lipchitz, Dani Karavan and installations by Rebecca Horn." The exhibition lasts until April 19th, 2009, so the public still has amble time to see it. For more
information, please visit www.osnabrueck.de/fnh