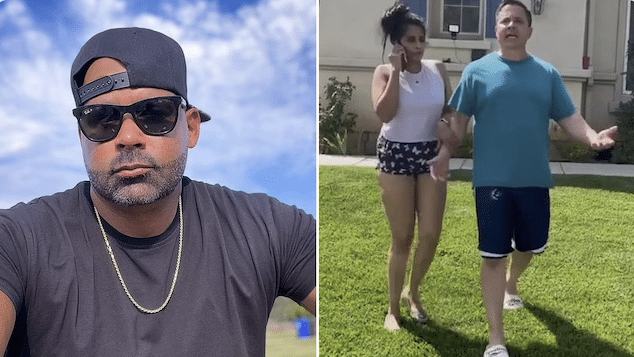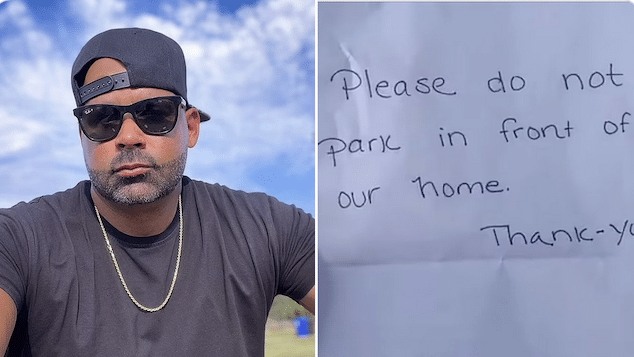 Santa Clarita Karen & Ken get into fight with Steve Haas, California man after placing note rebuking him for parking in front of their home. Driver takes exception and confronts homeowners with unfolding scene caught on cellphone and later social media, going viral.
A Santa Clarita, California couple have become the focal center of social media wrath after video was shared showing the husband and wife having a verbal confrontation with a man who had just moments earlier parked in front of their home.
Steve Haas, was visiting a friend in Santa Clarita Valley over the weekend when he left his vehicle parked on a public street.
But when the man returned, he was stunned to find a hand written note on his windshield from an individual who lived in the house that he was parked in front of, remonstrating him.
'Can you leave my property?'
Read the note written by Karen ( a pejorative term used to describe a self entitled privileged female): 'Please do not park in front of our home. Thank you.'
That's when a perplexes and peeved Haas, with his cellphone video turned on decided to knock on the home-owner's door. And that kids is when the sh*t hit the fan.
'I'm parked at my homeboy's crib and I get this letter that says, "Please do not park in front of our home. Thank you,"' Steve began in his video which he later shared on Instagram (under the handle #bosshaas)and went on to go viral.
'So I went and knocked on the door and asked why. It's a public street. And she says she owns this parking spot. She owns it?' Haas continued – when suddenly, the woman in question came storming out of the house.
The un-identified female homeowner appeared to be filming Steve and is heard saying to the camera, 'This guy right here is on my property, coming and knocking on my door, and causing us problems. I don't know who this guy is, but he needs to leave.'
Santa Clarita Karen then speaks directly to Steve, asking, 'Can you leave my property?'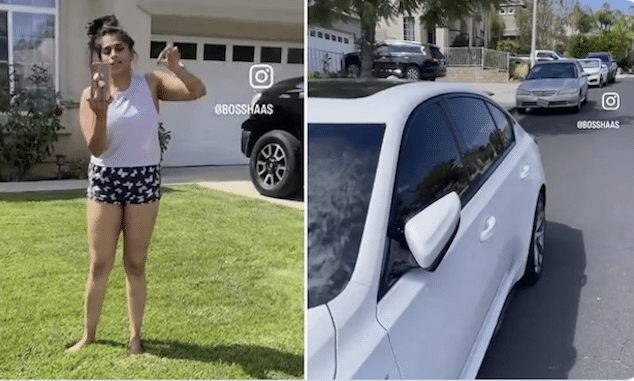 'This is a public street!' 
Steve rebuts, insisting that he was not on her property, but instead, he was on a 'public sidewalk,' adding, 'I can stay right here.'
'OK, that's it, I've had enough,' Karen is heard saying as she turns to head back into her house.
It's then when Steve starts laughing in response, serving to infuriated Karen.
'Why are you laughing?' the un-identified woman turns and demands. 
'Because that's the rudest s**t I've ever seen in my life,' Steve responds. 
'You are the most ridiculous person,' Karen responds. 'You parked in front of my house so I left a note.'
'This is a public street,' Steve is heard saying. 'So of course I'm gonna knock on your door.'
Define rights? 
It's at this point, Karen's husband, Ken enters the fray as the agitated spouse now steps outside to confront Steve.
'You don't live here sir,' the un-identified husband is heard telling Steve, who explained, 'It doesn't matter, I'm visiting. Do you do this for everyone who comes and visits?'
'No, it does matter. There's people who park in front of my house continuously…' Ken yells back. 'Can you please leave?' 
'Nah I have every right to be right here,' Steve said.
Yes kids, we have a real doozy here!
Ken goes on to call Steve a 'jerk' and 'stupid,' while also branding him as 'childish' for filming the ensuing incident.
'You know what I'm gonna do? I might just come out every weekend and park right here,' Steve now taunts the man.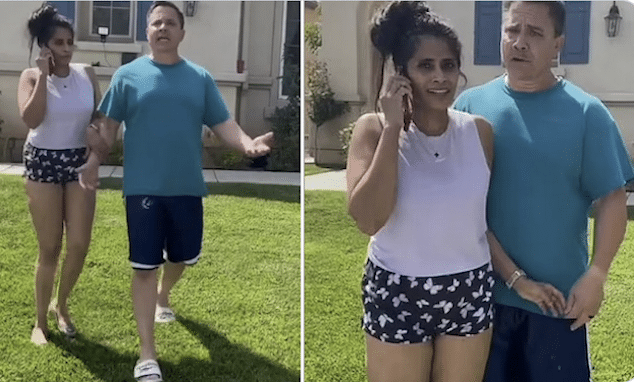 'sheriff was on the way.' 
'You sure could. If you wanna be a jerk, you can. That's fine, be a jerk about it, we don't care,' replied the man.
'Have a nice day, go about your business. Don't stand there filming all day, you just look like a stupid person.'
'No, this is stupid,' Steve tells him, while holding up the note.
As the two go back and forth, the man's wife urged Ken to go back inside, with Steve advising the man to listen to her, only for matters to now get even more intense.
Ken is seen in the four minute video walking up to the edge of the grass – only inches away from Steve. 
'I don't need to go inside, this is my house, I can stand right here on the grass right next to you if I want to,' Ken retorts. 
'We can stand here all day and look like a couple of idiots or you can just go about your day. You look like an idiot. You look really silly.' 
Finally, the couple decided to head back into their home, and right before the door closed, the man turns to Steve to let him know that the 'sheriff was on the way.' 
'Thank you. Beautiful couple,' Steve replies before ending the video.
It's unclear if the police were actually called or what happened after he stopped filming the dailymail reported.  
'Yo. Karen and Ken are somethin' else out here in Santa Clarita Valley,' he captioned the video.
The nearly four-minute long argument sparked a barrage of condemnation from social media, with commentators condemning Santa Clarita Karen and Ken 
'I don't like people parking in front of my house but I definitely ain't gonna act like I own it and gonna tell them to move. You just deal,' one person responded following the video going viral in the millions after being shared by Eat It Curly on TikTok.
'Do you have 20 friends who can take turns parking there? That would be awesome,' joked someone else.
Social media responds to fracas
Another user said, 'I would never move my car again. That one would stay there forever, I would have to Uber everywhere.'
A different viewer even said they were going to drive over there and start parking in front of their home just to stir up some trouble.
'Some people are just so miserable… how sad for them,' read another comment.
'The audacity… I wouldn't even waste my time I would've threw that paper right in the yard to the property owner,' added another. 
While other commentators took exception with Steve.
Wrote one commentator, 'The simple fact that he came on her private property to confront her about the note makes him wrong and negates any prior communications. She should not have answered the door to him.'
While another responded, 'They are both wrong. The guy has a right to park on the street but he shouldn't confront the homeowner. That's just asking for trouble. This has happened to me before. I just laughed, ripped up the note, and drove off.'