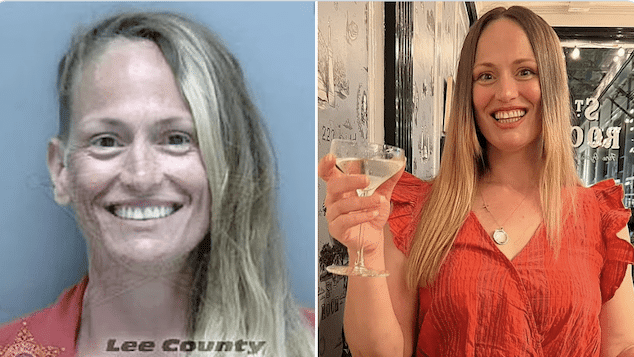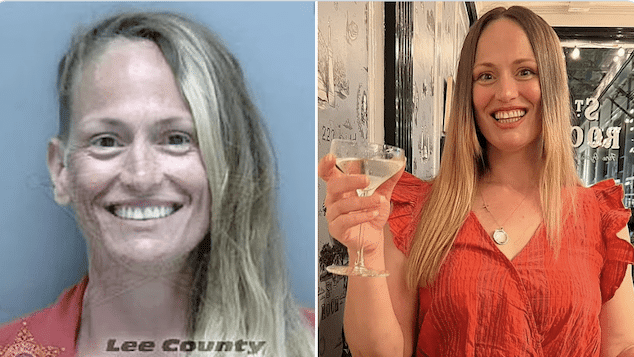 Allison Daugherty, Florida 'transient' mom abandons toddler in running car to go swimming with sharks as social media posts indicate troubled mental well-being. 
Maybe next time she might get eaten by the sharks…  A Florida mother has been charged with child neglect for allegedly abandoning her 2-year-old son in a still-running vehicle to go swimming for nearly 45 minutes cause she wanted to 'meet sharks.'
Allison Sarah Daugherty, 41, was taken into custody when authorities were alerted by a witness who saw her allegedly leave her son in a car while she went swimming off Bokeelia Fishing Pier around 10:30 a.m. Monday, according to the Lee County Sheriff's Office. 
According to the witness, Daugherty — who is listed as transient on the arrest record — parked her 2007 Honda Pilot near the pier and turned up the radio before jumping into the water according to an incident report. 
Perplexing behavior 
Twenty minutes later, the passerby noticed the small boy crawling around the vehicle, which was left running with the air conditioning on. 
A group fishing off the pier also reportedly yelled warnings to avoid their hooks — only for Daugherty to say 'she wanted to get hooked' and 'would want to meet sharks,' with the mom noting that sharks are often seen in the waters.
But there was more to come.
When deputies arrived, Daugherty reportedly swam out even farther before she was brought ashore in a rescue boat.
By then, Daugherty had left the toddler alone in the car for about 44 minutes, FOX4 reported.
Footage showed Daugherty in a black bikini top and matching briefs as she was arrested and booked into Lee County Sheriff's Office that afternoon. 
Her son — who staffers at the nearby Cap'tn Con's restaurant said was still in diapers — reportedly ate lunch at the eatery before being picked up by a relative, they told NBC 2.
'He was a sweet little boy, very well-behaved,' staffer Jenny Wray recalled.
'He sat and ate and watched TV like oblivious to what was going on, thank God.'
Troublesome social media posts
Daugherty and her son had visited the restaurant at least three times in the last week prior to her arrest, Wray added.
Each time, she noted, the mother was behaving oddly.
'We called the sheriff's office [on Monday]; she didn't seem drunk. She didn't seem intoxicated,' she alleged. 'Something was just off.'
Of note, the mom has previously wrestled with legal disputes over unpaid insurance and child support. The identity and whereabouts of the child's father was not immediately known. 
Social media posts leading up to Daugherty's arrest, shifted from sharing family moments to increasingly incoherent content related to nebulas, meteors, and strange weather phenomena, raising concern over mental well being. 
Daugherty was booked on one charge of child neglect, or leaving an unattended child in a motor vehicle for an excess of 15 minutes, the arrest record shows.
Her bond has been set at $250, with the 'transient' mom due at a court hearing on Oct. 2.