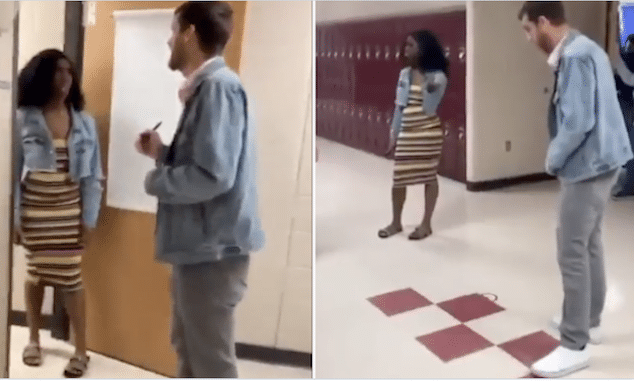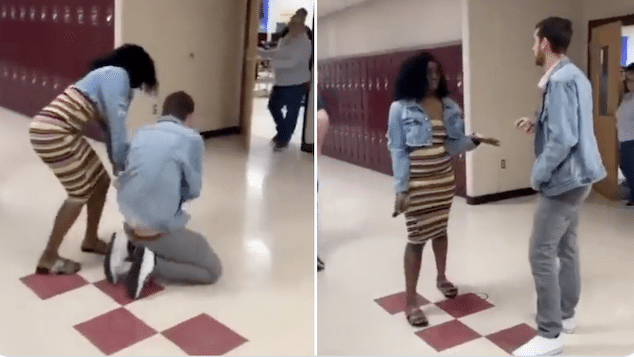 Antioch, Tennessee high school student pepper sprays teacher over confiscated phone during class as social media responds.
When pupils no longer have respect for authority. Video has captured the moment a Tennessee high school teacher being pepper-sprayed by a student after she had her phone confiscated during class.
Cellphone footage taken during class Friday at Antioch High School captured the  student confronting her teacher after her phone was taken away as a disciplinary action.
The unidentified student had been 'texting and Googling answers for her school work,' according to Reddit user @Lazy_Mouse3803, who shared the now-viral clip.
In the minute-long video, a female pupil is observed getting up from her desk and walking out of the classroom as the student filming repeatedly exclaims, 'Nah, mace is crazy!'
Student Pepper Sprays her High School Teacher because he confiscated her phone in #Antioch, #Tennessee.

The student was "texting & Googling answers for her school work" when the teacher took the phone.

(2 months ago, the same teacher was punched in face over similar incident) pic.twitter.com/PUEBocWzsz

— 🄴🄻ϻ🄴🅁 🄵µ🄳🄳 ✝️ (@Elmr_Fudd_again) May 6, 2023
 'Okay, now give me my phone.'
Students in the classroom laugh and joke before following the rebellious student into the hallway, where she can be seen trying to get back her phone from her teacher.
By the time the student filming enters the hallway, the teacher can be heard telling someone in a different classroom: 'She just pepper-sprayed me.'
The female student follows the educator, repeatedly demanding that the teacher, 'Give me my phone!'
The student then holds the pepper spray close to the male teacher's face before spraying him a second time, causing him to fall to his knees and yell.
Another adult emerges from a neighboring classroom to intervene as the female student continues unperturbed to demand her phone be returned to her. 
'She pepper-sprayed me!' the teacher says after standing up, to which the student replies, 'Okay, now give me my phone.'
Yes kids, just another day in a dysfunctional high school.
'Give me my self respect! Give it to me now!' 

Social media responds
The student with complete disregard continues to  demand her phone be given back to her even as another teacher steps in to tell her, 'No, not now.'
The video ends with the pepper-sprayed teacher coughing. According to the video's poster, this was the second time this teacher has been assaulted by a student.
Two months earlier, the same teacher was punched in the face after taking a different student's phone when they were caught cheating in class, the post claimed.
Internet users condemned the student's behavior, with many calling for her expulsion and arrest.
One Twitter user wrote: 'Can't wait to see the comments that will say she was justified cuz the teacher 'stole her phone'. No she wasn't justified, and she should be expelled.'
Another noted: 'Not justified, on top of the fact she should be suspended not only for her behavior but also for having a weapon in school.'