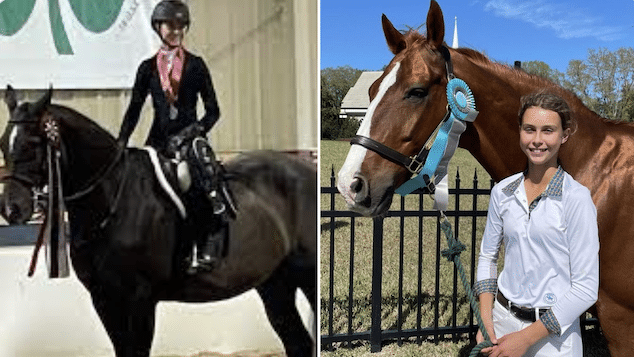 Hannah Serfass, Florida teen equestrian killed at

Fox Lea Farms while competing at facility. Teen rider was rising star and passionate about horse riding. 
'I want to keep going with it.' Those are the words of a rising teen equestrian star during a recent profile who died in an accident over the weekend while competing after the horse she was riding knocked her off and then toppled on her head, officials said.
Hannah Serfass, 15, of Webster, was competing at Fox Lea Farms in Sarasota, Florida, Sunday and was halfway through a riding and jumping exercise when tragedy occurred. 
Serfass was about halfway through the course when the horse stumbled after completing the sixth jump. This caused Serfass to topple forward and fall off the horse according to the United States Equestrian Federation.
The horse then fell on top of the young rider's head as onlookers rushed to her aid before emergency crews arriving.
USEF explained that Quaxx 2, a 12-year-old gelding Serfass was riding, tripped and suffered a rotational fall that was 'unrelated to a jumping effort.'
Accident to 'unrelated to a jumping effort.'
Serfass was taken to Sarasota Memorial Hospital where she was pronounced dead, WWSB reported. 
'Hannah from Webster, Fla., was a very talented up-and-coming young rider who trained with Robin Swinderman,' read a statement from the US Equestrian Federation. 'She was known for her passion for horses, her natural ability, and her work ethic.'
Fox Lea Farms said Serfass' death left the local equestrian community crushed. 
'We send our sincere condolences to the family, trainer, friends, & the whole equestrian community. We are all heartbroken,' the farm said in a statement.
Serfass was considered a rising figure in the equestrian world and had a 'meteoric' ascent in the sport, according to a March magazine profile.
'I just got into it and never wanted to stop,' Serfass told World Equestrian Center. 'And now, I just want to learn everything I can about it. I want to keep going with it.'
According to the feature, Hannah rode the entire winter 2022 circuit at the World Equestrian Center in Ocala and competed in Michigan.
A versatile athlete, Hannah competed in gymnastics until fourth grade, before switching to riding and showing horses.
Hannah also ran track and cross country at Wildwood Middle School.
USEF said the organization takes every accident very seriously and will be reviewing the fall thoroughly 'to learn what we can do to minimize risk and increase safety in equestrian sport.'
USEF remembered Serfass as a very talented up-and-coming young rider, known for her passion for horses, her natural ability and her work ethic.