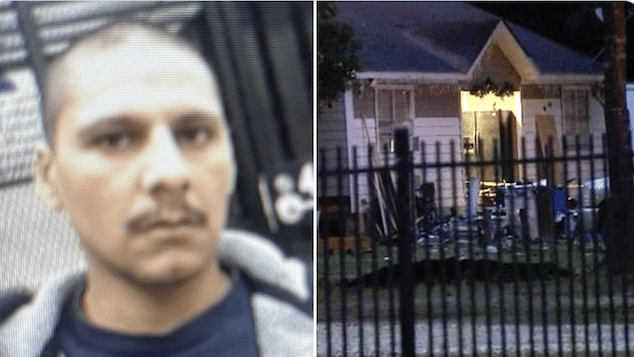 Francisco Oropeza, Cleveland, Texas shooting suspects kills five neighbors, including 8 year old girl after asked to stop gun practise late at night. History of ongoing harassment. Cache of weapons found at suspect's home – who remains on the run. 
And it continues. A Mexican male living in Texas is on the run for shooting & killing five  neighbors, including an 8 year old girl after he was told to practise firing off his his gun in the backyard.
Francisco Oropeza, 38, is accused of opening fire on his neighbors at 11.30pm, Friday night in Cleveland, a city north of Houston. 
The neighbors – a family of ten all living together – had asked the man to stop firing his weapon because they were trying to get a baby to sleep. It hadn't been the first time that the family pleaded with the man to stop firing at night. 
Oropeza, who was known to fire his gun in his yard often, replied 'I'll do what I want in my front yard' and proceeded to march into his neighbor's home and shot five members of the family with an AR-15 before fleeing. 
When police arrived at the scene, they found two adult women dead at the front of the house, and a man lying dead in the living room. 
SEARCH FOR KILLER UNDERWAY IN CLEVELAND

An 8 year old and 4 other shot & killed

The suspect lives next door to the victims

🎥 – ABC 13#cleveland #texas #breaking #news #breakingnews #murder #shooting pic.twitter.com/W8IgkPO6mp

— Crime With Bobby (@crimewithbobby) April 29, 2023
#Cleveland #Texas police give update on shooting pic.twitter.com/tvRcti3l9U

— Wake Up Waverly (@WaverlyWakeUp) April 29, 2023
Ongoing episodes of harassment 
The two women were covered in blood, according to San Jacinto County Sheriff Greg Capers, and were lying on top of two young children who survived. 
'In my opinion, they were actually trying to take care of the babies and keep them babies alive,' he said.  
It's unclear where exactly the eight-year-old child was in the home. All of the victims were from Honduras, according to police. A total of 10 people were inside the home at the time of the shooting.
The victims ranged in age from 8 to 40 years old. Five of the residents survived, including three children.
Oropeza was said to have been intoxicated at the time. 
Police described him as a Mexican man who is around 5ft 8. A warrant has been issued for his arrest with a $5million bond attached. 
'We know him by name, date of birth. We've got his Mexican consulate card. Plus, there was a ring doorbell on the victim's house that we actually captured him coming up to the front door with with the weapon,' Capers said.
HAPPENING NOW: The manhunt continues for 38-year-old Francisco Oropeza, in Cleveland, TX. Authorities say he stormed into his neighbors home overnight, killing five including an 8-year-old child, after the neighbor asked him to stop firing his AR-15, so their baby could sleep. pic.twitter.com/xVw4nPqzAI

— Priscilla Thompson (@PriscillaWT) April 29, 2023
Cache of weapons found at wanted man's home
Capers said they have had previous calls to Oropeza's home regarding him shooting his rifle in the yard.
'I can't tell you how many times we've had a call out here, but we have researched a little bit of that. And we have found some prior history at these residence,' he said according to KPRC. 
'We are getting closer to him every minute of every hour but we know who he is,' Sheriff Capers added. 
According to Fox News, authorities confiscated 'a shotgun, two rifles, including the .223 caliber rifle, and a pistol from the victims' residence.'
The shooting is the latest incident of ongoing mass shootings in the United States, set to surpass previous year over killings, with 211 mass shootings year to date in 2023.