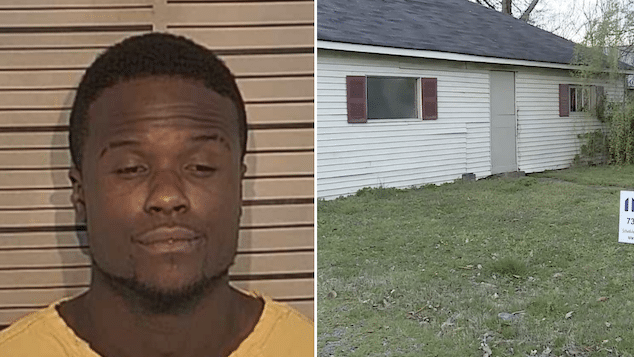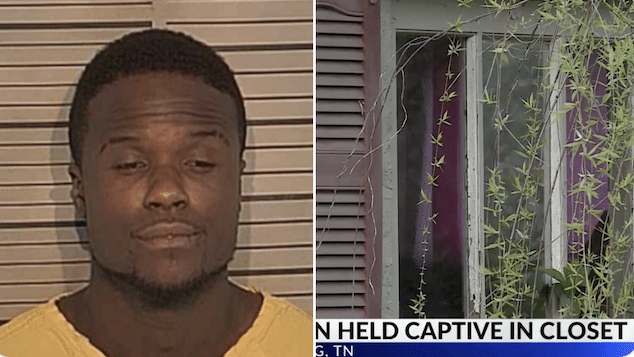 Brenton Bell, Tennessee man wanted for holding girlfriend hostage in closet in Dyersburg house for two months. Woman who escaped found weighing less than 100 pounds. 
Tennessee authorities are seeking the whereabouts of a man who allegedly held his girlfriend captive for more than two months in a closet in a vacant home.
The un-named victim, a 40 year old woman managed to flee an under constructed home in Dyersburg, northeast of Memphis, on Saturday after managing to break free and alert a passerby that she had been kidnapped.
The woman, who was suffering from facial cuts and weighed less than 100 pounds, told police her 30-year-old boyfriend, Brenton Bell, had forced her into the closet several weeks earlier.
The wanted man allegedly kept the door bolted shut with a type of locking device and cable, police said according to a Dyersburg Police Dept Facebook release. 
The victim said she was only allowed out of the closet for an hour each day and was given limited food. She also alleged there was no bathroom for her to use.
Couple's relationship turned abusive
When cops located the vacant home described by the victim, they reported finding human waste throughout the property.
The victim told police she had been in a relationship with Bell but, at some point, he allegedly became physically abusive, according to Action News 5. 
It remained unclear if a missing persons report was filed for the kidnapped woman.
A woman identified as Tara Nicholson living in the Dyersburg community expressed shock upon finding out that Bell had allegedly held the 40 year old woman hostage.
'I can't believe what he's accused of,'  the local woman told WREG.
Adding, 'it makes you wonder a lot about people.'
Bell, who remains at large, is wanted for aggravated kidnapping, police said.
Bell is described as a black male, approximately 5 feet 5 and 150 pounds, according to cops.
Bell's alleged victim was taken to the West Tennessee Healthcare Dyersburg hospital for treatment after she was found.
Anyone with information is asked to call the Dyersburg Police Department's Criminal Investigation Division at 288-7679, or Crime Stoppers at 285-TIPS.