Thomas H. Lee suicide: Billionaire financier shoots self dead at NYC office. What led to gifted and innovative financier taking their own life? Family release statement. 
Money doesn't always make you happy… Billionaire financier and investor Thomas H. Lee shot himself dead at his Manhattan office on Thursday morning, police sources said.
Cops responded to a 911 call at 767 Fifth Avenue — where Thomas H. Lee Capital, LLC is located on the sixth floor — at around 11:10 a.m., the sources said.
EMTs pronounced the 78-year-old businessman dead at the scene the nypost reported. 
The Office of the Chief Medical Examiner will determine the official cause of death.
'The family is extremely saddened by Tom's death. While the world knew him as one of the pioneers in the private equity business and a successful businessman, we knew him as a devoted husband, father, grandfather, sibling, friend and philanthropist who always put others' needs before his own,' Lee family friend and spokesperson Michael Sitrick said in a statement. 'Our hearts are broken. We ask that our privacy be respected and that we be allowed to grieve.'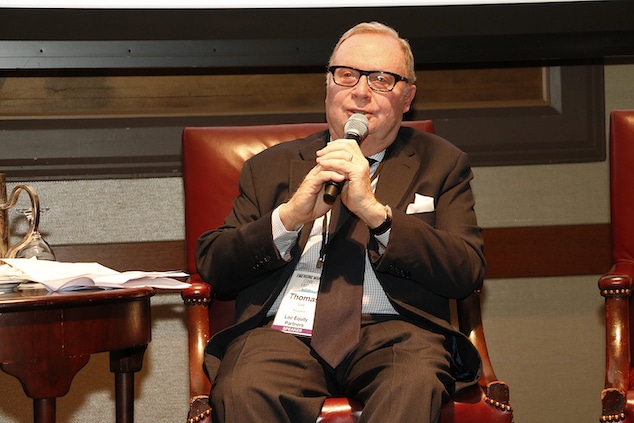 Innovative investor who had highs and lows
Lee is credited with being one of the first financiers to purchase companies with money borrowed against the business being bought — what is now called a leveraged buyout.
In 1992, the private equity pioneer bought Snapple in 1992 and sold it two years later for $1.7 billion, making 32 times his money.
But not everything always went according to plan.
In 1999, Lee led a deal for what was renamed Vertis Communications, the fifth largest North American printer. By 2006, when many peers had expanded to offer other services, such as marketing, it dropped to ninth since it did not have the money to do the same. Vertis filed for bankruptcy in 2008.
Lee and his longtime partners parted ways in 2005 with Thomas H. Lee Partners being run by Scott Sperling, and Lee leaving to form Lee Equity Partners. 
Lee had a net worth of roughly $2 billion at the time of his death, according to Forbes.
Lee has been married twice – first to Barbara Fish Lee, who he divorced in 1995,. His second wife was Ann Tenenbaum of Savannah, Georgia. Lee has five children.
Authorities have yet to say what led to the financier taking his own life and whether Lee had incurred any financial struggles or was potentially embroiled in scandal and whether the man had been struggling with depression and or mental or physical health issues.