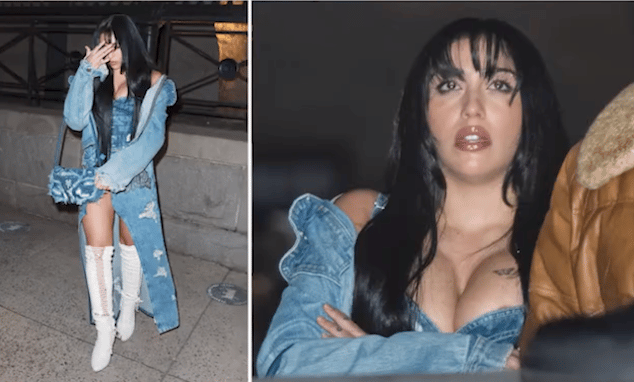 Lourdes Leon denied entry to Marc Jacobs fashion show after late arrival as Madonna's daughter is forced to contend with security who refused to budge or accede to her nepo baby status and presumed access into show faux pas or not. 
'Maybe I'm invincible after all, even if I am a famous nepotism baby…'
The invite said the Marc Jacobs fashion show would begin promptly at 6pm. But that didn't disuade Lourdes Leon, the daughter of pop diva Madonna, who arrived at the door at exactly 6pm, assuming that she would be ushered in to her 'rightful' front row seat – only to find that the rotation of her world had suddenly changed when she wasn't looking.
Instead of being allowed in to the fashion runway show, Leon, 26, who had previously in 2021 been the face of the iconic label, was denied entry to the show being held at the Park Avenue Armory.
'Boohoof**k8ng me!'
Nepo baby ( a coin term to describe the avalanche of starlet's children seemingly getting a free headstart in celebrity, society, huge payday modelling and acting roles most spend years being rejected before getting a bit part) was met with security guards who seemingly told her she was too late when she arrived at the Park Avenue Armory after the doors closed, according to a now-viral TikTok video.
'But don't you f**k8ng know who I am?'
The rejection hits harder for Lourdes, whom Madonna welcomed in 1996 with her then-boyfriend Carlos Leon, after she was named the face of the fashion brand's spring 2021 campaign.
In a TikTok clip posted by @mickmicknyc, 'nepo baby' walked up to the building when she was stopped by security on her way into the venue.
A male voice in the video narrates Lourdes arrived at the venue at 6 p.m. sharp, which also happened to be the exact time the show was due to kick off.
After attempting to make their case ('but don't you f**k8ng know who I am?') with security, Lourdes and a man she arrived with were told that the event was 'closed.'
'And how am I suppose to face the crowd behind me baying for me to be allowed in?'
'And how am I suppose to ever look at my mother dead face on when she tells me I will never be as good as her?'
'And how am I suppose to face the universe knowing that I am mortal and not the diety figure some underpaid fashion editor once told me that I was?' 
Madonna's daughter Lourdes Leon (Lolahol) the Cut interview on Nepotism. pic.twitter.com/24ZU3TGmIL

— Shan11 (@Nashredux) January 25, 2023
'All men are created equal, except some are more equal than others…' 
The crowd which had been standing at the entrance, presumably to photograph and idolize arriving fashion attendees (cause this is how you prove to other nepo babies you have more edge than them) then began chanting 'Let her in,' as a bystander bellowed to security, 'You don't know who she is?'
'I have a dream that one day this nation will rise up and live out the true meaning of its creed: "We hold these truths to be self-evident, that all men are created equal."
But it was not to be.
The security team didn't budge, forcing the aspiring singer, aspiring fashion icon, aspiring shadow to her mother, to turn around and head back to the car she'd arrived in. 
Bye bye Felicia.
The Marc Jacobs show included a guest list including Emily Ratajkowski, Nicky Hilton Rothschild, and Ashley Graham. All nepo babies in their own rights except for Ratajkowski who has been able to milk her pristine buxom body and get daily bit parts in the dailymail and other tabloids in a bid to secure her own arrival status to celebrity, glam, society and the American Dream – which exists for some of us but not all of us. 
Nepo baby gets DENIED! The embarrassing moment Madonna's daughter Lourdes Leon is refused entry to Marc Jacobs catwalk show after arriving fashionably late
via https://t.co/Y7QqGb9LfE why does she look like Kat Slater https://t.co/N4agWjL4IF

— TheTinfoilGirl™️ (@SasquatchInABag) February 3, 2023
Spoiling your child to believing they are infallible and the rightful heir to celebrity
Guests who had bothered to check in with Marc, who told them- 'shit starts at 6pm. Arrive prior to show commencement. I am the king. I am your lord. I am the true starlet you have all come to adulate.' 
Lourdes has had no issues getting into fashion shows when accompanied by her famous mom, as the pair often attend events together.
The pair were snapped at the Tom Ford runway show during New York Fashion Week in September just days after attending the New York Fashion Week afterparty.
The Queen of Pop's eldest child has been making major waves in the style world since walking her first runway for Gypsy Sport at New York Fashion Week in 2018.
Over the past few years, the nepo baby appeared in campaigns for Marc Jacobs, Swarovski, Parade's collaboration with Juicy Couture — along as a shoe in muse (instead of mom), for Madonna favorite Jean Paul Gaultier.
But if you're trying to understand why the bubble inside of Leon's head will take all weekend to deflate, consider that the the pop icon's daughter has also become a muse of sorts for Rihanna's Savage X Fenty underwear brand, having walked in the label's third runway show in 2021.
Can you still make it in America? 
And then there's the fact that Leon scored her first Vogue cover in the summer of 2021, appearing alongside the likes of Bella Hadid and Cindy Crawford's own nepotism daughter, Kaia Gerber. Of course other nepo babies who owe their ascent to celebrity, stardom, fame, vast riches because America is a meritocracy. A myth you shouldn't bother believing in. Unless you can pay your way in the blood and paparazzi of your fans who have paved your rightful throne into their imaginations. America branding and becoming the thing, the person, the identity your mommy and daddy alway$ wanted for you…