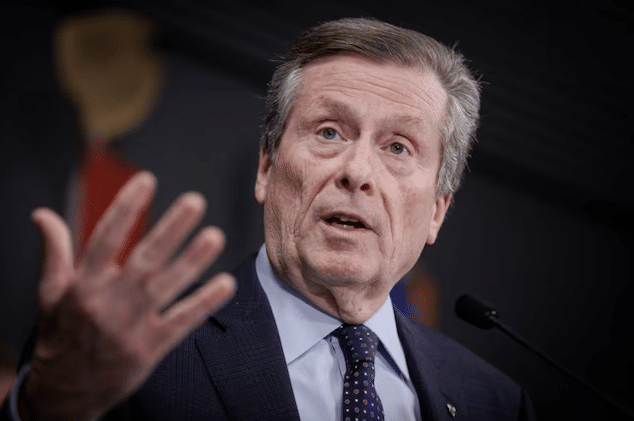 John Tory Toronto mayor resigns after affair with aide more than half his age during more than 40 year marriage to wife, Barbara Hackett. 
When oil and water and public sentiment don't mix. A Toronto, Canadian mayor resigned following a report exposing the married official's affair with a former staffer more than half his age. 
Toronto Mayor John Tory, 68, a Conservative, admitted to having a relationship with a 31-year-old advisor during the height of the pandemic and said he was stepping down so he could 'take the time to reflect on my mistakes.'
'I recognize that permitting this relationship to develop was a serious error in judgment on my part,' Tory said during a brief press conference. 
'I think it is important as I always had for the office of the mayor not to be in any way tarnished, and not to see the city government itself, but through a period of prolonged controversy, arising out of this error of judgment on my part, especially in light of some of the challenges facing the city.'
Tory's announcement came one hour after The Star broke the news of the Toronot mayor's alleged indiscreet liason. 
Illicit liaison ended during mutual consent earlier this year
The woman's name was not revealed, but sources told the outlet she is a 31-year-old woman who was an advisor in Tory's office. Not immediately clear is how The Star came to be briefed on the alleged tryst. 
Tory claimed the relationship developed during a time he and his wife of more than 40 years, Barbara, were spending 'many lengthy periods apart.'
The former mayor said the staffer terminated her City Hall employment during their affair, but that the relationship ended 'by mutual consent earlier this year.'
He said he would work with city employees and Deputy Mayor Jennifer McKelvey to ensure an orderly transition to a new administration.
Celebrating our 40th wedding anniversary today. Surprise appearance by Barb last night looking fabulous in her wedding dress!! I'm a lucky guy. pic.twitter.com/qcQeNlkyCa

— John Tory (@TorontosMayor) May 27, 2018
Secret to our marriage? 
'I deeply regret having to step away from a job that I love in a city that I love even more. I believe, in my heart, it is best to fully commit myself to the work that is required to repair these most important (family) relationships as well,' Tory said.
During a 2018 report, Tory and wife, Barbara Hackett explained the secret to their long time 'successful marriage,' saying, 'You have to respect each other'. 
Reflected Tory at the time, 'The most important thing is we're at the stage that we can finish each others sentences'. 
The status of the former Toronto mayor's ongoing marriage remained unclear.