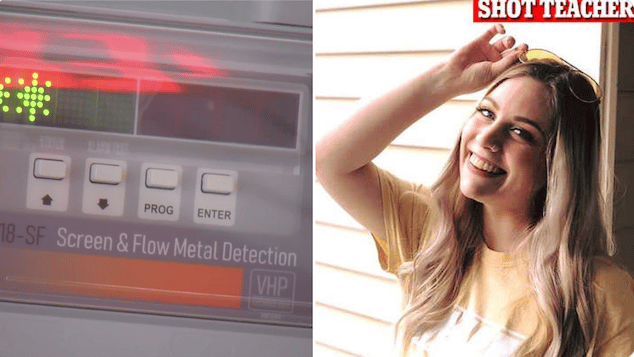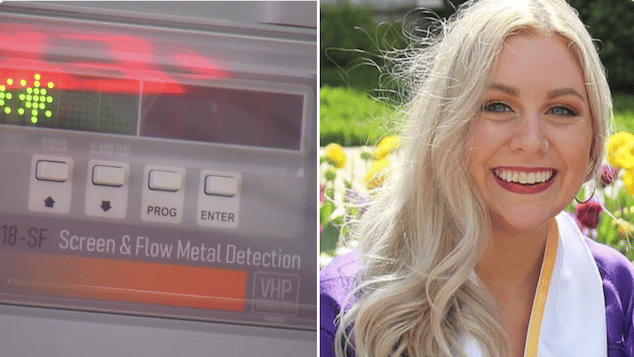 Virginia school was told 6yr old boy had gun 2.5 hours before shooting but couldn't find it as he shot first grade teacher, Abby Zwerner at Richneck Elementary as metal detectors are now to be placed at elementary schools. 
A report has told of at least one Virginia school official where a 6 year old boy shot his  first grade teacher during class being aware of the pupil having brought the 9mm gun with him to class hours before shooting. 
School system Superintendent George Parker told parents during an online town hall Thursday night that an unnamed administrator at Richneck Elementary School was notified about the gun in the first-grader's possession ahead of time.
'At least one administrator was notified of a possible weapon in the timeline that we're reviewing and was aware that that student had … a weapon on campus,' the superintendent told parents according to WAVY-TV.   
The boy's backpack was searched, after school officials were notified the child might have a gun, but no gun was found. Two-and-a-half hours later, the 6-year-old pointed his mother's 9mm Taurus handgun at teacher Abigail Zwerner and shot her in class.
It remained unclear how the school official came to be notified and by whom. Also unclear is why the weapon was not found at the time of the search, only for the boy to soon after draw the gun out as Zwerner challenged the boy to give up the weapon. 
Student brought bullets to school week before shooting
The confrontation led to the teacher being shot through the hand, with the bullet lodging in her chest and the educator rushed to hospital. Officials said Zwerner's condition was 'improving every day.'
The account parallels previous comments Newport News police chief Steve Drew had made in which he told press that the boy on the day of the shooting brought the gun to school in his backpack.
A previous report told of a student the week prior to the shooting having brought bullets to the school and threatening that next they would bring a gun. It remained unclear the identity of the student and what action, if any, was taken against the child and whether the student's parents were notified.
Also unclear is what safety measures were taken, if any to safeguard the school in the event of a weapon brought in the future.
In the wake of last Friday's shooting, Parker told parents that security measures at local schools would be beefed up, beginning with Richneck Elementary, which will be equipped with a separation wall and doors to the second-grade hallway, a buzzer system and double entranceway.
The superintendent also said he was considering requiring clear plastic backpacks for students according to WTVR.
During a press conference earlier Thursday, Newport News School Board Chair Lisa Surles-Law announced that metal detectors will be installed at all local schools.
This is what the US has become – metal detectors at elementary schools.

Official at Virginia school warned 6-year-old boy had gun hours before he shot teacher https://t.co/HWyEgAh84f via @nypost

— EmmaJeanKitty 🐱💙🇺🇸🌻🇺🇦😎 (@WilkensJane) January 13, 2023
90 walk-through metal detectors
'The time is now to put metal detectors in all of our schools,' Surles-Law said during the news conference.
The board got the green light Wednesday to buy 90 walk-through metal detectors and has already begun ordering them, said Surles-Law.
Some schools will be outfitted with multiple detectors, reported 12 News Now. Surles-Law did not disclose the total cost of the devices.
The first state-of-the-art detectors will be installed at Richneck Elementary School. A week after the shooting, the school continued to remain closed as officials were now expected to fit the elementary school with metal detectors. A date for its reopening has not been set yet.
Parker said earlier this week that the city already uses metal detectors and random searches in high schools and middle schools, but not at elementary schools.
As of Thursday, parents hadn't been told if their kids will have to go back to the same classroom where the teacher was shot.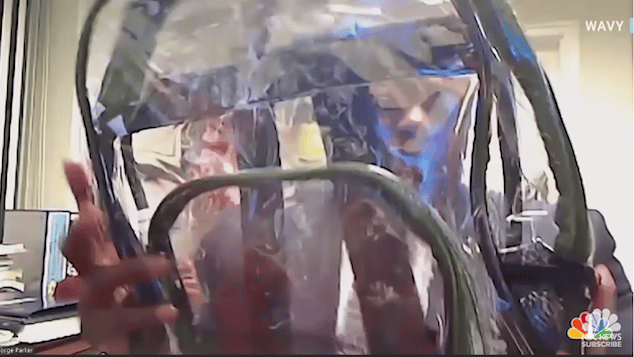 Gun violence at elementary school
When students do resume in-person instruction, they will be walking through a metal detector, despite Parker's initial misgivings about making local schools look 'anything like a prison.'
'This incident right here will cause us to rethink how we handle our youngest children,' he said.
Police Chief Steve Drew has described the shooting as 'intentional.' A judge will determine what's next for the unnamed underage shooter, who is being held at a medical facility following an emergency custody order. Legal scholars have said it is unlikely that the six year old child will ever face charges. 
Drew said the boy used his mother's gun, which had been purchased legally. It's unclear how he gained access to the weapon.
A Virginia law prohibits leaving a loaded gun where it is accessible to a child under 14, a misdemeanor punishable with a maximum one-year prison sentence and $2,500 fine. It remained unclear if the boy's parents faced charges.