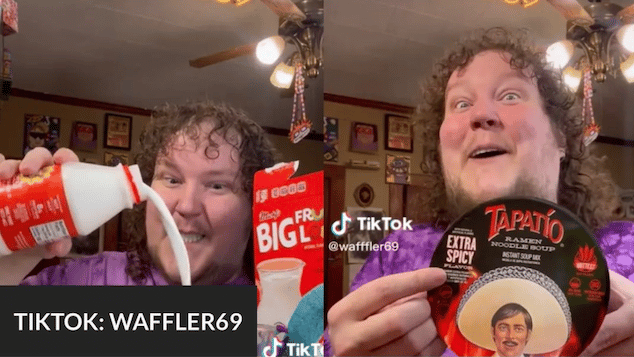 Waffler69 TikTok star dead from heart attack. Fame at any cost. Social media star with genetic heart problems risked it all to rise to fame and make audiences laugh. 
'That smells like plastic and chemicals.' A TikTok star who shot to fame after showcasing himself eating bizarre and sometimes outdated food, often with hilarious reactions has died at the age of 33 of a suspected heart attack.
TikTok star Waffler69, real name Taylor – who boasted 1.7million followers on the platform where he posted clips of himself trying bizarre foods – died on Wednesday, his brother Clayton told TMZ.
Clayton said Taylor began experiencing discomfort and called his mother, before ringing for an ambulance to take him to hospital from his Louisiana home. Taylor died in hospital.
The TikToker's brother said Taylor's dad and grandfather both suffered from genetic heart problems, 
Clayton has launched a GoFundMe to raise money for Taylor's funeral costs. Posted Clayton: 'If he has touched your heart in someway, Me and my family would appreciate it.'
Damn RIP Waffler69. Dude had a heart attack in his sleep. He was an upbeat guy, and funny to watch. Prayers to his family. I was in legit tears watching this. Sad pic.twitter.com/aBae3H90az

— Curt (@cd129287) January 12, 2023
Fame at any cost
Taylor, who had been making content for 16 years, posted his last TikTok video on Wednesday, hours before his death, in which he tried the viral Big Froot Loop, dunked in milk.
His quirky videos – which also saw him try watermelon flavored toast and make meals out of expired products – saw him gain more than 32million likes across TikTok.
He was also known for eating extremely vintage promotional items, including Batman cereal from 1989 and Addams Family cereal from 1991. 
As well as making videos, the social media star branched out into his own range of culinary seasonings, merchandise, and was on celebrity video greeting site, Cameo where he sold his own Waffler seasoning (of course!). 
It remained unclear to what degree Taylor's death and ultimate demise was predicated on his constant food binging and seemingly overweight status as he went from one odd food concoction to another in front of the cameras and millions of fans (at almost any cost).