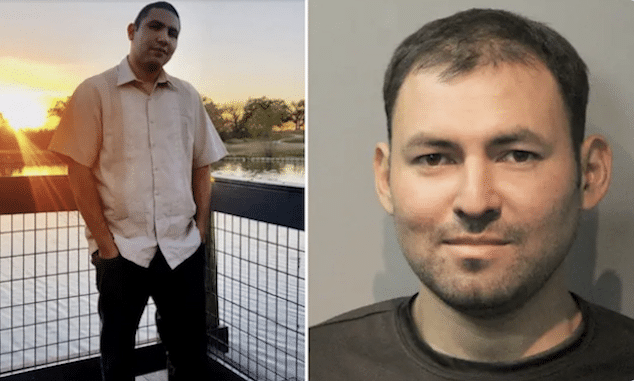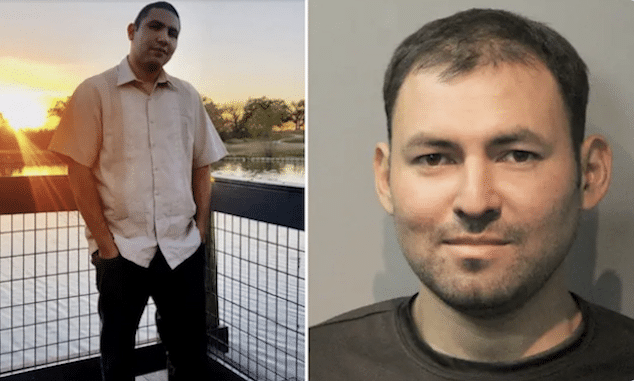 Oscar Aristides Garcia, Pasadena, Texas auto shop owner sentenced to 35 years jail for shooting dead Nicolas Bautista who he mistook for being a thief and did everything up to cover the crime before fleeing to South America. 
A Pasadena, Texas auto shop owner has been sentenced to 35 years jail for shooting dead a stranger he mistook for being a thief. The sentencing comes after the man fled the country to his native El Salvador to evade justice.
'A man who intentionally kills an innocent stranger and then does everything he can to cover up his crime and run from accountability deserves to spend decades in prison for the pain he caused,' Harris County District Attorney Kim Ogg said in a statement over the weekend.
Oscar Aristides Garcia, 35, of greater Houston was sentenced last Wednesday after pleading guilty to murder for the October 2018 killing of 37-year-old Nicolas Bautista.
Prosecutors asked that Garcia be sentenced to 50 years in prison. His defense team argued for 15 years.
According to investigators, Garcia was in his Pasadena, Texas, transmission repair shop on Oct. 28, 2018, when he saw Bautista walk by with his girlfriend. The couple were on their way to a restaurant for Sunday brunch.
Please share with your network so the Bautista Family can receive #justicefornick Oscar Aristides Garcia killed Nicolas Bautista in Pasadena, TX on October 28. He is a fugitive from the law. Could be in Mexico or El Salvador. The reward is $10K for information leading to capture pic.twitter.com/GFPDRVzWte

— Cristina Salinas (@fastball93) December 20, 2018
Vigilante justice gone wrong
'Garcia mistakenly believed Bautista was a man Garcia thought was stealing pickup tailgates from the shop,' the DA's office stated.
Bautista was never implicated in any theft. But Garcia took a truck that he had been working on in the shop and a gun, and followed the 37-year-old man and his girlfriend to confront him about the thefts.
After finding that the restaurant near Garcia's shop was closed, Bautista and his girlfriend took an Uber to another eatery, with Garcia in turn following them. 
After finishing their meal, the couple took another Uber home, and Garcia continued to pursue them all the way to their address on Wafer Street in Pasadena.
There, Garcia got out of the truck and started to argue with Bautista in Spanish — a language the other man did not speak. Bautista's girlfriend knew Spanish and told Garcia that he was mistaken.
When Bautista turned around and walked away to call the police, prosecutors said, Garcia shot him in the back. He was pronounced dead at a hospital a short time later.
Garcia also pointed the rifle at Bautista's girlfriend and pulled the trigger, but the weapon did not fire.
Garcia picked up the shell casing before fleeing to another mechanic's shop and demanding to store the truck used during the killing inside that person's garage.
The gunman then returned to his own shop and destroyed his security camera's recording device so there would be no record of Bautista walking by the business, investigators said.
Garcia also broke into a nearby taqueria and destroyed its security camera's recorder, which captured him following Bautista.
Garcia then shuttered his repair business and fled to El Salvador, leaving behind his pregnant wife and three children. The family later joined the fugitive abroad.
After more than two years in hiding, he returned to the US and was arrested by the US Marshals Service.
Assistant District Attorney Ryan Volkmer, who prosecuted the case, credited the Pasadena Police Department for never giving up.
'Pasadena PD worked really hard tracking this guy down, then tracking him overseas,' Volkmer said. 'They interviewed a lot of people, they did a lot of surveillance, and they just kept at it.'
Volkmer also said listening to Bautista's friends and family testify about losing him was heartbreaking.
'He was a loved son, a loved brother, and a loved boyfriend,' Volkmer said. 'He worked hard and is remembered very fondly, and they're glad they finally got justice.'