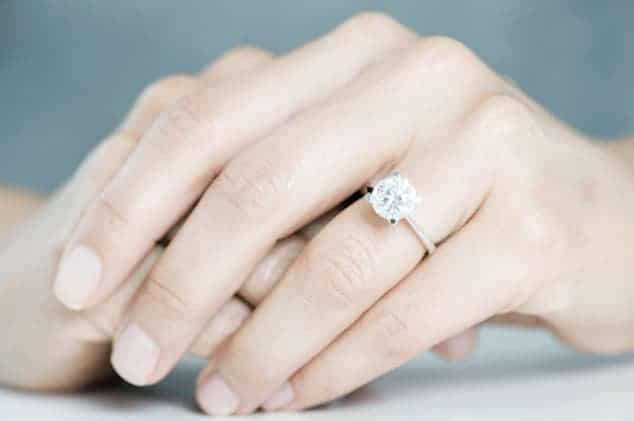 The five most popular styles you should consider when buying a diamond engagement ring. What you and your partner should look for.
When it comes to choosing an engagement ring, you'll want to consider recent jewelry trends when it comes to the most popular styles of diamond engagement ring when you and your significant other go into your local jeweler's store.
Choosing an engagement ring should be a reflection of who you are. A traditional solitaire ring is fine, but after you see the unique engagement ring styles that can be possible with a wholesale diamond, you may want to reconsider your original pick. 
What are the Styles of Diamond Engagement Ring
Solitaire diamond style
When most people think of an engagement ring, they envision a solitaire. A single, stunning diamond sits on a simple or sparsely adorned band in a solitaire engagement ring.
For ages, this ring design has symbolized a couple's commitment to each other. With a solitaire diamond engagement ring, the center diamond is the star. The solitary huge diamond may sit on a basic or finely crafted band, but the solitaire diamond always shines alone.
Pave setting style
This type of ring exudes luxury, with the entire surface of the ring surrounded in diamonds. It is possible to have any gemstone set in a pave setting, but the most common choice is to use diamonds that are tightly spaced and kept in place by tiny gold or platinum beads. One stone isn't enough; a row of glittering gems is far better.
The pave setting has the advantage of hiding the metal setting and enhancing the shine of the diamonds. Light and sparkle fill the space, creating an incredible sight.
Three diamond setting – Bostonian setting
Having three large diamonds spaced out around the ring's band is the ideal approach to give a lot of sparkles. The history, present, and destiny of your love story are symbolized by the three diamonds in this ring.
Newer designs sometimes incorporate side stones that are almost the same size or even equal to the center stone in order to show the constancy and everlasting nature of love in a more conventional setting.
Halo setting style
It's a ring of tiny accent stones, often pave diamonds, that surrounds a bigger center stone in the halo setting. For example, a cushion-cut diamond may be surrounded by an oval halo, which may have its own unique form. Halo rings are also growing increasingly elaborate with tiny diamonds that not only surround the primary stone but shine from every aspect, creating beautiful profile views as well.
Bezel setting style
Because of their modern appearance and practicality, bezel setting styles are frequently sought after, but that does not diminish their beauty in any way. An exquisite gold or platinum rim surrounds the diamond in a bezel setting, which is the safest style of setting. The diamond is protected by this elegant setting, which keeps your attention solidly centered on the main attraction.