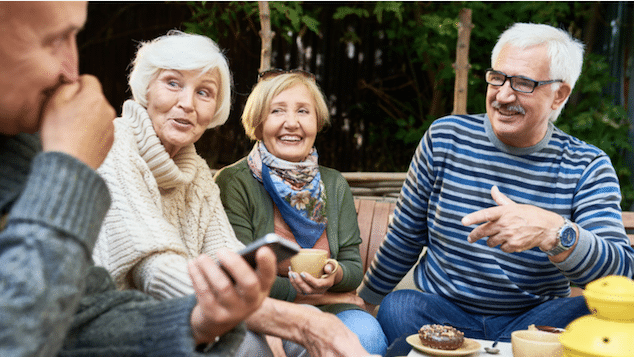 6 senior care options and how they differ from each other: Which housing care choice is the right one for an aging loved one? 
If you have an aging loved one, the last thing you want is to be caught flat-footed in the event of an unexpected crisis that forces you to make an uninformed choice.
Since there are many senior care options, if you don't understand their differences, it's easy to make the wrong choice, which ends up being too expensive and puts your already vulnerable loved one at increased risk.
What are senior care options? Well, they are many. Here are 6 senior care options and how they differ from each other:
Assisted living communities
Also known as assisted care communities or personal care homes, assisted living communities assist their residents with their daily activities. A classic example being the senior living services at Costa Mesa.
These facilities are best suited for seniors who can still take care of themselves most of the time, but they could use some help with things such as: cooking, laundry, housecleaning, medication management, house chores, and transportation to stores or medical appointments.
Some say these facilities are synonymous with high-end housing developments or apartment complexes, including dining rooms, community rooms, and gym areas.
Most of the facilities provide 24-hour security, three meals a day for those that don't want to cook, and plenty of socializing and recreational activities within and outside the facility.
While these facilities are excellent, and some offer access to skilled nursing care, they don't provide extensive medical care, so if your loved one has a complex underlying medical condition, this isn't the facility for them.
Independent living communities
Also known as senior living or retirement communities, independent living communities allow residents to live largely independently in a residential setting, engaging in community life, while enjoying the luxuries of private accommodations in apartments and villas.
These communities provide a wide range of amenities and services that make the lives of their residents easier and more enriching. They offer housekeeping services, meal preparation, and home maintenance.
The facilities encourage healthy aging by providing a plethora of physical fitness classes, education, cultural opportunities, traveling, and healthy and lively social communities.
Even if your loved one can perform tasks independently, there are plenty of perks that come with taking them to an independent living facility. These perks include:
Decreased risk of social isolation

Plenty of services and amenities that promote healthy aging

Freedom from home maintenance, housekeeping, and woes of homeownership

Staff to provide help

Around the clock safety and security

Organized opportunities to find new interests, hobbies and travelling around the world

Access to nutritious and delicious meals prepared by a professional chef.
Skilled nursing facilities
They are also known as nursing homes, and they are different from the above senior care facilities in that they focus on providing 24/7 skilled nursing. They are also tightly regulated.
Since the facilities have staff with more medical training, they often feel more clinical.
If your loved one requires help with day-to-day tasks and has deep sitting health issues that need round-the-clock monitoring, a nursing home is a right fit for them.
Nursing homes can handle different medical conditions such as: cancer, severe learning disabilities, dementia, terminal illnesses, severe physical disabilities, sensory impairment, and many others.
Memory care facilities
Some memory care centers are stand alone, while others are part of a larger assisted living or nursing home facility.
Either way, these facilities are meant explicitly for seniors struggling with dementia, Alzheimer's, and other memory-related conditions.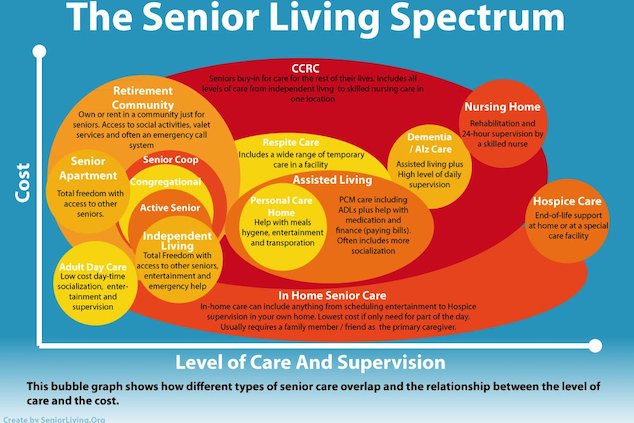 The residents live in private or semi-private apartments with qualified, highly trained personnel.
Since the residents in these facilities are likely to wander, these facilities pay serious attention to security. Therefore, you will have many CCTV cameras, and the residents receive closer supervision from the staff.
Since everyone is different, these facilities are unique in that they provide custom services that vary depending on the needs.
Continuing Care Retirement Communities (CCRCs)
Also known as life plan community, CCRCs offer multiple types of senior care on a single campus, while allowing the residents to move from one type of care to the other without leaving the facility. 
For example, the residents can move from independent living to assisted living without changing the facility.
While any senior can visit this facility, these facilities are best suited for those who expect their health and need to change with time, but they don't want to hope from one facility to another. These facilities also make sense to aging couples with differing needs, but want to stay together.
While these facilities are excellent, as you don't have to keep finding a new facility whenever the needs of your loved one change, they are costly.
Respite care centers
Also, going by the names Adult Day Care and Short-term stay programs, these centers are often found within the assisted living community, often for a short time frame, usually a couple of days or up to a month.
From their name, they provide senior care during the day—they don't provide overnight accommodations.
If you are wondering who's the ideal senior for these facilities, they are best for you if you are the caregiver and need a temporary break.
You can take your loved one to the respite care center if you have pressing issues. Of course, let the staff in the center know the needs of your loved one.
A respite center is also an excellent way to introduce your aging loved one to senior living facilities.
Taking your loved one to the right senior care center
After making the comparisons and settling on one facility, now it's time to take your loved one there.
But not so fast. Before you leap, first visit the center in question and spend at least a day there.
While there, pay attention to everything going on. How is the security? How many staff can you see? How is the compound? Is it clean? What about the rooms?
You should also talk to the staff and gauge their attitude. If there is something you would like to know, ask about it.
You should give the facility a 360-degree inspection, and only consider taking your aging loved one there if you feel safe and comfortable that you can live there yourself.