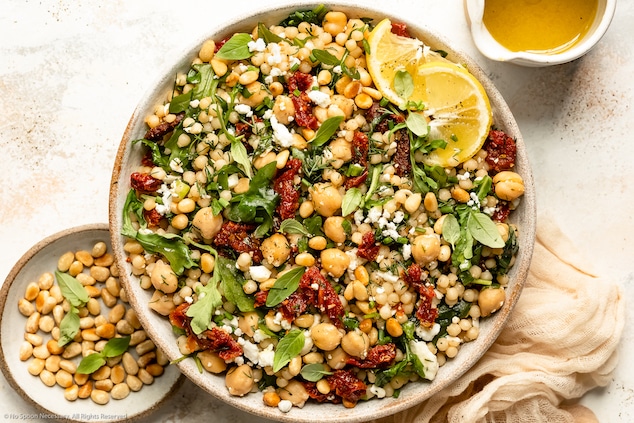 Perfect Pearl couscous or Israeli couscous recipes for your next lunch or dinner party. The roots behind the Middle Eastern dish and what makes it a favorite and great recipe ideas.
When you see the pearl or Israeli couscous, just by looking at it, you can see its unusual figure: small perfectly shaped spheres. That's why it is sometimes called pearl. Cooks already familiar with it know that it is perfect to be used in salads or soups and is a perfect accompaniment to meat or vegetarian main dishes.
Likewise, instead of being dried out, Israeli couscous is toasted, a process that gives it a chewy nutty flavor.
Many chefs usually fry Israeli couscous for a minute or so before adding water. They can also be baked, served in a soup, used as a stuffing, cooked like a risotto or even served in a cake.
It is a great example of a very versatile food that can be used in many different ways in the kitchen: see this for more information about this Middle Eastern traditional staple.
A brief introduction about Israeli couscous
This interesting food usually has several names, some people know it as Pearl couscous, others call it Ptitim, Jerusalem couscous and it was even known some time ago as Ben Gurion's rice.
Actually, the roots of this food go back even further: an earlier, larger grain type of couscous already existed in North Africa and was known by the Jewish people.
However, its origin is remembered with high respect, because it was created in times of great need; when the Israeli people suffered from a dramatic deficiency of food in the early 50s. This staple was created to help the residents, and indeed helped a lot of people that had returned from post-war Europe to Israel.
Israeli Couscous salad recipe with black olives and basil
Ingredients:
10 cherry tomatoes.
12 black olives.
5.6 oz of Israeli couscous or pearl couscous.
0.7 oz nuts.
1/2 yellow bell pepper.
2 tbsp extra virgin olive oil.
1/4 red onion.
Salt.
1 tbsp wine vinegar.
juice of half a lemon.
15 or 21 fresh basil leaves.
In a frying pan with a tbsp of olive oil, brown the Israeli couscous for about two to three minutes; Keep in mind that the salad flavor will be enriched if the couscous is cooked in vegetable broth instead of water.
So leave it, then when it is softer, put it aside for later and let it cool down.
Cut the yellow bell pepper and the onion into very small pieces, and slice the olives and cherry as well, but not too tiny.
Mix everything with the already cooled couscous.
Chop the basil leaves very finely and leave them to marinate in the oil that you will have put in a bowl. Then mix it with the vinegar and salt and incorporate it to the couscous.
Couscous salad with roasted vegetables
Ingredients for the salad:
1 yellow bell pepper, cored and diced.
2 tbsp chopped parsley.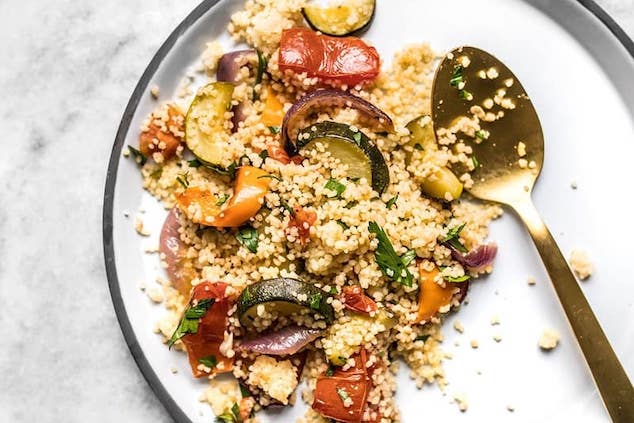 1/2 pound Israeli couscous.
1 red bell pepper, cored and diced.
2 cloves garlic, cut in half lengthwise (do not peel)
1 medium yellow squash, diced.
1 medium zucchini, diced.
3 tsp olive oil.
Salt and pepper.
1/2 red onion, chopped.
Ingredients for the dressing:
salt and pepper.
Zest of 1 lemon.
2 tbsp fresh lemon juice.
1 tbsp olive oil.
Preheat the oven to maximum. Now arrange the vegetables on two baking pans. Since everything is chopped it would be easier, but remember, if you crowd the ingredients, instead of roasting, they will be steamed. When everything is set up you can drizzle veggies with 2 tbsp of oil.
Season with salt and bake until the vegetables are smoother and just beginning to brown, 25 to 30 minutes.
Meantime, cook the Israeli couscous in a pot of salted water. When it is ready, i.e.: when the pearls have enlarged, drain them well and pour 1 tbsp of oil. Shake the strainer to incorporate the oil and let the couscous cool.
Remove the roasted garlic cloves from the baking sheet and remove the skin. In a small bowl, mash the garlic.
Mix with dressing ingredients: 1 tbsp oil, lemon juice, salt, the zest of the lemon, and pepper. Move the couscous Israeli to a large serving bowl or even a platter and toss it with dressing. Top with vegetables and parsley, adjusting seasonings if necessary and enjoy your perfect dinner party.