Diamond Head shooting:

Jerry Hanel Honolulu

Hawaii man kills 2 cops, starts fire during eviction process is believed killed along w/ landlord in house fire. 
A Hawaii man with a history of mental health issues has shot two police officers dead, stabbed another, along with having started a fire that destroyed at least four homes after his landlord tried evicting him, Sunday morning. 
Jerry Hanel, 69, allegedly stabbed his landlord with a gardening tool and then opened fire on responding cops around 9:30 a.m., near the Honolulu tourist destination of Diamond Head, police sources told Hawaii News Now.
A fourth officer was injured, with a gunshot wound to the leg. 
KITV reported one of the police officers killed was a woman who is also a mother.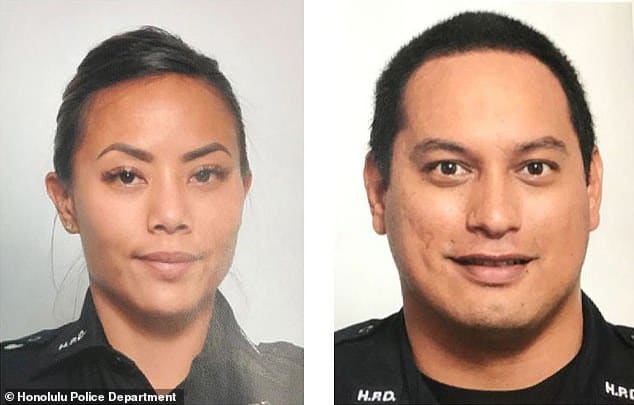 Honolulu Police officers killed i'd: a mother and a father.
KITV cited sources saying the two officers that were killed were veterans of the force. The woman killed had seven years experience and the man killed a father who had 10 years experience. Both were parents.
Sources told of responding officers possibly being ambushed officers in the garage, as the suspect is alleged to have barricaded himself in the house and shooting.
Property records show the house belongs to Raymond and Lois Cain. It is believed the suspect's landlord, Lois Cain arriving Sunday to evict her tenant.
Witnesses saw injured officers being dragged from the home. One bystander said rescuers could be seen performing CPR on an officer in the immediate aftermath of the shooting.
Hanel then allegedly set fire to his home — with authorities saying Hanel dying in the blaze. 
The flames quickly spread to nearby homes, affecting 12 adjoining houses, wiping out at least four and damaging several more.
Witnesses say that fire spread quickly because Honolulu firefighters were staging nearby while waiting for police to give an all-clear.
BREAKING: Multiple police officers injured in shooting, home on fire in southeast Honolulu – KITV4 pic.twitter.com/ophdlkMmXO

— BNO News (@BNONews) January 19, 2020
An unprecedented tragedy: 
Unclear is if the landlord – a female, survived. The woman's identity was not publicly released.
Several Honolulu Police Department vehicles were also damaged in the fire.
'This is an unprecedented tragedy for not only the City and County of Honolulu but the entire state of Hawaii,' Honolulu Mayor Kirk Caldwell posted on Twitter.
'I would like to express my deepest condolences to the family and friends of the two officers as well as the entire Honolulu Police Department.'
Residents told of having smelled smoke before hearing gunshots.
'A little bit before 10 we started smelling some smoke,' said local resident, Robert Brassfield. 'We were in our condominium which is just across the street here, and we didn't think much about it, so we walked downstairs and went outside to go on down to Waikiki and obviously we started noticed all the emergency vehicles responding and then we started hearing sporadic gunshots.'
'That went on for several minutes.'
Reports on social media indicated the flames in the area were no longer active, with authorities yet to say whether any of the home fires had been extinguished.
When the fires were at their height, flames and thick smoke could be seen for miles.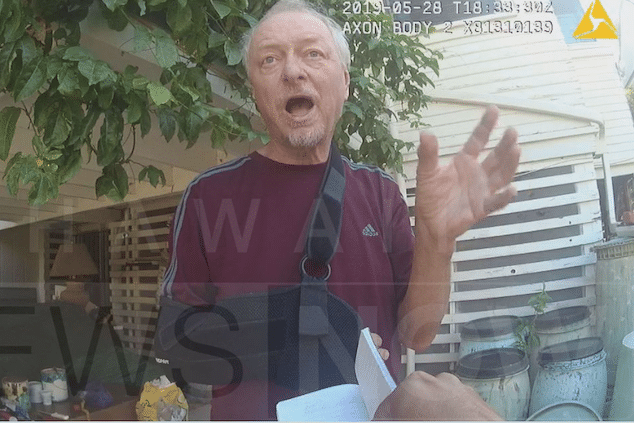 Gunman Jerry Hanel, who 'killed two police officers and wounded another is found dead' after he 'stabbed his landlady when she tried to evict him before he set fire to her house'
Suspect Jerry Hanel believed be inside caught fire and was quickly engulfed in a horrifying blaze. pic.twitter.com/xPH2RIQtMn

— spacewoman reporter (@SpacewomanR) January 19, 2020
Diamond Head shooting: Tenant had

history of mental instability and disagreements with neighbors.
Hanel according to his attorney Jonathan Burge a history of mental instability and disagreements with neighbors, the lawyer told Hawaii News Now.
The lawyer described Hanel living rent-free in a finished basement at the Hibiscus Drive home where the shooting happened. KHON2 reported the suspect living at the residence for over ten years.
Burge said the home's owner had befriended Hanel, and had wanted to help him out despite numerous issues with his neighbors in recent years.
But because she was moving back to Hawaii ― and with her patience apparently running out ― she had planned to ask him to leave, Burge said.
'Why she was there today I don't know but she was probably trying to plead for him to leave without going to court because she didn't want to hurt him,' Burge told the media outlet.
'She had known him very long and I think she cared for him, too.'
The attorney told of having earlier this week spoke to the landlord and Hanel about the situation – with Burge saying he believing Hanel had been preparing to leave. Instead, multiple police sources said, the suspect stabbed the homeowner and then fatally ambushed police officers before setting the house on fire.
Court records showed numerous restraining orders previously filed against Hanel by three neighbors. At the time, two neighbors had a temporary restraining order (TRO) on Hanel – with neighbors saying they were not aware that he possessed a firearm.
Most of the confrontations were over minor issues.
Hanel had been due in court Tuesday for a pretrial hearing after being charged with making a fraudulent 911 call. Hanel had demanded a jury trial – with the misdemeanor case pending in Circuit Court.