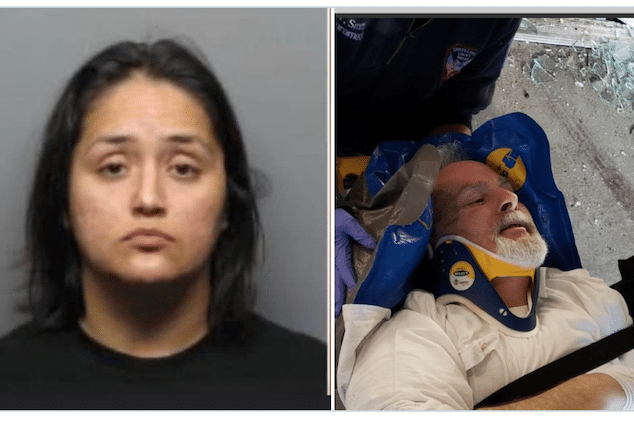 Brentwood, California woman,

Ruby Delgadillo remains at large after ramming over her son's barber after complaining about a bad haircut. Victim left with smashed leg.
A Brentwood, California mother remains on the run after allegedly rammed into a barber with her car, and causing the man grievous bodily harm after becoming upset her son got a small nick on his neck during a haircut, police and reports said.
Ruby Delgadillo, 28, remained at large come Friday afternoon, a day after she allegedly attacked 63-year-old Brian Martin at the Delta Barber Shop in Antioch, 45 miles east of San Francisco.
'She was trying to kill me,' Martin told KRON-TV.
The 'incident' led to Martin breaking his leg after the irate mom pushed the hapless mom into a glass storefront with her vehicle before speeding off.
Martin, the 29-year-owner of the barber shop, said he'd finished trimming the boy's hair on Wednesday afternoon when Delgadillo confronted him about the scratch.
The argument spilled out onto the street and the mom's eyes suddenly 'switched,' Martin told reporters.
She got into her blue 2006 Toyota Prius and ran him through the glass storefront, Antioch Police said.
Delgadillo then fled the scene with her kid, cops said.
Martin remained at hospital following surgery to insert a metal rod into his broken leg.
The barber said he was shocked by the incident and that Delgadillo is usually a cool customer. He said the nick on the child's neck happened because the boy was fidgeting in his chair.
It remains unclear what charges the mom will face upon her presumed eventual arrest.
UPDATE: Post-surgery, Brian Martin, owner of Delta Barber Shop in Antioch, says "all went well," day after @AntiochPolice says irate customer Ruby Delgadillo rammed her Prius into him, then took off. More on the dispute and search for suspect at 4,5,6,7 p.m. @KTVU pic.twitter.com/qJ3QtsEmK1

— Henry K. Lee (@henrykleeKTVU) December 5, 2019