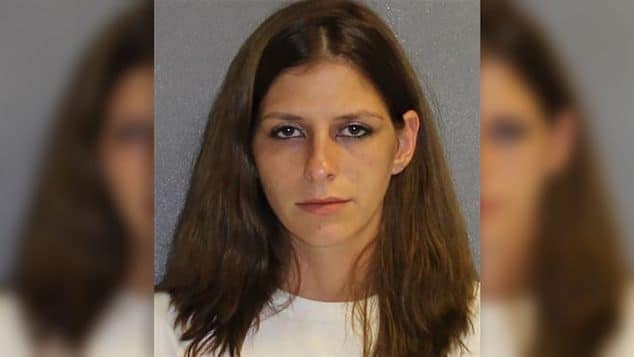 Tiffany Smith Deltona, Florida woman overdoses on heroin along 1-4 highway while driving with her three children in tow. 
A Deltona, Florida woman has been charged with child neglect after overdosing on heroin while driving with her three children on a highway in Volusia County on Thursday night.
Tiffany Smith's 12 year old daughter 'frantically' called 911 saying her mother lost consciousness while behind the wheel of a minivan which had come to a standing motion along the side of I-4, according to a statement from the Volusia Sheriff's Office.
'My mom won't wake up and we're on I-4 in the car,' she told the dispatcher in audio released by the sheriff's office.
'We're in the grass and we're close to a ditch…I don't know how to put it in park,' the girl added.
'…she stopped to take some heroin for the pain.'
Investigators arrived at the scene around 7:00 p.m. where they found Smith unconscious. Her other children, ages 7 and 1, also were in the minivan along with two dogs.
Paramedics revived Smith with a dose of Narcan, a spray used to treat overdoses, investigators said.
'She told deputies she was on her way to South Carolina with the children when she started to experience back pain,' the sheriff's office statement read. 'She said she stopped to take some heroin for the pain.'
When deputies asked her if heroin was something she should have taken for her back, Smith said it wasn't, but she ran out of pain medication and was 'hurting.'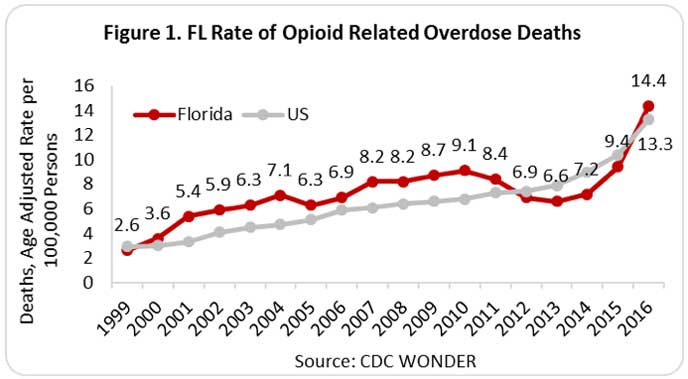 Rising trend of National and Florida State Opioid Addiction and Deaths: 
Smith was listed in stable condition at AdventHealth Fish Memorial Hospital. She wasn't immediately booked at the Volusia County Branch Jail nbcnews reported. It wasn't immediately clear if she had an attorney.
Her children were unharmed and were placed in the custody of their grandmother, while animal control officials took her dogs, investigators added.
Jail records showed Smith having been arrested in 2017 on an allegation of grand theft.
Smith's arrest follows rising national and Florida state trends in opioid addiction. In 2017, there were more than 70,200 drug overdose deaths in the U.S.–an age-adjusted rate of 21.7 per 100,000 persons according to the Institute of Drug Abuse. Among these, 47,600 involved opioids. The sharpest increase occurred among deaths involving fentanyl and fentanyl analogs (other synthetic narcotics) with more than 28,400 overdose deaths in 2017.