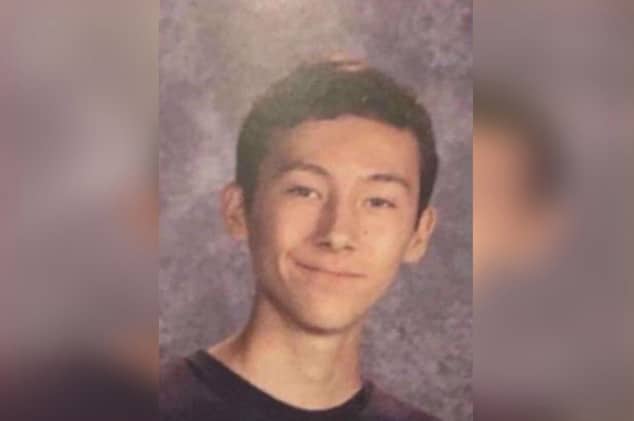 What led to Santa Clarita, Saugus High School gunman, Nathaniel Berhow teen going on a shooting spree on his 16th birthday? Clues in motive come from fractured family life.
Why? A California teenage boy who opened gunfire on fellow Santa Clarita classmates, killing two and injuring three others and seriously injuring himself has been identified.
Nathaniel Berhow allegedly stormed into Saugus High School just before classes began Thursday and pulled out a weapon from his backpack and proceeded to shoot at students, killing two and injuring at least three others with a .45 caliber semi automatic pistol before turning the gun on himself, police said.
Berhow survived the self-inflicted gunshot wound to his head and was reported to be in 'grave condition,' clinging to life, at an area hospital, cops said.
The Los Angeles County Sheriff's Office said a 16-year-old girl and a 14-year-old boy died as a result of the shooting. Three victims remain hospitalized, including a 14-year-old boy and two girls, ages 15 and 14, who are not critical, the sheriff's office said.
Sheriff Alex Villanueva told the media that when authorities retrieved the gun used in the shooting, a .45 caliber handgun, it was empty. The entire shooting, which occurred in a crowded quad area, lasted 16 seconds, authorities said
A report via CBS Los Angeles described Berhow being of half-Japanese ancestry whose family lives in Valencia, Ca, about two miles from the school. The school mass shooting came as Berhow turned 16 that day.
The shooting has since shocked the school and community as authorities seek to understand what may have triggered Berhow going on a mass shooting spree.  
Nathaniel Berhow, 16, was identified as the suspect who allegedly carried out a deadly shooting at his Saugus High School that killed 2 and injured 3 others.https://t.co/8xbOUPZSBr USA

— Gadea (@Gadea) November 14, 2019
'I would have never expected anything like this,'
A report via the Los Angeles Times cited a classmate describing Berhow as a 'quiet kid'.
'I would have never expected anything like this,' Brooke Hougo, 18, told the media outlet. 'He was just a quiet kid.'
Speaking to Fox Los Angeles, a student named Maxwell said that Berhow hadn't been 'acting like himself' in the days leading up to the shooting. Maxwell said, 'As far as I could tell from the recent days that I've seen him, he was looking kind of down and I guess just kind of depressed about something. I didn't really ask him what it was that he was depressed about, but from what I could tell he was different. He wasn't acting like himself.'
Told Berhow's neighbor, Jared Axen, via KTLA-TV, 'I can't think of any red flags in our conversation, when he would think of handling his hurt in this manner. He grew up with his father who was a hunter, and this was a normal activity for him. He grew up around firearms, it wasn't a mystery, he knew how to use it and understood how it worked, he was responsible. He came off as a very responsible person.'
While a sophomore at Saugus, Berhow ran track and field for the school and competed in the 800-meter and 1600 meter races, according to stats on Athletic.net.
Fractured home family life:
A regard of the teen's family life at home offers clues as to a fractured domestic upbringing.
His father, Mark Berhow, died in December 2017 from a heart attack, with a 'history of chronic alcoholism' contributing to his death, the Los Angeles County Coroners Office said. According to an obituary, the man died at age 55.
Two years before that, the father had been arrested amid a domestic dispute with the boy's mother.
In 2016, shortly before the father died, the shooter's mom sued him for custody of their children, according to Trellis.
'A quiet, to-himself kid,' said Ryan McCracken, a 20-year-old next-door neighbor.
When McCracken was younger, he said they played together, sometimes in boy's backyard tree house.
'You wouldn't expect anything like that from him.'
Not immediately understood is how the boy was able to get his hands on the murder weapon. Berhow's friend, identified only as Ryan, told KTLA-TV, 'His dad used to make bullets, so I'd assume he had bullets and stuff like that.'
Also not understood is whether Berhow had specifically targeted his victims. Also not clear is why the boy chose to carry out his violent act on his 16th birthday.
A vigil for the victims of the shooting will be held at Central Park on November 17 at 7 p.m. local time.
Santa Clarita is a city of about 200,000 located about 40 miles away from downtown Los Angeles. About 2,400 students attended Saugus High School, located at 21900 Centurion Way. The school is part of the William S. Hart Union High School District.