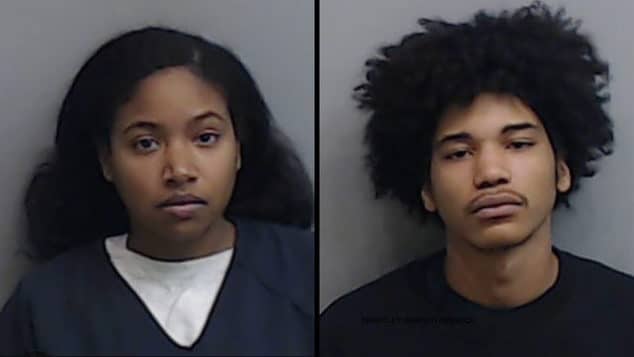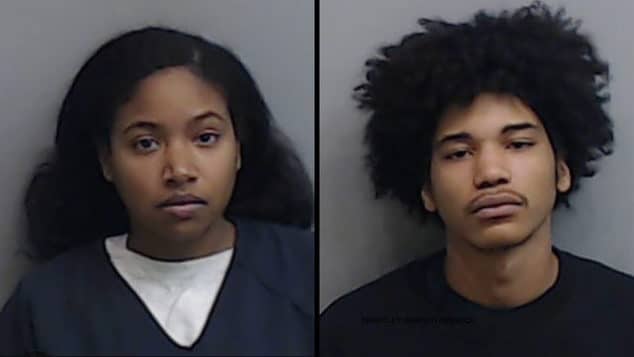 Alexis Crawford missing Clark University student found dead by asphyxiation, roommate, Jordyn Jones and her boyfriend, Barron Brantley charged with malice murder. 
A missing 21-year-old Clark University, Atlanta student whose body was found on Friday, died of asphyxiation, according to police.
Alexis Crawford's body was found at a DeKalb County park some 11 miles from her off-campus apartment one week after she was reported missing. Two suspects – her roommate and the roommate's boyfriend – were arrested Saturday in connection to her death and are in police custody.
Jordyn Jones and her boyfriend, Barron Brantley, both 21, were each charged with malice murder in Crawford's death wsbtv reports. Both suspects were being held without bond at the Fulton County Jail.
Of note Jones' arrest follows her posting images of her 'dear friend' #AlexisCrawford on Twitter upon Crawford reported missing, while 'praying' that she be found & how she's 'hurting'.
Atlanta Police Chief Erika Shields said a motive hasn't been established yet, while noting Crawford had filed a police report on Oct. 27 describing 'unwanted kissing and touching' by Brantley.
Alexandria Crawford told police she last heard from her sister on the night of Oct. 30. Alexis had texted Alexandria to ask: 'What are you doing for the weekend?' Her sister responded, 'Nothing.'
What is the difference between malice murder and felony murder?

I went to our legal analyst @epanitch to explain.

Malice murder is premeditated. Felony murder is when a person is killed in the commission or escape of a felony. Both have the same penalty of life in prison.

— Lauren Pozen WSB (@LaurenPozenWSB) November 9, 2019
Was Crawford's previous reports and disappearance taken seriously?
Crawford was last seen in public that same day at a store along Ralph David Abernathy Boulevard in southwest Atlanta. She was reported missing on Nov. 1.
Jones told police she took her roommate to a liquor store on the night of Oct. 30. Police later released surveillance photos of Crawford inside the liquor store. Jones claimed she last saw her roommate at 12:30 a.m. and didn't see her in their apartment later that morning when she left for class.
Crawford's phone, identification card and debit card were not found in the apartment, but her phone charger and keys were inside, according to a police report.
Her death follows Alexis allegedly telling friends she wasn't 'comfortable sleeping' in her bedroom due to the incident with her roommate's boyfriend earlier that month.
The student's death was 'the worst possible news,' Clark University Atlanta President George French Jr. said.
'Our deepest prayers and thoughts are with her family,' French wrote in a letter to the university Friday. 'Tonight we mourn together.'
And then there were these responses on social media that piqued this author's attention. See what you think?
It's upsetting to see some men responding to the news of Alexis Crawford by telling women to "be smarter". Alexis reported her killer and did her due diligence but was failed by both her university and her killers' belief she owed them her body/attention/life

— simedar. (@Simedarj) November 9, 2019
Alexis Crawford being murdered by her boyfriend and roommate days after filing police reports against him is just another example of the deep-rooted misogyny and intimidation than women face in this country. This is why women are afraid to report their abusers.

— Kendall Pfeifer (@kendallpfeiferr) November 9, 2019
I am so heartbroken and frustrated over the death of #AlexisCrawford. Police departments around the nation need to seriously take a look at the protocol on what do we do when sexual assault is reported. Assaulters must be held accountable for their actions.

— Kendrick Cunningham (@OBSwank) November 9, 2019