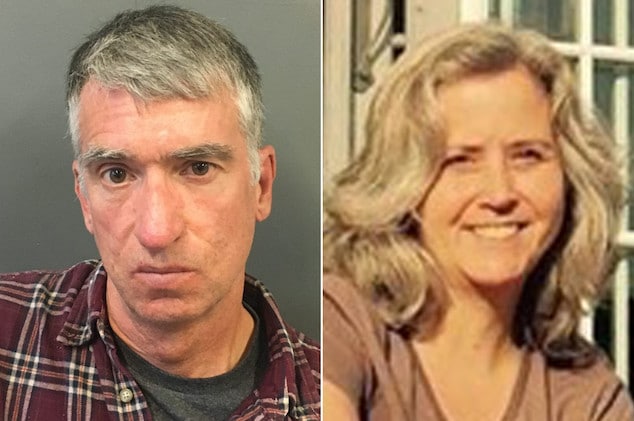 Brian Fanion Westfield Police detective accused of murdering wife, Amy Fanion cause he didn't want to share his pension after carrying on affair. 
A Massachusetts detective has been accused of murdering his wife and staging it to look like a suicide — so he could be with his lover and still keep his pension, according to prosecutors.
Amy Fanion, 51, died of a gunshot wound to the head in May 2018. Her husband, Brian Fanion, 55, who served with the Westfield Police Department for 33 years, was indicted on a murder charge Thursday, prosecutors said.
Hampden County prosecutor Mary Sandstrom told a judge that Fanion was cheating on his wife at the time of her death. She said the affair began two months earlier and that Fanion didn't want to get divorced because it would affect his pension, Fox 6 Springfield reported.
'There was only one way to enjoy his retirement, to go on with his life and his new love affair and that was to murder Amy Fanion,' Sandstrom said during Wednesday's hearing.
The prosecution says Fanion was planning to retire at the time of his wife's death.
Fanion returned to the couple's residence during his lunch break and soon after called 911 to report having found his wife dead as a result of a self-inflicted gunshot wound while using his service weapon, the Hampden County District Attorney's Office stated.
Detective's wife gets shot with his weapon and dies. He claims she grabbed it and shot herself. 18 months later a grand jury indicts for murder 1. Now prosecutors say he shot her in the head and staged the suicide https://t.co/HKCBFFnS2g

— Cop Crisis (@copcrisis) November 8, 2019
Could a seasoned detective get it so wrong? 
The detective's story was found to be unverifiable after investigators applied forensic evidence.
Incriminating the retired detective, prosecutors pointed to web searches the detective had made hours before his wife's death.
'Mere hours before her murder he was looking for apartments,' Sandstrom said, according to MassLive. Including one search which included the impact of divorce on one's pension.
For the defense, lawyer, Jeffrey Brown read a letter from Amy Fanion's family, saying they didn't believe Fanion killed her, westernmassnews reported.
'We assert that Amy took her own life on May 8, 2018, and thus we are certain that her husband, Brian, did not take her life,' Brown said.
He also denied his client was having an affair, insisting Fanion's wife had well-documented struggles with depression.
'They're not interested in the truth here,' Brown told the hearing.
Fanion, who since retired from the force, was charged with first-degree murder on Wednesday. He was ordered held without bail until his next court date on Jan. 9.