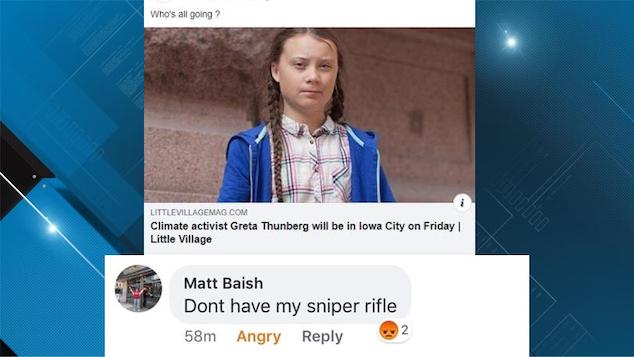 Matt Baish Waterloo science teacher placed on leave following comments about Swedish climate activist, Greta Thunberg's Friday visit to Iowa. 'Don't have my sniper rifle'. 
An Iowa science teacher has been placed on leave after posting what appeared to be a threatening comment on social media aimed at teen climate change activist Greta Thunberg before her planned visit to the state.
A report via KCRG told of an un-named science teacher at Waterloo West High School being placed on administrative leave on Thursday after alluding to sniper fire.
Posted the educator, since identified on social media as Matt Baish, 'Don't have my sniper rifle'.
The science teacher will remain on leave pending the completion of an investigation. .
The post came ahead of the Swedish teen's planned visit to Iowa City for a student-led climate protest on Friday.
The post asked, 'Who's all going?' to the event.
Baish in turn responded, 'Dont have my sniper rifle.'
Iowa City police said security would be heightened for the event foxnews reported. 
Echo chamber surrounding

Greta Thunberg:
The district's social media policies warn staffers to 'think twice before posting' and to not post 'threats of physical or bodily harm.'
Thunberg, 16, has found herself the center of media discontent after calling on world leaders to take aggressive measures to combat the damaging effects of climate change.
Last month, she testified before Congress and denounced world leaders at a United Nations summit for an insufficient action plan on climate change.
"You are still not mature enough to tell it like it is. You are failing us," Thunberg said. "But the young people are starting to understand your betrayal."
The teen's 'blunt nature' needless to say has done her few favors by those who challenge the teen climate activist, with Thunberg often drawing personal scorn. 
During her appearance at the University of Iowa on Friday, she told a cheering crowd 'as we all know, the U.N. Climate Action Summit was a failure,' according to Reuters. 'No matter what, we need to continue.'