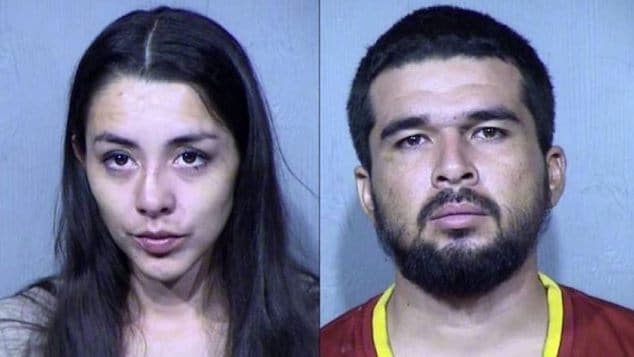 Phoenix, Arizona couple, Denisse and Pablo Solorzano face child endangerment and drugs charges after one year old daughter tests positive for fentanyl while getting high in parked car. 
A Phoenix, Arizona couple are facing child endangerment and drug charges after their one year old daughter tested positive for fentanyl earlier this month authorities said.
Phoenix police officers received a call on Oct. 7 from a witness who reportedly saw a couple using drugs inside a car. Officers said 'the vehicle was filled with smoke' when they approached Denisse and Pablo Solorzano, who were within with their 1-year-old girl, according to AZFamily.com.
Authorities said the officers found drugs and drug paraphernalia in Pablo Solorzano's possession when they asked him to step outside. He allegedly said the drugs were Percocet pills.
Denisse Solorzano was also found with drugs, authorities said.
'It was my wife's birthday so I decided to buy drugs.'
According to court documents, officers saw Pablo crumple up a piece of tin foil and try to hide it as they approached. When he was removed from the vehicle, police also found a cut straw on the front seat, as well as squares of tin foil with burn marks in Denisse's passenger door and inside the glove box.
Efforts by officers to wake the little girl for several minutes were unsuccessful. She was taken to a hospital where tests revealed fentanyl in her system. ABC15 reported the baby girl was not in her car seat whilst her parents were getting high in front.
Fentanyl according to the CDC is a synthetic opioid pain reliever, approved for treating severe pain, typically advanced cancer pain. It is 50 to 100 times more potent than morphine. The drug which is normally prescribed and available on the black market is easily abused and can lead to rapid drug dependency.
Pablo Solorzano told police 'it was his wife's birthday and he was stupid to buy drugs,' and that 'he regretted doing this to his wife and that he would take responsibility completely,' according to the court documents.
The two face felony charges of endangerment, possession or use of narcotic drugs and possession of drug paraphernalia.