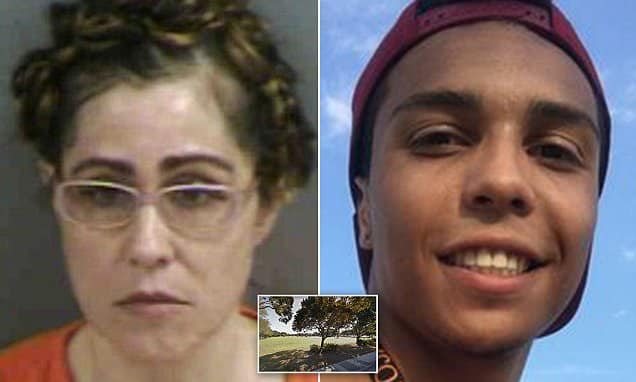 Connie Serbu guilty: Naples, Florida woman found guilty of second degree murder of  Xavier Sierra after claims the teen had molested her then 5 year old daughter. The right to take the law into one's own hands. 
A Naples, Florida woman has been convicted of killing a teenage boy she'd accused of molesting her daughter.
Connie Serbu, 43, was found guilty Thursday of second-degree murder. She faces a possible life sentence at a Jan. 3 hearing The Naples Daily News reports.
Authorities say Serbu and her brother, 29-year-old John Vargas, drove 18-year-old Xavier Sierra of Golden Gate to an undeveloped area west of the Naples Airport in July 2016. The teen had been lured under the pretense of being offered money to move furniture on behalf of Serbu.
Prosecutors said Serbu and Vargas chased Sierra into the mangroves and shot him six times, with two different guns. Both guns belonged to Serbu.
Serbu and her brother had two stun guns, two handguns, an ice pick, and a potato to silence the gun.
At some point a confrontation ensued, with Vargas fatally wounded in a struggle for a gun, with Serbu in turn managing to fatally shoot Sierra in the chest.
The defense claimed Serbu had nothing to do with the murder and put the blame on her brother.
Prosecutors say Serbu wanted to kill Sierra because her daughter had told a babysitter that Sierra had touched her five years earlier, when she was about 5 years old and he was 12 or 13.
Serbu was going to testify but changed her mind at the last minute. She faces up to life in prison when she is sentenced on Jan. 3.
The debate for and against Vigilante Justice.
Serbu's case has reignited the debate of 'vigilante justice' and whether despite the mother's rage it would have been best to follow the judicial course of law and allow authorities to investigate the alleged crimes and administer punishment as required by the law.
The idea of taking the law into one's hand while seemingly virtuous to the afflicted opens the Pandora box of one individual being the judge, jury and executioner- something no civil society should ever be allowed to digress to.