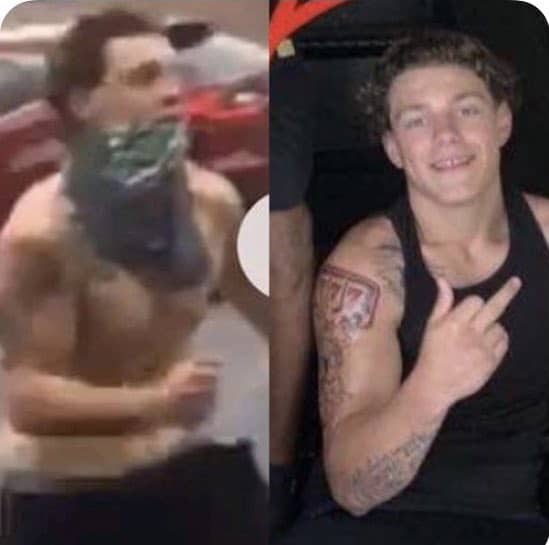 Tyler Flach of Lido Beach, Long Island charged in stabbing death of Oceanside High School student, Khaseen Morris as bystanders videoed attack instead of interceding. 
A Long Island teenager has been charged in the stabbing death of an Oceanside High School student who was killed while dozens of bystanders filmed the assault — without coming to the boy's avail.
Tyler Flach, 18, of Lido Beach, come Thursday morning arraigned on a second-degree murder charge in First District Court in Hempstead, Nassau County. See embedded twitter video directly below of police leading murder suspect to his arraignment. 
Flach was allegedly one of about eight teens who attacked Khaseen Morris, 16, and his friends at a strip mall near the Oceanside school on Monday — apparently over a girl. 
Video showed the victim lying in the middle of the street with blood pouring out of him after being stabbed in the chest. Morris passed away later that evening after being rushed to hospital.
A second teen suffered a broken arm in the attack, Newsday reported.
'Kids stood here and didn't help Khaseen,' said Nassau Det. Lt. Stephen Fitzpatrick, commanding officer of the department's Homicide Squad. 'They'd rather video. They videoed his death instead of helping him.'
The students later circulated the footage on social media including Snapchat.
18 year old Tyler Flach is charged with 2nd degree murder in the stabbing death of Khaseen Morris. Flach was transported from police Headquarters to court for his arraignment. @CBSNewYork pic.twitter.com/VVsLAFRtEr

— Aundrea Cline-Thomas (@AClineThomas) September 19, 2019
The kids name is tyler flach 19. From Long beach Ny. HE is responsible for the murder of Khaseem Morris. He was seen on video stabbing a 16 year old Kahseem and other students from Oceanside Highschool. Please help locate this low life scum.Justice will be served.#justiceforkha pic.twitter.com/FyyJDS98mI

— Bodegaboi antt (@CosmicCorn96) September 17, 2019
Police seek to identify another six to seven youths involved in melee.
According to Fitzpatrick, the brawl took place after school let out at Oceanside High School, circa 3.45pm, 'the kids come down to this vicinity to go to the pizzeria and congregate in this shopping mall,' the detective said.
He said there was a 'prearranged type of dispute going on over a young lady that "boiled over here."
Fitzpatrick estimated that there were 50-70 teenagers present.
Fitzpatrick said police identified the assailants through witness statements and the video, as well as surveillance footage from nearby businesses. Police are looking for six to seven youths believed to have been involved in the melee.
Morris had only moved into the community this summer the nypost reported.
Victim's sister: 'He told me that someone was threatening him.'
The victim's family said the teen was an avid skateboarder, describing him as artistic and bubbly, while saying Khaseen had received texts advising him that another youth wanted to fight him over a 'perception' that he was dating a girl who may have had a past or current relationship with one assailant. Fitzpatrick said investigators are still trying to determine if, in fact, Morris was dating the girl.
Morris was unarmed at the time of the attack, Fitzpatrick said, but he knew that the ex-boyfriend was looking to confront him.
His sister, Keyanna Morris, 30, said her brother had walked a girl home from a party on Sunday, making him the target of a jealous ex-boyfriend from nearby Long Beach.
'He told me that someone was threatening him,' said Keyanna. 'But he's like, 'I'm not worried about it. I told him, I don't want anything … I don't want your girl. It's nothing like that. I just walked her home.''
Police source tells me Tyler Flach is "BabyTy" in this music video. The 18-year-old is in custody this morning for the stabbing death of 16-year-old Khaseen Morris https://t.co/h2Oj7qmnjq

— Kayla Mamelak (@KaylaMamelak) September 19, 2019
Long Island rapper "BabyTy" wanted 'to fight.' 
Keyanna confirmed the police account that her brother knew the boy wanted to fight him, and said while her brother wasn't looking for a fight, he wasn't going to run away either.
'He knew the one boy wanted to fight him,' she said. 'Khaseen is like, 'OK, if you beat me up, fine.''
While adding, 'No one knew he was going to bring a million people out there — and a knife.'
'He was so happy to go to school,' she added. 'He was just cheesing. He came home and he's like, 'I made so many friends. Everybody loves me.''
Keyanna Morris described how she cried when watching the video on social media which 'showed her brother bleeding on the sidewalk.'
'He was in so much pain,' the sister said.
A GoFundMe account to help Morris's family has raised more than $26,400 as of Wednesday night.