Kevin Boclair Bromall Pennsylvania teen is latest health crises victim with lung disease believed to be linked to vaping.
And the casualties continue. A Pennsylvania teenager has been placed in a medically induced coma following a severe lung illness caused by an ongoing vaping habit, according to the 19 year's old's parents. 
Kevin Boclair is connected to a heart/lung machine at the Hospital of the University of Pennsylvania where doctors said he may need a double lung transplant, WPVI reports.
'[Doctors] know it's vaping,' mom Debbie Boclair told the media outlet.
While Boclair says that while her son does have asthma, the mother says Kevin's doctors believe that the damage done to his lungs is the result of something else.
'They know it's vaping. This is even new to the doctors. They told me outright, you know, we're treating all the things he had. He came in, he had double pneumonia. They treated that with antibiotics. They're treating all the different things, but there's parts they don't even know what's going on,' the mother added.
The Bloomsburg University student had quit using the e-cigarettes but started again because of their flavor and got hooked, Boclair told Fox 29.
The son's mystery illness has raised concerns that Boclair is the latest health victim as a direct result of vaping.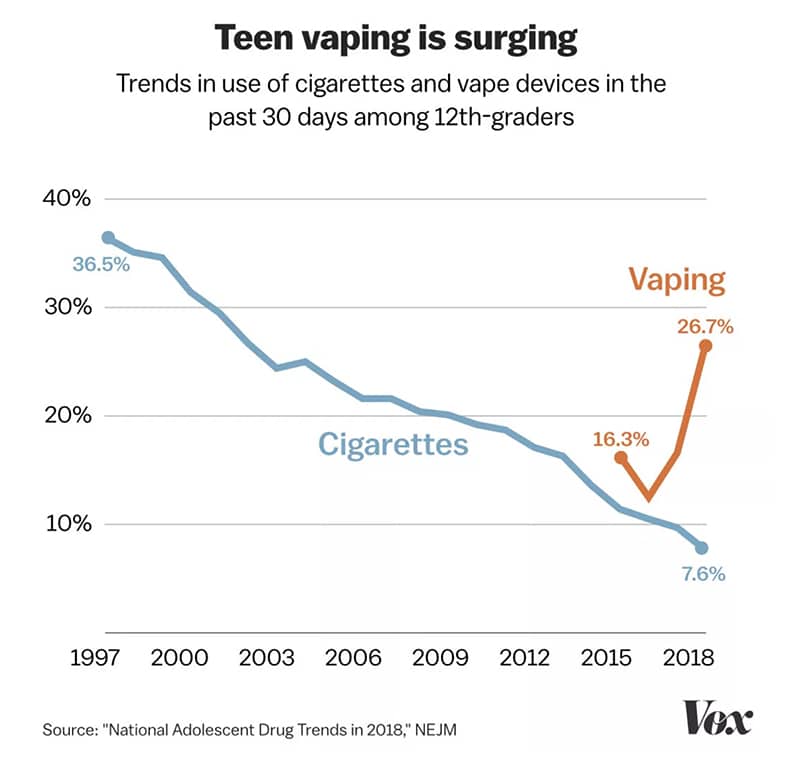 Lung disease directly attributable to vaping? 
The teen's health woes come as health officials have warned against using e-cigarettes and other vaping products, which they've linked to a rise of breathing illnesses.
In July, eight teens with a history of vaping were hospitalized with 'seriously damaged lung' at The Children's Hospital of Wisconsin.
The Centers for Disease Control also released a statement to say that since the end of August there have been reports of 215 possible cases of lung disease from 25 states that may be tied to vaping. But while officials believe the illness is associated with vaping, they haven't been able to single out which ingredient or device may be causing the problem.
VOX reports patients afflicted with the mystery illness started to experience symptoms anywhere from a few days to several weeks after using e-cigarettes. Respiratory problems were the most common but some people also reported nausea, vomiting, diarrhea, fatigue, fever, and weight loss.
Kevin's parents say their son's health began deteriorating about two weeks ago, shortly before he was set to start his sophomore year of college.
'He was coughing violently enough that he was throwing up. In the morning, he didn't look good,' said Boclair, who is a registered nurse.
'His color was like gray. I ran him to the urgent care and they did an X-ray.'
The Broomall, Pennsylvania, family is unsure if Kevin will recover, but hope to warn others about the dangers of vaping.
'No parent should have to walk into a hospital room and see their son having his blood sucked out of one leg with five tubes down his throat, looking dead,' said dad Len Boclair.
Mystery correlation of victims: their youth.
The son's mystery lung condition is yet the latest incidence of teens incurring lung failure as a result of vaping. It remains unclear why teens continue to be susceptible as the number of individuals dealing with health crises escalates.
A teen in Utah was also put in a coma in August after she developed a rare lung disease possibly caused by her years of daily vaping FOX 13 reported.
On August 23, officials reported the first death linked to vaping amid the spate of illnesses. The patient — an adult woman in her 30s based in Illinois — with severe respiratory disease was hospitalized after vaping, and died. No other details about the patient, what vaping products she used, or her health status, were released to the public.
The spate of illness tied to vaping is a reminder that there are a lot of products out there that haven't been tested by officials or regulated in any way VOX reports.
'These [new] cases demonstrate the importance of effective regulation,' said David Liddell Ashley, a former director of the office of science in the Center for Tobacco Products at the FDA. 'Without premarket testing, reporting, and review, consumers become the test subjects.'
It remains unclear what measures health officials, if any – may seek to take to address the apparent heightened risk of vaping.