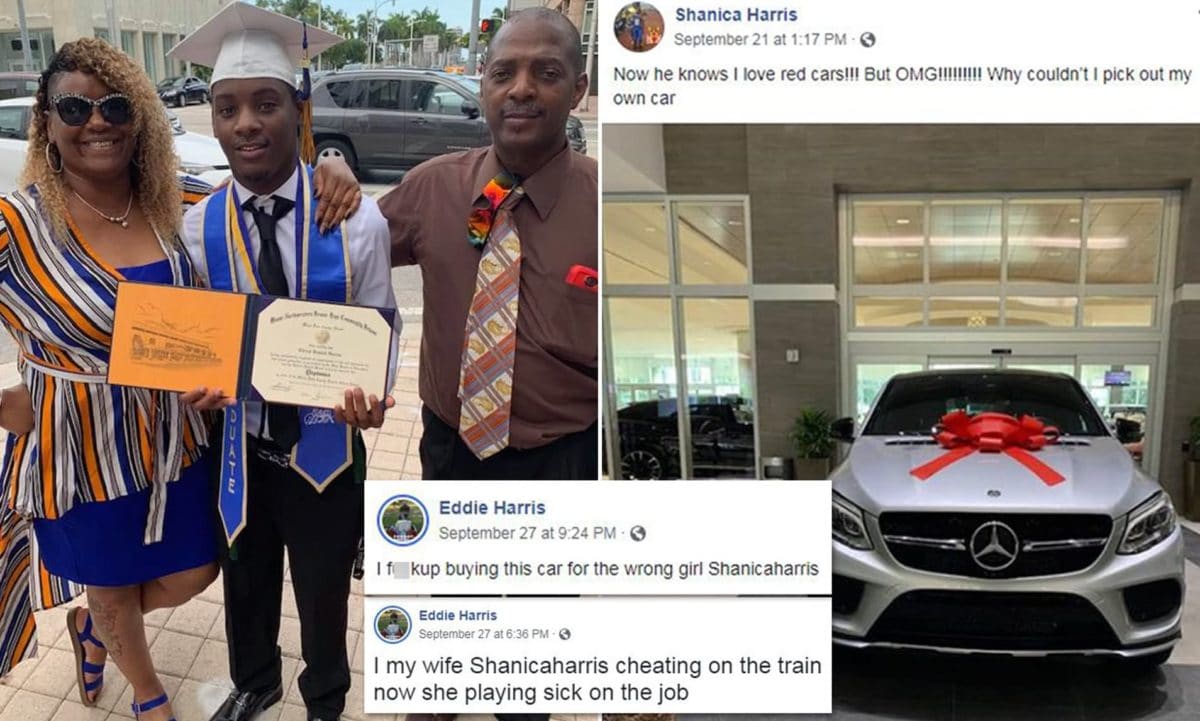 Eddie Harris Liberty City, Florida man shoots wife of 33 years dead after accusing her of cheating on Facebook. Had bought her a new Mercedes the week prior to her murder.
A Florida man is alleged to have shot to death his childhood sweetheart and wife of 33 years at their home before unsuccessfully trying to take his own life after accusing her of cheating on Facebook. 
Eddie Harris allegedly killed his wife Shanica Harris by shooting her dead inside their Liberty City home in Miami Dade County on Saturday night. At the time of the 'shooting incident', the Miami Herald reported the 45 year old woman being gunned down in front of the couple's two grandchildren. 
The killing comes after Eddie posting several status updates on Facebook over the course of week accusing his wife of infidelity. Similarly, Shanica had taken to Facebook, where she flaunted the new silver Mercedes Eddie purchased for her – while complaining the vehicle wasn't red.
'Now he knows I love red cars!!! But OMG!!!!!! Why couldn't I pick out my own car,' she shared on Saturday September 21. A week later, on September 28 the woman would be dead.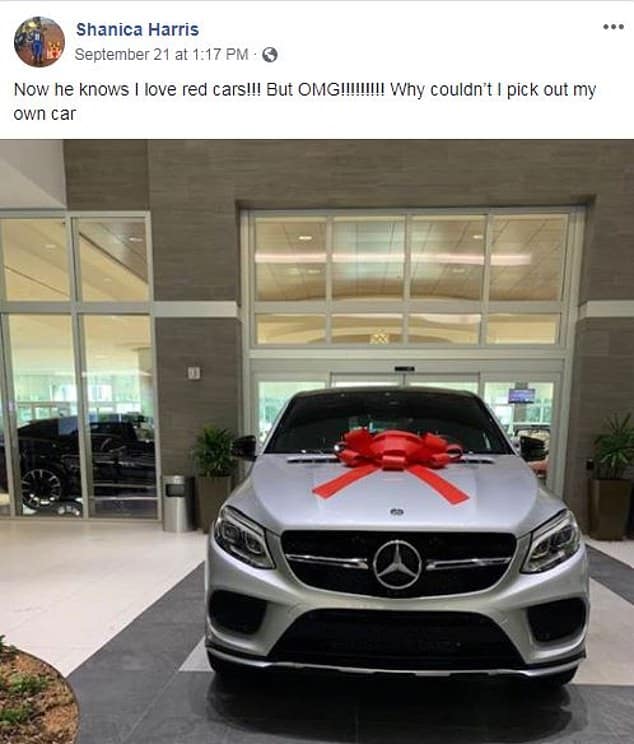 'Shanica Harris got them trying to kill me'.   
On Saturday, hours before the blood-letting, Eddie shared several posts saying Shanica brought her boyfriend into their home adding, 'Shanica Harris got them trying to kill me'.   
The couple had been together since they were 15, according to their family and friends, and shared five children and several grandchildren.  
Miami-Dade police reported to the home around 8.51pm following calls about shots fired inside the residence at 6004 NW 23rd Ave. 
When cops arrived two men running from the home said there were children inside and that Eddie Harris had a rifle. 
A stand-off ensued between SWAT officers and Eddie. 
Special Response Team members were able to get two children, aged six and nine, out of the home through a window. Then they found a woman fatally shot and a man suffering an apparently self-inflicted gunshot wound inside.
Eddie Harris was taken to Jackson Memorial Hospital Ryder Trauma Center. The children were unharmed in the incident,. 
Thomasina Goddard lost her sister who she identifies as Shanica Harris who was shot and killed by her husband Eddie Harris inside their Northwest Miami Dade home Saturday night. Goddard says her sister fell victim to Domestic Violence by the man she loved more than he loved her. pic.twitter.com/aNqBrzVvol

— WIL [ i.am. Mr. Wilson] SON (@BIGWIL03) September 29, 2019
'Shanicaharris got a f**kboy rides n a white impala around my house,'
A regard of Eddie's Facebook wall revealed a sting of status updates indicating the husband's contempt for his wife, who he publicly accused of cheating.
'My wife Shanicaharris cheating on the train now she playing sick on the job,' he posted on September 27. According to social media she works for Miami Dade Transit. 
'Shanicaharris got a f**kboy rides n a white impala around my house,' read another post on Facebook. 
'I wasted money on that,' he said on the Mercedes car the dailymail reports. Then he posted a picture of the car and said 'I f**ked up buying this car for the wrong girl Shanica Harris.'
On Saturday, the day of the shooting, Eddie Harris once again took to Facebook to accuse Shanica of cheating- while this time also alleging she had tried to harm him and their son. 
'Me and my son here alone she n****r trying to hurt me n my son,' the scorned husband posted. 
Eddie Harris last status was, 'Shanicaharris got them trying to kill me.' 
'He barricaded himself in the house and kept my sister at blood death, with my grandniece and grandnephew in the house,' Thomasina Goddard, Shanica's sister, said to Local10. 
'My sister was the sweetest girl you would've know. She worked very hard for her kids and family,' she added. 
The relative said Shanica was a victim of domestic violence by the man she loved more than him.
This is the second tragedy to fall upon the Harris family in four years. 
Eddie Harris Jr was killed at 19 when he was shot dead while walking on the street on January 29, 2016.    
He was shot to death in broad daylight by a man who pulled up alongside him and got out of a car and opened fire then drove away from the scene. More than 40 evidence markers were found at the scene meaning multiple rounds were fired. It's not clear if anyone was ever arrested in his death. 
The previous November, the Harrises' nephew Kevin Eford was shot and killed in Opa Locka.