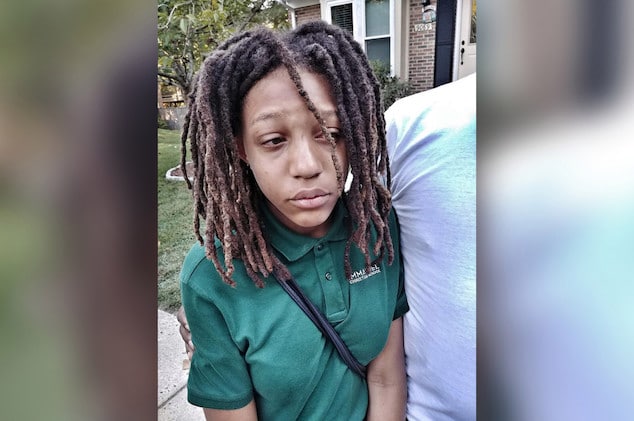 Amari Allen Immanuel Christian School student fake dreadlock cutting hair story. A 12 year old girl at a private Virginia religious school admits her claims against three white boys were false.
The black high school student who caused disconcert after accusing three white male classmates at a religious Virginia private school of pinning her down and cutting off her  dreadlocks has admitted making up the allegation up, according to her school. 
Amari Allen, 12, a student at Immanuel Christ in Springfield, Fairfax County, claimed she was held down by three boys who cut her hair off at their $12,000-a-year school.  She also gave a tearful interview about it afterwards and said they called her hair 'ugly' and 'nappy', a racist term that is used to derogatorily describe African American women's hair. 
The girl even went so far as to allege her 'white perpetrators' also sharing photos of her uneven hair after the alleged incident. 
Come Monday, however, the child's family issued a statement to it was false and to apologize to the boys. 
Why the claims were fabricated remains unclear. 
You are beautiful, Amari Allen. You are courageous & strong. You are loved.

You see, Amari, you may not feel it now, but you have a power that threatens their core. I can't wait to watch you use it and thrive.

Stay strong. https://t.co/57rtAYby3h

— Rashida Tlaib (@RashidaTlaib) September 28, 2019
'These acts of fraud could ruin the lives of the accused, undermine credible accounts of racism, and inflame racial tensions. The lies must stop.'
The family asked for forgiveness in their statement and said they had 'betrayed the wider community,' the dailymail reported.
Continued the released statement: 'To those young boys and their parents, we sincerely apologize for the pain and anxiety these allegations have caused. 
'To the administrators and families of Immanuel Christian School, we are sorry for the damage this incident has done to trust within the school family and the undue scorn it has brought to the school.
'To the broader community, who rallied in such passionate support for our daughter, we apologize for betraying your trust.'
'We understand there will be consequences and we're prepared to take responsibility for them. We know that will take time to heal, and we hope and pray that the boys, their families, the school and the broader community will be able to forgive us in time.'
The school issued its own statement according to the Washington Post.
'We can now confirm that the student who accused three of her classmates of assault has acknowledged that the allegations were false.
'We're grateful to the Fairfax County Police Department for their diligent work to investigate these allegations. While we are relieved to hear the truth and bring the events of the past few days to a close, we also feel tremendous pain for the victims and the hurt on both sides of this conflict.
'We recognize that we now enter what will be a long season of healing,' the school said.  
They would not answer any additional questions. Because the girl is a minor, the police department will not say any more. Amari said the boys brandished a pair of scissors, 'took big chunks of my hair and just cut'.  
Officials at the Immanuel Christian School had announced they were in touch with the family and had asked police to conduct a thorough investigation. 
'We take seriously the emotional and physical well-being of all our students, and have a zero-tolerance policy for any kind of bullying or abuse,' Head of School, Stephen Danish said in a statement at the time.
'We are deeply disturbed by the allegations being made, and are in communication with the family of the alleged victim to gather information and provide whatever support we can.
'We have also reached out to law enforcement to ask them to conduct a thorough investigation, and further inquiries should be directed to the Fairfax County Police.' 
The incident also prompted outrage from the local chapter of the NAACP, a civil rights organization.   
Last week, it said it was 'closely monitoring' the situation. 
So Amari Allen is another black hoaxer, I figured that was the case when I first read about it. When are these hoaxers going to be punished for lying and ruining innocent lives? And when will you apologize for your racism against whites?

— Annie Mae (@anniemae1000) September 30, 2019
Amari Allen, Tawana Brawley and Juicy Smollett walk into a bar.

— Creflo Ye Dollar (@topflightdj) September 30, 2019
Following the family's admission on Monday, it cancelled a support rally it had planned for her. 
The admission led to social media users expressing exasperation, with one user posting:
'These acts of fraud could ruin the lives of the accused, undermine credible accounts of racism, and inflame racial tensions. The lies must stop.'
Posted another: 'I think the school would be within its rights to now expel Miss Allen. Actions like this continue to set back race relations.'
Organizers begged followers not to come down too harshly on the young girl on Twitter. 
'The Fairfax County NAACP, along with much of the nation, was outraged at the reported attack on Amari Allen at Immanuel Christian School in Springfield last week. We take every allegation of racial violence seriously and we treated this incident the same. 
'Regrettably, in this instance, the reported assault turned out to be false, and the Allen family is working with the school to achieve a resolution. 
'We would like to thank the Fairfax County Police for their quick action in opening an investigation into the matter, and to the school for being forthcoming and open throughout this process.
'Amari is not a public figure. She is a young girl who made a mistake, and we are asking everyone, supporters and critics alike, to please respect the family's privacy at this time.
'Her family has released a statement to the Washington Post apologizing to the other students she accused, and her school, and the community,' it said. 
The organization went on: 'Too often in these rare instances of fabricated hate crimes, critics use a broad brush to claim racially motivated crimes are virtually non-existent. This is demonstrably wrong. 
'Data from numerous sources, including the Anti-Defamation League, the FBI, and the Justice Department, shows bias motivated crimes are on the rise, year over year. 
'The fact is that these type of fabrications are isolated incidents, but the public and media has a tendency to sensationalize falsifications over the thousands of real hate crimes reported every year.' 
To *falsely* accuse 3 children of a hate crime is abhorrant and damaging. This hurts real victims of hate crime, but this is the world today sadly. #AmariAllen

— james (@BaghdadCocaCola) September 30, 2019