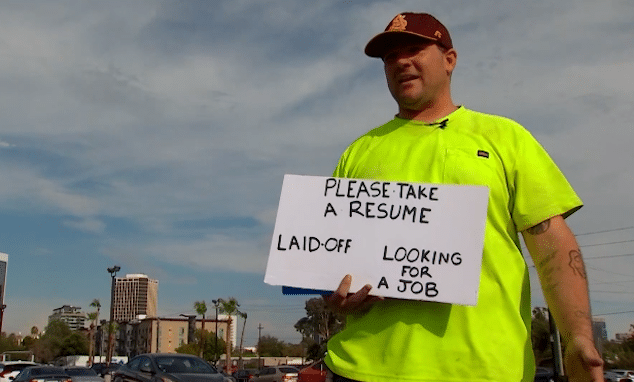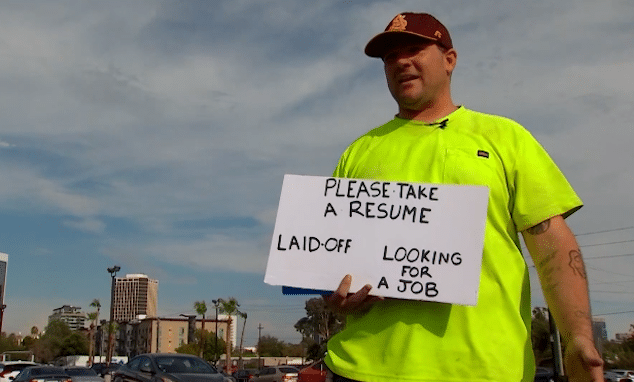 Patrick Hoagland of Phoenix, Arizona lands dream job after handing out his resume along the side of a hot road after recent lay-off. Social media makes CV effort go viral.
Proving that a can do attitude will be met with applause. An Arizona man who was laid off from his job at a metal recycling company has been inundated with job offers after handing out his resume on the street during 110 Fahrenheit weather.
Patrick Hoagland, 30, from Phoenix was struggling to find another position after the father of one applied to a number of job vacancies online and in person.
Undeterred- Hoagland took matters into his own hands and began handing out his CV on the street. The response was staggering.
'I had only been unemployed a few weeks, but it was very unexpected and I needed to figure something out fast,' Hoagland wrote in an email. 'I at first laughed and thought that was silly, but I kept thinking about it. I figured, why not?! There are millions of people in Phoenix driving around, someone might hire me.'
He printed out 200 copies of his résumé and hit the streets in search of work last week.
'I was getting frustrated. It popped into my head, stand on a corner and hold a sign and hand out resumes,' Hoagland explained via Good Morning America. 
'At first I laughed about it…and then it kind of went crazy.' 
After printing out 200 copies of his résumé Hoagland hit the streets in search of work.
The father's resume states his objectives are to provide a better life for his family and to have a positive impact on people and things around him. 
He adds he is a 'fast learner' and 'excellent problem solver' who can 'establish rapport with people from different backgrounds and cultures.' 
I was driving down Camelback Rd in Phx near my office and saw this guy on the side of the road with a smile in 110-degree heat, with a sign asking people to take his resume. I love that he was not asking for a handout, just for people to consider him for a job. #pleaseshare #job pic.twitter.com/5QAUpCkGWk

— MelissaDiGianfilippo (@MelissaPR) July 23, 2019
Melissa DiGianfilippo shares the power of social media to change life:
One passer-by of a busy Phoenix intersection, Melissa DiGianfilippo, was prompted to pull over her car when she caught sight of Hoagland. 
DiGianfilippo, owner of Serendipit Consulting, was left impressed by the initiative and the man's willingness to stand in 110-degree heat, and took a copy of his resume to later share on social media. 
'Hey friends! I was driving down Camelback Road near my office and spotted this guy, Patrick, on the side of the road with a huge smile on his face in 110-degree heat, with a sign asking people to please take his resume,' she said. 
'I love that he was not asking for a handout, just for people to consider him for a job.
'Here's a pic of his resume.
'Can you help me by sharing this post to help get this guy a job?'
Hoagland, who has experience working as a mechanic and crane-operator, said he has since received hundreds of job offers. 
'I was definitely hoping he would get some good job leads out of the post, but I definitely did not anticipate it blowing up in the way it did!,' DiGianfilippo said. 'The post on LinkedIn is what really has taken off the most, generating thousands and thousands of re-shares, reactions, and likes. I also posted it as an Instagram story which got a ton of engagements and people wanting to reach out to him, on Facebook and on Twitter. I am so amazed by how many people re-shared the post because they really wanted to be a part of a positive story.'
After consideration he has accepted a job as a concrete grinder at Flatline Concrete, which he said is his 'dream job scenario'. 
Reflected the newly employed father of one of DiGianfilippo, 'She has been so great, she didn't need to help me, but she did and it has changed my life.'
Adding, 'I am so grateful for her.'
While America remains grateful to the can do attitude that has seen the nation withstand adversity and many of its sons flourish- no matter how challenging circumstances may ever be.