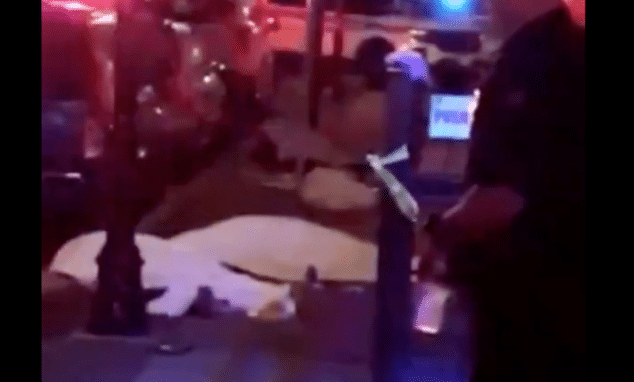 Dayton Shooting, Ohio in the Oregon district outside the Ned Peppers Bar leaves 9 people dead and at least 27 injured and comes as the 2nd mass shooting on US soil in 14 hours.
Nine people have been killed and at least 27 wounded when a 'white man' wearing body armor opened gunfire outside a bar in Dayton, Ohio, early Sunday before responding officers shot the suspected gunman to death less than a minute into the rampage, according to officials.
It was the nation's second mass shooting in less than 24 hours, after at least 20 people were slain in El Paso, Texas. The shooting also comes as the 252nd mass shooting in the United States – seven months into 2019.
The shooting according to police occurred outside the Ned Peppers Bar just after 1 a.m. in the city's Oregon District near downtown, with officers nearby who 'were able to respond and put an end to it quickly.'
### Dayton shooting suspect i'd Connor Betts as gunman also kills sister & boyfriend before rampage
At a loss for words and full of emotions, this isn't a city I grew up in. But it's one I enjoy and love and I know everyone else does. Prayers for everyone hurt , and bless everyone who was able to walk away. I'm thankful for you. @_jaaimeee_ #PrayForDayton #DaytonOH pic.twitter.com/UgYmjyFgDI

— Izack.j (@izackj1469) August 4, 2019
Dayton Ohio shooting ended after one minute with fears 100's could have been killed inside packed venue if police were not nearby.
Dayton Mayor Nan Whaley during a Sunday morning news conference said the shooter was wearing body armor and had extra magazines and had sought to make his way into the bar. The suspect was firing a long gun with multiple rounds at the victims, Whaley said. The weapon has since been identified as an AR 15 assault rifle.
The Oregon District was filled with 'thousands' of people out on a weekend night at the time, according to Whaley. Officers were also stationed in the neighborhood and were able to halt the rampage less than a minute after it began, the mayor added.
'If Dayton police had not gotten to the scene in under a minute, hundreds of people in the Oregon District could be dead today,' Whaley said.
The identity of the shooter was yet to be publicly revealed with witnesses saying they heard up to 40 gunshots being fired.
The Oregon District is a historic neighborhood described by officials as 'a safe part of downtown,' home to entertainment options, including bars, restaurants and theaters'. The shooting took place outside, on the 400-block of East 5th Street
Ned Peppers Bar posted a message on Instagram, saying: 'All of our staff is safe and our hearts go out to everyone involved as we gather information.'
Authorities have yet to say what may have motivated the Dayton, Ohio gunman.
Dayton, with a population of around 140,000, is in western Ohio, around 55 miles northeast of Cincinnati, 75 miles west of Columbus and 120 miles east of Indianapolis.